Editor's Rating
From the originator of the headless guitar resurgence!
It's safe to say that *strandberg Guitars are completely responsible for the resurgence of headless guitars. These unique guitars were mostly collecting dust in some closets that had not been opened since the 80s, but the Swedish custom shop brought them back into the spotlight in recent years.
And not without some modern and innovative tweaks! Ola Strandberg's goal was to make the headless design as ergonomical and comfortable as possible, so every curve and angle on the body design serves a very distinct purpose: To accommodate every major playing position.
But he didn't stop there! *strandberg Guitars designed an entirely unique neck profile on top of it all. To most guitarists, the Endureneck definitely doesn't look comfortable, but is it? Does it really improve your technique and playing position as claimed? Let's find out!
The Specs
Flamed Maple Top
Swamp Ash Body (Chambered)
28″-26.5″ 9P Maple/Ebony/Bubinga Neck
Bolt-On Construction
Baked Birdseye Maple Fretboard
24 Jescar SS Frets
*strandberg EGS Fixed Bridge
3-Way Pickup Selector
Fishman Fluence Modern Ceramic (Bridge)
Fishman Fluence Modern Alnico 5 (Neck)
Impressions
The *strandberg shape is a polarizing design. I personally think it's one of the better headless designs out there and it even looks a bit more aggressive and massive with the 8-string multiscale construction, but it's not for everyone, that's for sure.
I'm not a huge fan of trans red finishes, especially over flamed or quilted maple tops. And this flamed maple top is pretty dull for being advertised as 4A. It just looks a bit cheap to me and I feel like the ash body itself would have looked better without a top.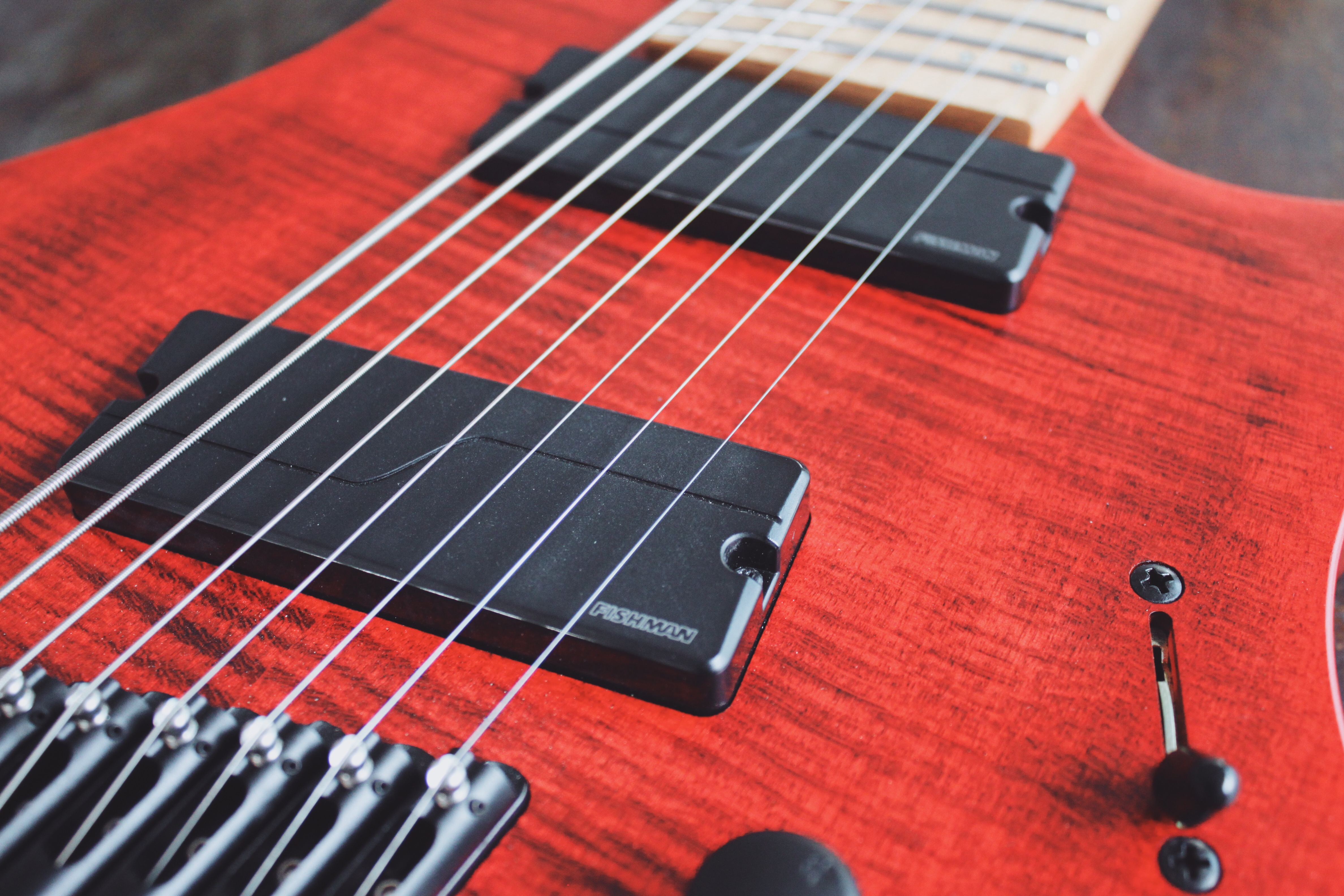 The Boden 8 is available in other finishes and looks a lot better in trans black, which hides the subpar flame a little better and makes the beautiful birdseye maple fretboard pop even more. And I gotta say, the fretboard is a beauty on this one, so no complaints there.
If you have a soft spot for industrial design, the *strandberg hardware will certainly please you. Everything just looks kind of hi-tech and well-designed, especially the bridge and its tuners. The matte black finish of the hardware adds to the valuable look.
The Playability
*strandberg can score some immediate points with me for the light weight of their Boden 8! The swamp ash body is chambered and the entire guitar maybe weighs in at about 5 pounds, so it's a joy to lug around and light on the back when strapped.
But let's get to the elephant in the room! How about the Endureneck profile? The trapezoid type shape may look clunky, but I find myself adapting quick, with my thumb resting on the flat middle part when playing rhythms in the lower registers.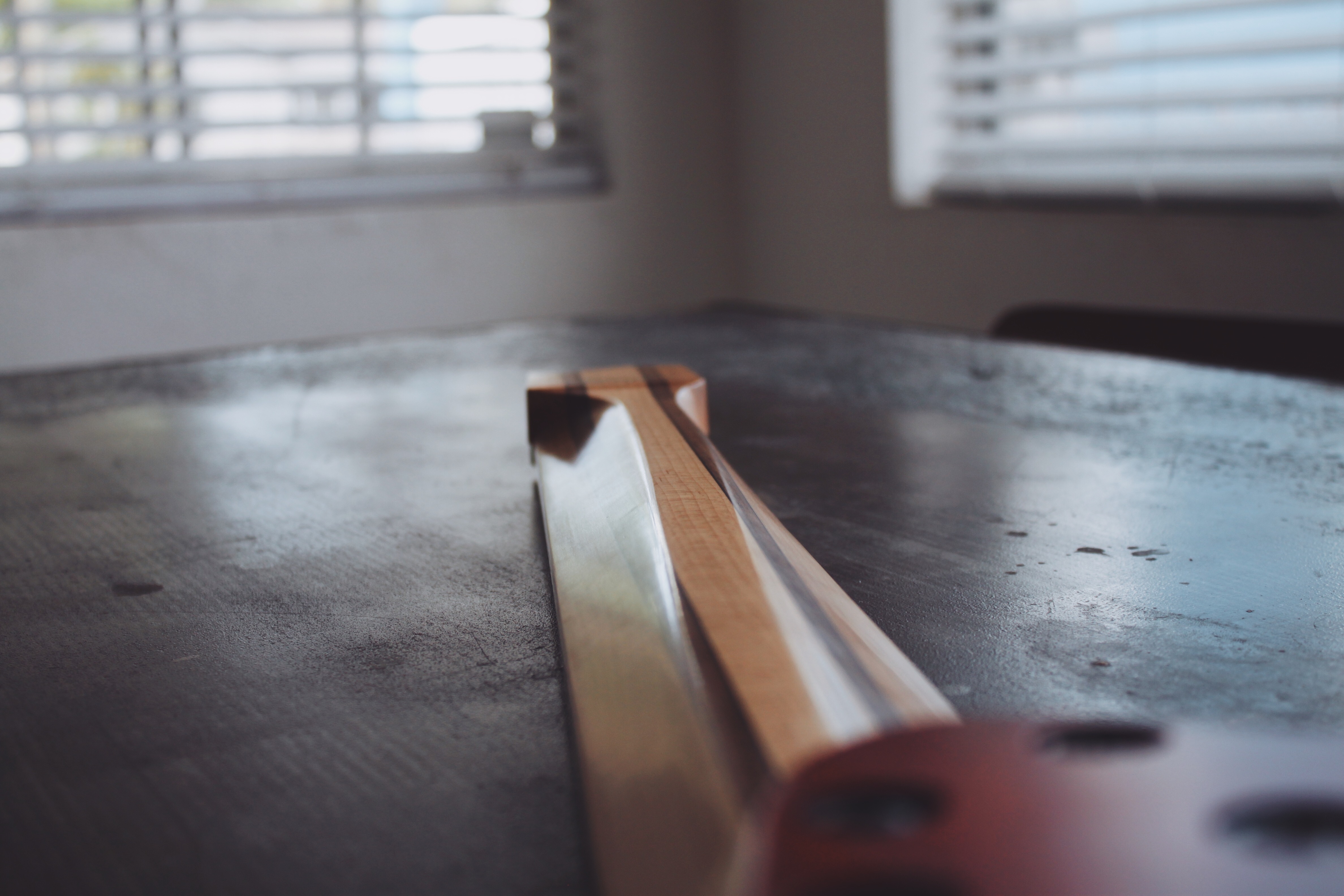 The moment I pass the 5th  fret and get into the higher registers, my thumb slips on to the upper, angled surface. Not bad! I do notice a certain relieve when my thumb transitions from one to the other surface. It just takes some tension out of the wrist, which I guess would be the point of the design.
When I grab another guitar with a more classic flat C or D profile, I do realize that my hand adapts similarly when I move up the neck, though. So I'm not sure if the Endureneck is really much of a necessity, but it certainly is comfortable to play on and might help those of you with "bad" posture.
The Sound
My experiences with the Fishman Fluence Moderns have been mostly positive. I always found them to represent the guitar they were installed in very well, so they're not some sort of great equalizer that takes away from the tone of the instrument, but rather promotes it.
The Boden has a very unique and fat tone to it and I'm not sure whether I like it or not. I definitely expected a more clear sound from the combination of tone woods. Not that the *strandberg sounds muddy, but most of my swamp ash guitars are more percussive and open sounding than this.
Here are some impressions (voicings: active/passive/active/passive):
Please refresh page if you don't see the SoundCloud players.
The Verdict
I think the *strandberg Boden 8 delivers what it promises. It's very well made for an import instrument, but it also costs $2.500, which is A LOT of money for a guitar that isn't made in the US or Japan. So there is quite a bit of competition out there!
I have a made in the USA Kiesel Zeus ZM7 with some really unique specs and it cost $500 less than the *strandberg out of Indonesia. But does the country of origin really play a role here? Not so much, actually. Because the quality of the Boden 8 is about up there with the Kiesel.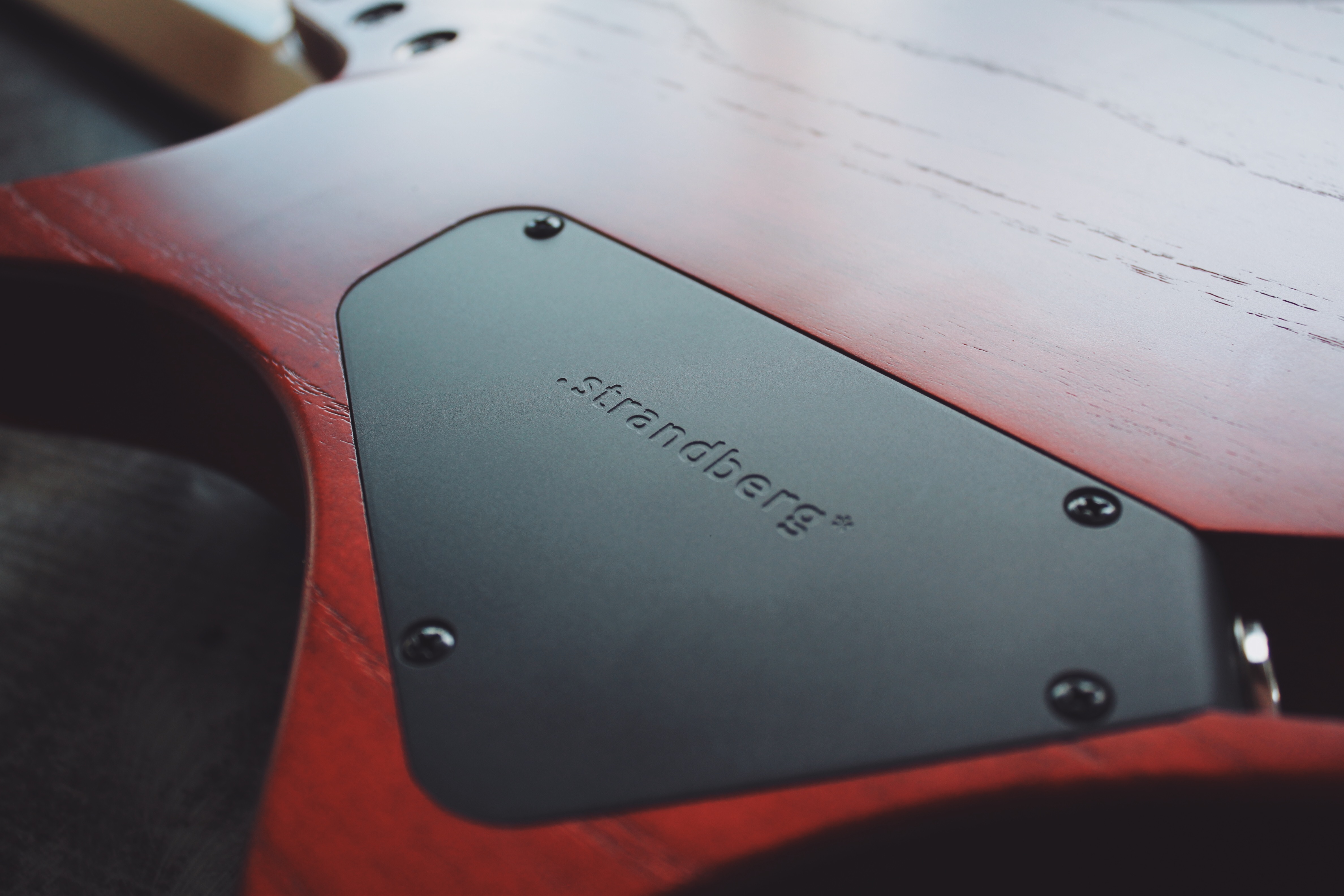 I've seen some examples with flaws, but the Boden I am testing here is pretty darn flawless. Exceptional fretwork, smoothly operating hardware, no flaws in the finish. The only thing that is a serious letdown is the flamed maple top. I'd expect more in this price range, simple as that!
What it comes down to is probably what design and neck profile you prefer. I feel like Kiesel gives you a little more value and a lot more options for the money in comparison, but maybe the design doesn't speak to you as much or the Endureneck is a must for you. In that case, go for the *strandberg!
Gallery