Editor's Rating
The Space 7 is one of the best feeling and playing guitars we ever reviewed and Padalka Guitars have a bright future ahead of them!
The Padalka Guitars custom shop has had a lot of and ever growing attention over the last couple months, probably because of their forward-thinking designs and seemingly amazing craftsmanship. The futuristic Ennea single-cut bass has especially made the rounds in relevant forums online.
After just seeing their impressive instruments at NAMM, I didn't think I was going to have a chance to review one so soon. But I was shown this Space 7 at Guitar Repair of Tampa Bay last week. A customer had just received it from Russia and brought it in for a quick setup.
The guys at the shop connected me with owner Nicholas of Lakeland Music, an online retailer of vintage amplifier tubes and music gear, and he was nice enough to let me borrow it for this review. So thanks to Nicholas and also Bob Sheeks at Guitar Repair of Tampa bay for making this possible on such short notice!
The Specs
Chambered White Ash Body
Birdseye Maple Top
Blue Stain/Satin Finish
26.5″ 7P Bolt-On Walnut/Maple Neck
Pale Moon Ebony Fretboard
24 Jescar Nickel Frets
Hipshot Bridge
Hipshot Griplock Tuners
Fokin Uppercut Pickups
Gotoh Push/Pull Volume Knob
3-Way Pickup Selector
Impressions
The first time I laid eyes on this guitar I was pretty damn impressed right away. This instrument just oozes craftsmanship with a level of perfection you'll rarely encounter before you enter some seriously crazy boutique guitar realm.
And touching this instrument enhances that impression about tenfold. Yeah, it's that good. The satin finish on the body and oiled neck feel so smooth, you could pat your cat with it. My hands just glide over this instrument without any resistance whatsoever.
And the closer you look, the more well thought out features you find. Every angle on the body of this instrument is just right and obviously designed with not only aesthetics, but also ergonomics in mind. Clever details like the recessed strap pin only add to that.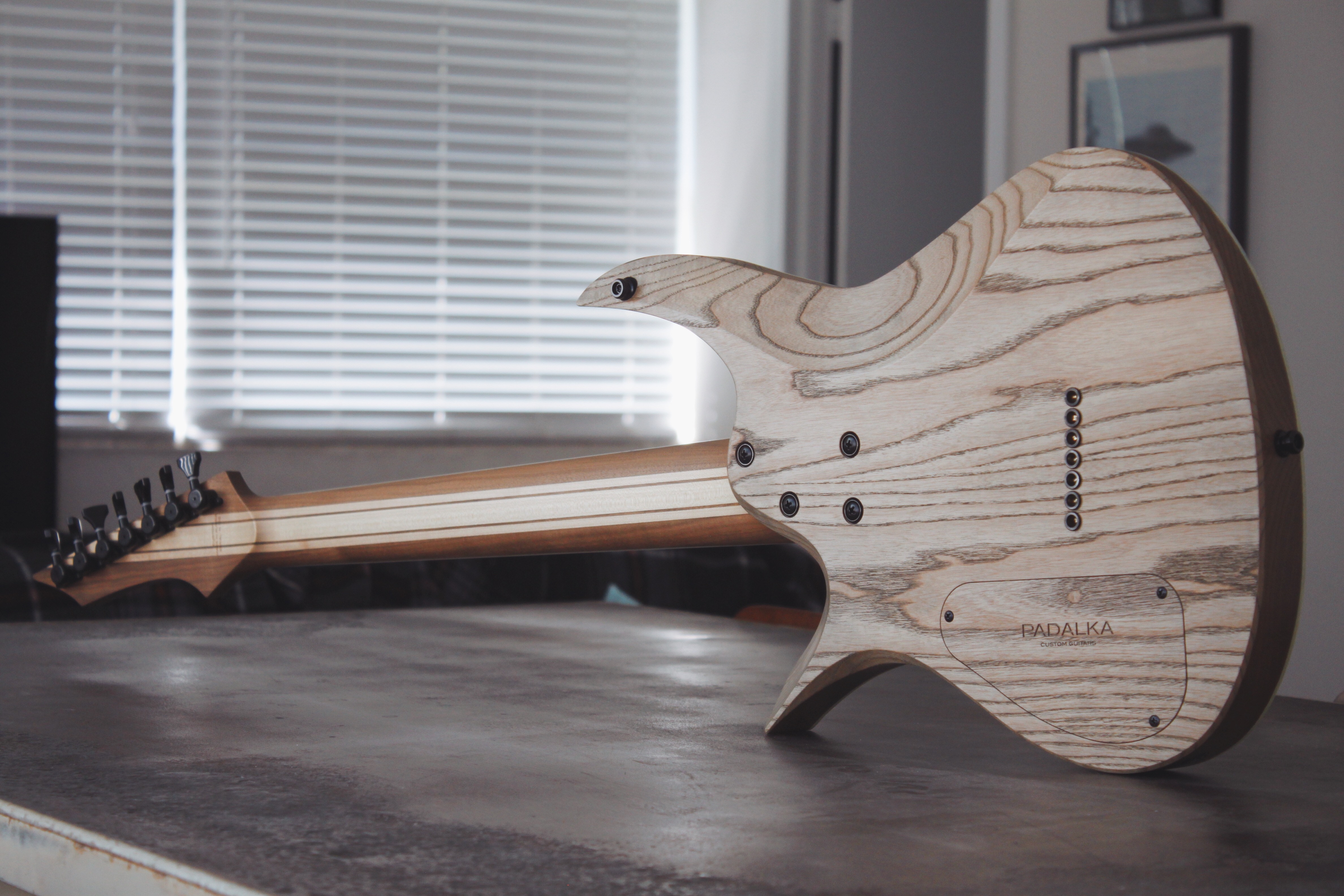 But I'm a bit torn about some design and finishing choices of the Space 7. I think Padalka absolutely nailed it with the body design, that's a straight 10/10 for me, but the headstock? Not so much! It doesn't match the ultra contemporary design of the body as well in my opinion.
The jeans blue-ish stain on the birdseye maple top is not super up my alley either and also reveals the only minor imperfection anywhere to be found on this instrument: There are some parts where the stain bled into the binding and even body, but you'll have to look pretty close to find them.
The back of the guitar is pure, organic beauty, though. The slightly grey stain on the white ash body compliments the walnut/maple neck very well and the Padalka logo that is etched into the matching electronics cavity cover is the kind of detail work I love to see in this price range.
The Playability
White ash may look like swamp ash, but it's a bit heavier than that. The Space 7 still weighs a very comfortable 3.75 kilos (8.3 pounds) and sits just as well on your lap as it balances on a strap. The long upper horn reaches all the way to the 12th fret, so there is literally zero neck dive.
But the most stunning feature of this guitar is the neck. The U profile is thin and incredibly fast, but still fills my hand nicely.  The oil finish is so silky smooth that it makes moving up and down the neck absolutely effortless.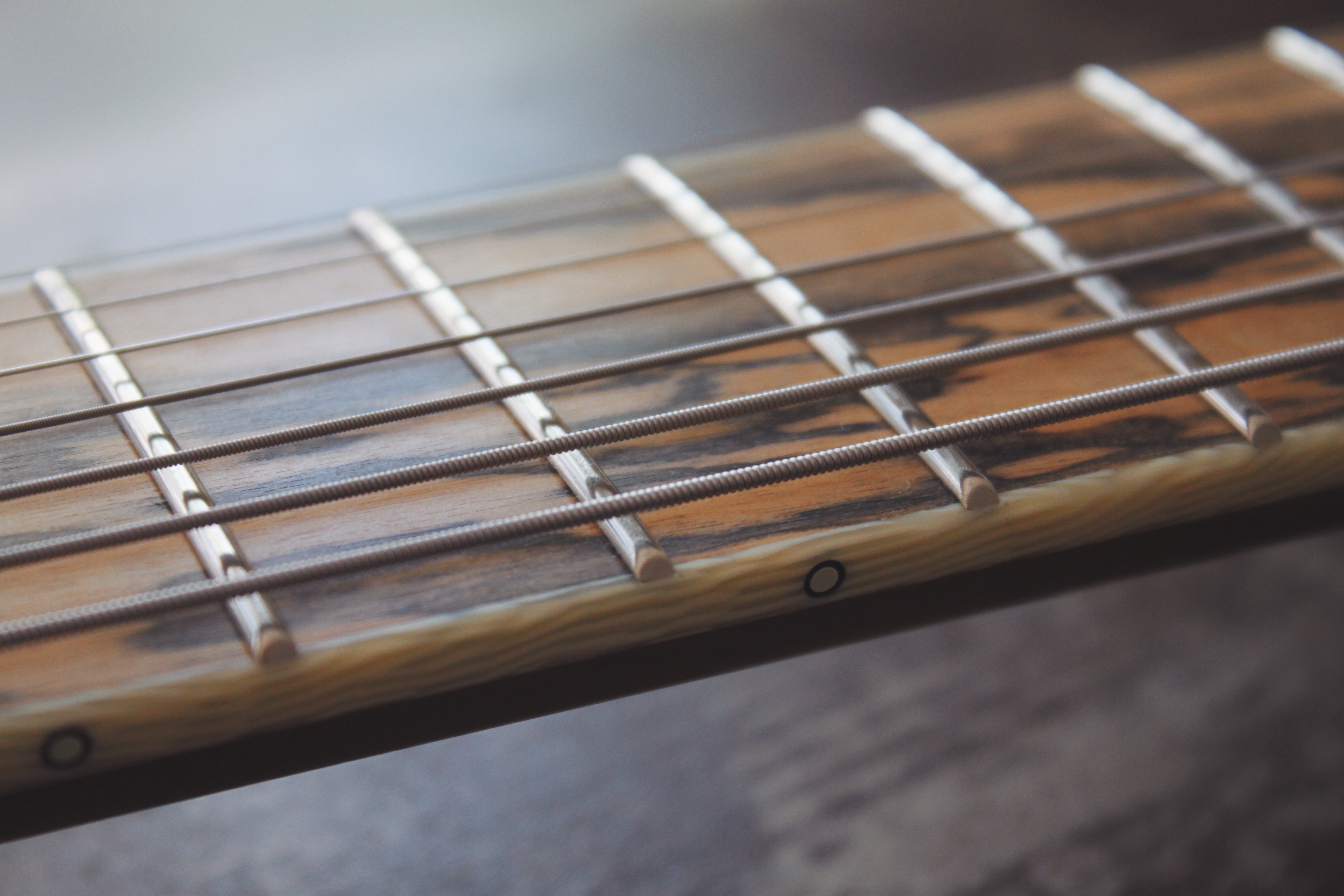 On top of that, the action is super low and the fretwork absolute perfection. I can't put it any other way: This is one of the best guitar necks I have ever touched. It's like it was specifically made for my hands and I could play this thing for hours on end without feeling any fatigue.
The 26.5″ scale is very comfortable and adds some pleasant extra tightness. This Padalka 7-string is tuned to B standard, but I still think the extra scale length enhances the tone and feel, especially when I drop the B down to A.
The Sound
I'm no stranger to combining an ash body with a walnut/maple neck, so looking at those tone woods, I expected a fairly familiar sound and was not disappointed. The Fokin Uppercut set is also made in Russia and they aren't the first Fokin pickups I have tried.
The Uppercut bridge model is not excessively hot, but other than that, they deliver a very modern, tight and clear tone in combination with the tone woods and baritone scale. The Space 7 comes with a push/pull volume knob and is very versatile even for clean tones.
But I'm a Metal player through and through, so I went ahead and turned this thing up to 11! Here are a couple of clips for you to check out:
Please refresh page if you don't see the SoundCloud players.
The Verdict
The craftsmanship of the Padalka Space 7 is as close to perfection as you could possibly get. The attention to detail and thought out design elements already speak for themselves, but once you get to touch and play this instrument, it's clearly in a league of its own.
Yeah, I'm a bit torn on the aesthetics. I love the shape of the body, but not the headstock. I love the ash body and walnut/maple neck, but don't really gel with the blue stain and how it contrasts the pale moon ebony fretboard and pickup bobbins.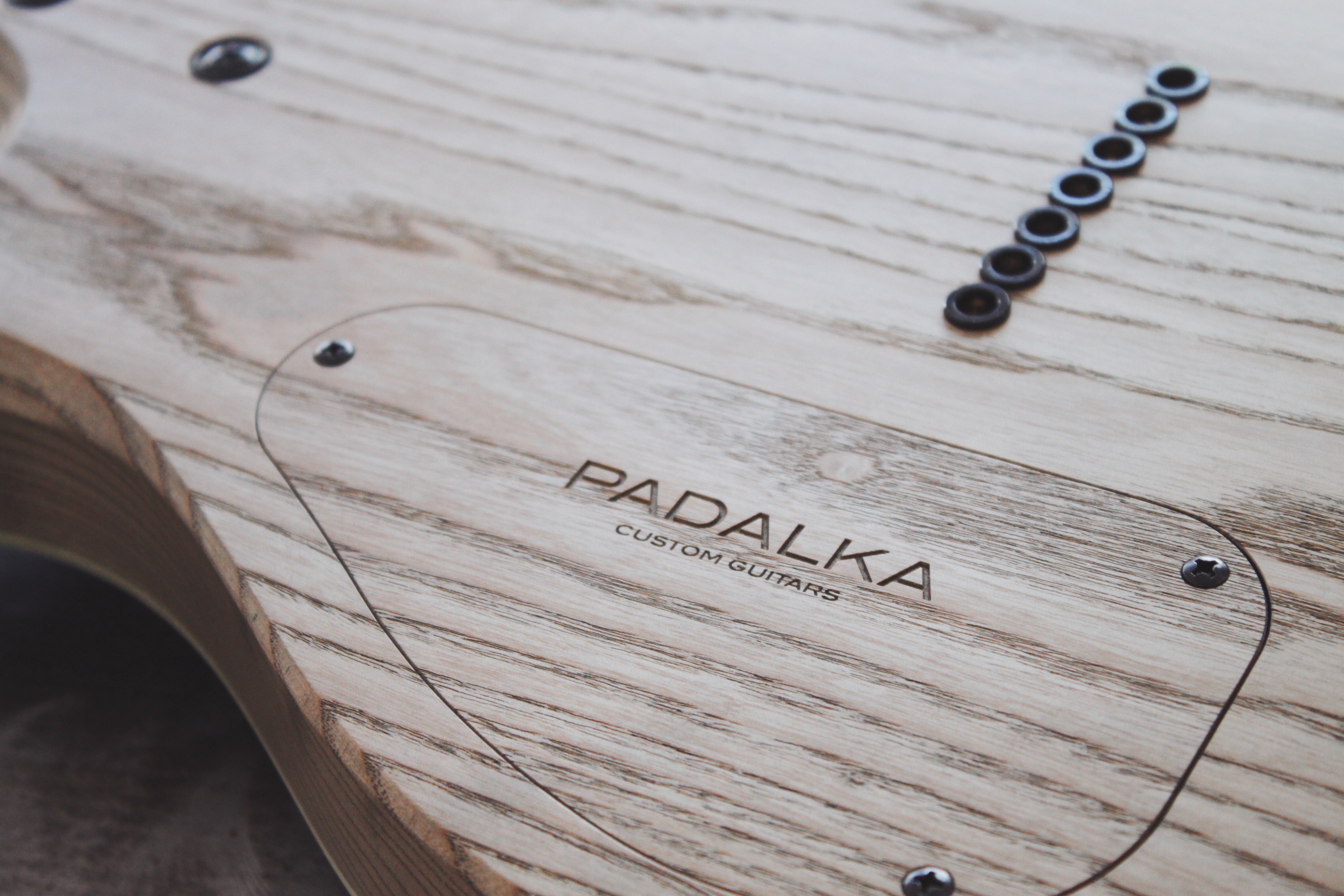 But being that Padalka is a full blown custom shop, I know that a lot of these things are variables. The Space gallery on the Padalka website reveals finishes and headstock shapes that are more up my alley, so all in all, I think the Padalka Space 7 is a great looking instrument.
The only flaw I could find with it was a little bit of minor stain bleed along the binding of the body. Now I'm not super nit-picky, but some people might find that unacceptable for a $3200 instrument. I'd let it fly in this case, but that's just me.
The rest of the guitar is just so impressive that I couldn't possibly send it back because of a couple of tiny, blue spots. Looking at the absolutely perfect build quality of the Space 7 , I'm sure that these flaws will be a thing of the past soon anyways.
Gallery