Editor's Rating
Custom shop quality Metal machine for just over 1000€.
After designing the 'Sludge' with Berlin luthier Robert at Hapas Guitars and having it built to the fullest satisfaction of my expectations, I ended up becoming a little more involved with Hapas Guitars. Being that they were local and therefor accessible, we met up regularly and started talking about the idea of coming up with a limited and very affordable run in collaboration with ERGNerds.
We planned out the specs with his coworkers Andreas and Pawel, I went into the shop to learn guitar assembly and improve my set up-skills. A few weeks later I moved to the US, which is also why there was some radio silence on this website for a while. Meanwhile, the prototype of the Siren WrkHrs 727 was being finished and sent to Tampa, where I assembled it – and where I will assemble and set up all future Hapas US orders.
The Specs
35mm Ash body
Black Coal finish (final model comes with matching headstock)
Wenge/bubinga 5P bolt-on neck
Ebony fretboard
Offset dots
Nickel jumbo frets
27″ scale
Graph Tech TUSQ nut
Schaller M6 locking tuners (final model comes with Hipshot Open Gear tuners)
ETS fixed bridge (final model comes with Hipshot fixed bridge)
Instrumental Pickups SFTY3 (your choice of pickup/s for the final model)
Impressions
So the process of receiving this guitar was obviously different from your usual customer's experience. The Siren arrived disassembled to save on shipping costs, so I had to put my recently acquired skills to work and put it together. That was easy enough and didn't take very long, since I was well-prepared and -equipped for the task.
Once it all came together, the Siren made a very sleek and organic first impression. The slim 35mm body with the bevel and black coal finish looks as mean as it gets and the dark ebony fretboard adds to the very homogenous overall appearance. When you flip it over, the 5p wenge/bubinga neck is simply stunning. It's really such a good look and blends in very well with the dark nature of the black coal finish, while adding to the organic and natural look and feel of the instrument.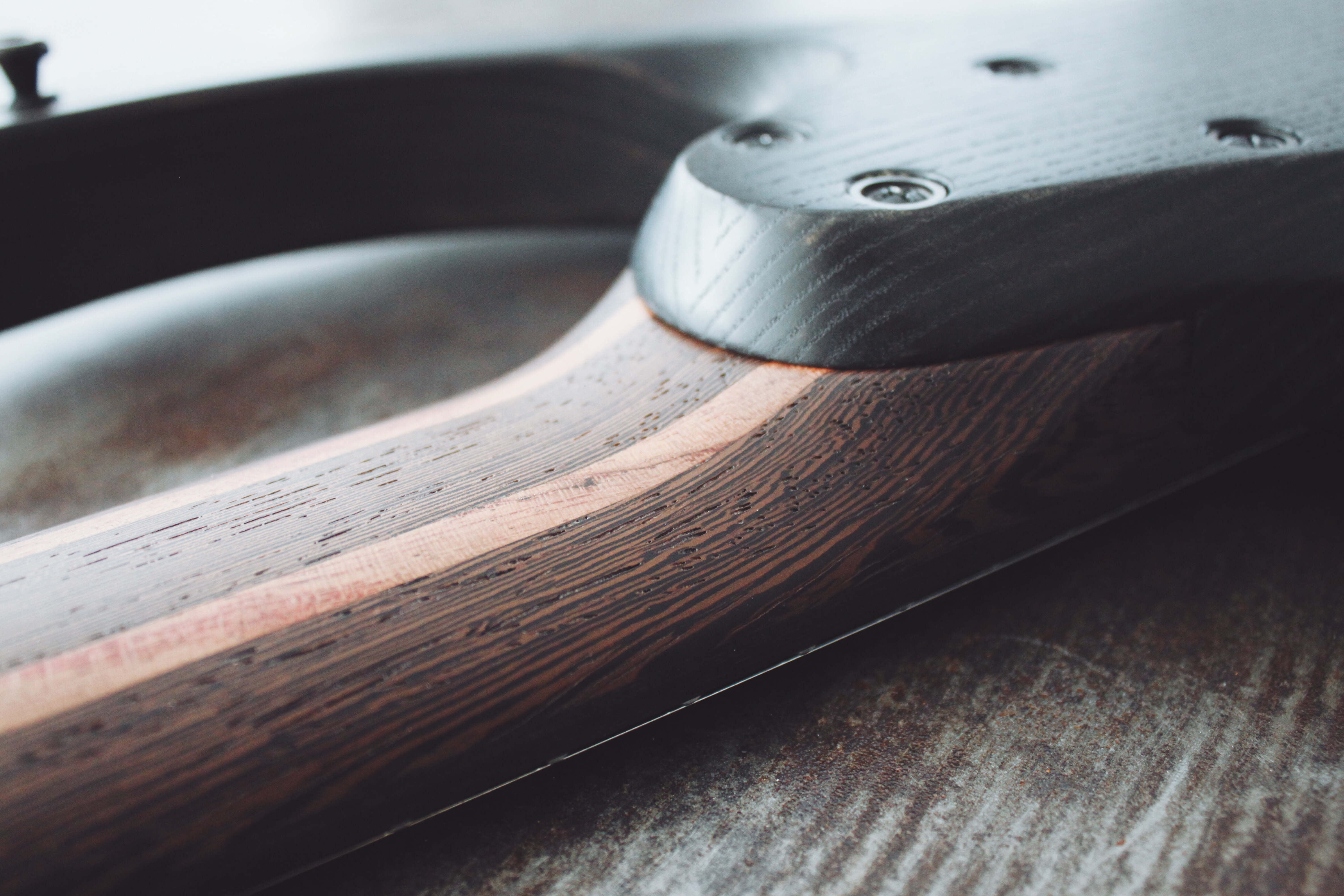 Now the WrkHrs and WrkHrs Ltd series is supposed to be a very affordable line of guitars, offering custom shop craftsmanship and quality for a midrange price. So to cut costs and labor, one thing Hapas Guitars changed in their production process is to build these guitars with straight rather than angled headstocks, because it cuts down the production process by a couple of steps and makes quite an impact on the price. I thought that this would bother me more, as I'm not too fond of straight headstocks, but I gotta admit that it's not a huge deal.
Besides the simplified headstock construction, the guitar is a no-frills but high end machine. No fancy tops or details, no gaudy finishes, just a quality workhorse. And since less is more, I opted for a single pickup layout yet again and threw in the Instrumental Pickups SFTY3. The prototype comes with an ETS fixed bridge, but the final product will be equipped with a Hipshot bridge (and open gear tuners).
The Playability
Well, the playability is partially a result of my responsibilities in this case, so it is a bit harder to judge certain aspects of it. To be fair, the guitar was pre-assembled and set up at the Hapas Guitars workshop in Berlin, before they took it apart and shipped it out to me. The intonation was already on point and I basically only had to put the thing together, make sure that the neck was set up straight and get the action right.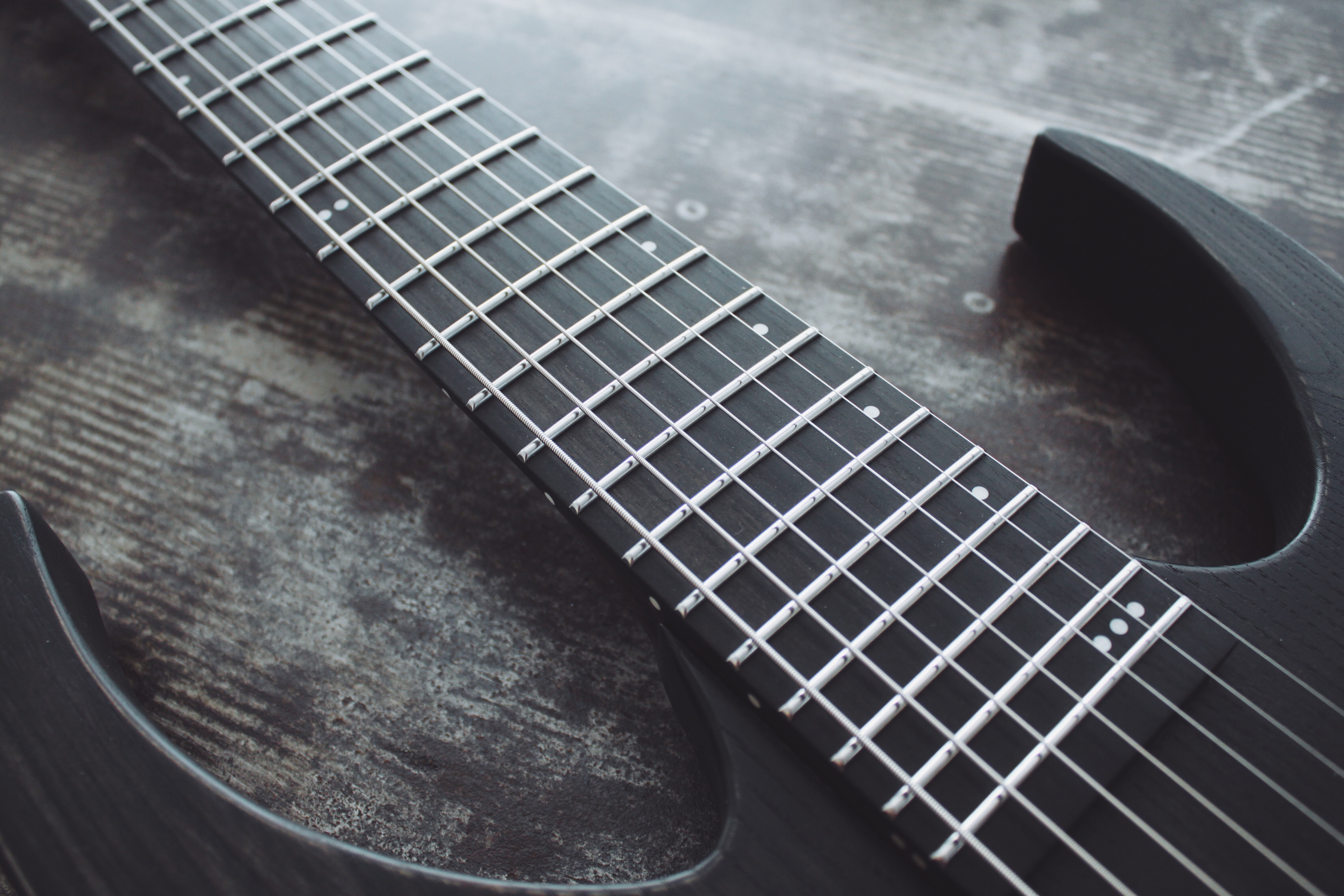 And now that that's done, the Siren WrkHrs Ltd plays fast. The neck profile and oil finish are comfy and extremely shredable, the fretwork is flawless and even slightly more well done than the fretwork on my Sludge, which is already on point. You can simply tell that these guys gain more and more experience with every single instrument they build and it goes to show in the details.
The Sound
Thanks to the somewhat similiar specs (ash body, 27″ wenge neck, Instrumental Pickups SFTY3), the Siren sounds pretty similiar to my Hapas Sludge 727. Maybe even a tad more balanced, though. The low end has a nice, aggressive snarl to it and is tight and articulate, the midrange is well-pronounced and the highs are transparent, without being shrill. This thing cuts through a mix like a machete, I can tell you that.
Enough with the talk, let's fire up that Kemper, load one of my ERGLabs Kemper Profiles and bust out some riffs!
I used D'Addario NYXL strings for these clips.
The Verdict
Like I stated a couple of times throughout the article, the WrkHrs and WrkHrs Ltd series are supposed to offer custom shop quality for an affordable price. So, first of all, what's the damage? 1099€ with the single pickup layout. Second of all, does the craftsmanship hold up? Absolutely! The quality is easily on par with my Sludge 727, which is the more expensive and a full custom shop model.
I don't think any custom shop can offer this level of quality for a comparable price at this point. While many luthiers and custom shops offer runs these days, they are often outsourced and produced in China or Korea.
The guys at Hapas Guitars figured out a way to do it themselves by streamlining the production process without sacrificing quality. If you can look past the straight headstock and don't insist on having a fancy top or finish, this thing is the best bang for the buck ever! For more info and orders, click here!
Gallery