Editor's Rating
Understated signature / high end import baritone 7.
Well, howdy everyone! It's been a while, but we figured we'd return to your screens with a really nice and sleek baritone 7: The LTD AW-7B, signature model of Whitechapel guitarist and all around nice guy Alex Wade. And what does the man play? A very understated and classy, yet deadly Superstrat!
After trying and owning some LTD Black Metal line 7-strings, all made in Indonesia (and really damn good at that), I was finally blessed with a Korean specimen this time around. So if you wanted to know how the top tier LTDs from both countries compare, you're in the right place.
At first glance, the AW-7B is a guitar that couldn't be more up my alley: Tone woods, pickup(s), hardware, finish… nothing much I would change, apart from the fact that I would be 86ing the neck pickup. Obviously. But does this guitar keep what it promises on paper? Let's get into that!
The Specs
Ash Body
Open Pore Black Satin Finish
27″ 5P Bolt-On Maple/Paduak Neck
Macassar Ebony Fretboard
24 Stainless Steel XJ frets
Thin U Profile
Hipshot Bridge
LTD Locking Tuners
DiMarzio D-Actitvator Bridge/Neck Humbucker
Form-Fit Case Included
Impressions
Upon the initial unboxing, I was pleasantly surprised to find that the guitar comes in a form-fit case straight from the factory, so we were off to a good start!
And opening the case did not disappoint either! The AW-7B presents itself dressed in a really stealthy black – with the only exceptions being gold pickup poles and the LTD logo on the reversed headstock.
At first glance, it evokes comparisons with LTD's own Black Metal line, but a closer look reveals a more refined and less stripped down instrument. And thanks to the open pore finish, it also appears more organic.
The AW-7B strikes an interesting balance between being a Metal machine, but without looking all too aggressive. It almost has a stealthed-out Fender appearance to it, which pleasantly reminds me of my Hapas Sludge 7 (Telecaster-based) and Judge 7 (Jazzmaster) baritones.
Beyond that, it is loaded with two DiMarzio D Activators, a Hipshot bridge, volume knob and 3-way pickup selector. A workhorse with a touch of class that doesn't scream signature guitar.
The Playability
The AW-7B arrived here set up to absolute perfection. The action is extremely (!) low with pretty much no fret buzz to speak of, despite my stupid low tuning and the chunky string gauges it requires.
If I haven't stressed this point enough in the past, let me say it again: This is the famous ESP plug & play feel I always talk about! It's an experience I have had with LTDs and ESPs straight out of the box many times, dating all the way back to the purchase of my first Viper 400 in the mid 2000s.
What differentiates this guitar from any LTD or ESP I ever played is the fact, that it's bolt-on. The neck joint may look a bit chunky at first glance, but it does not get in the way of playability whatsoever.
The fretwork of the AW-7B is flawless as well. No sharp fret ends, no high frets, no issues. The thin U profile, albeit more chunky than the shreddy Ibanez or Jackson profiles, is very comfortable. The silky smooth satin finish on the back of the neck makes it a breeze to move up and down the scale fast.
Alex Wade jokingly told me that this guitar wasn't designed with much finesse and soloing in mind, but I gotta disagree. It plays so well, I think it can do much more than aggressive rhythm playing, although that is still an obvious strength of it.
The volume knob could have been moved further away from the pickup, maybe even to the tone position. It does get in the way of my neanderthal picking hand at times and I know it's something many ESP players would welcome as well.
The Sound
Well, the DiMarzio D-Activator and I have a long history. It used to be my absolute favorite pickup ever, my reference pickup even, but it's been years since I played a guitar loaded with it.
The long short of it is, that I still love it! It's aggressive, throaty and cuts through the mix in all the right places. Most of all, it plays very well with the tone woods of this guitar.
The result is a bright and aggressive sounding baritone 7, with lots of bite, clarity and pick attack, but especially a really big and crunchy mid range!
The icing on the cake is that the D-Activator set comes in beautiful matte black covers with gold pole pieces, which just looks elegant as hell.
The Verdict
The question everyone's looking to have answered is probably whether or not the Korean LTD is significantly better than the Indonesian specimen from the same tier. And I can say that at least in my experience, they've been pretty on par.
What does that mean? That I've gotten some really impressive Indonesian LTDs in the past, because they were in the very same quality ballpark as this one. And this one? Well, it's really, really good.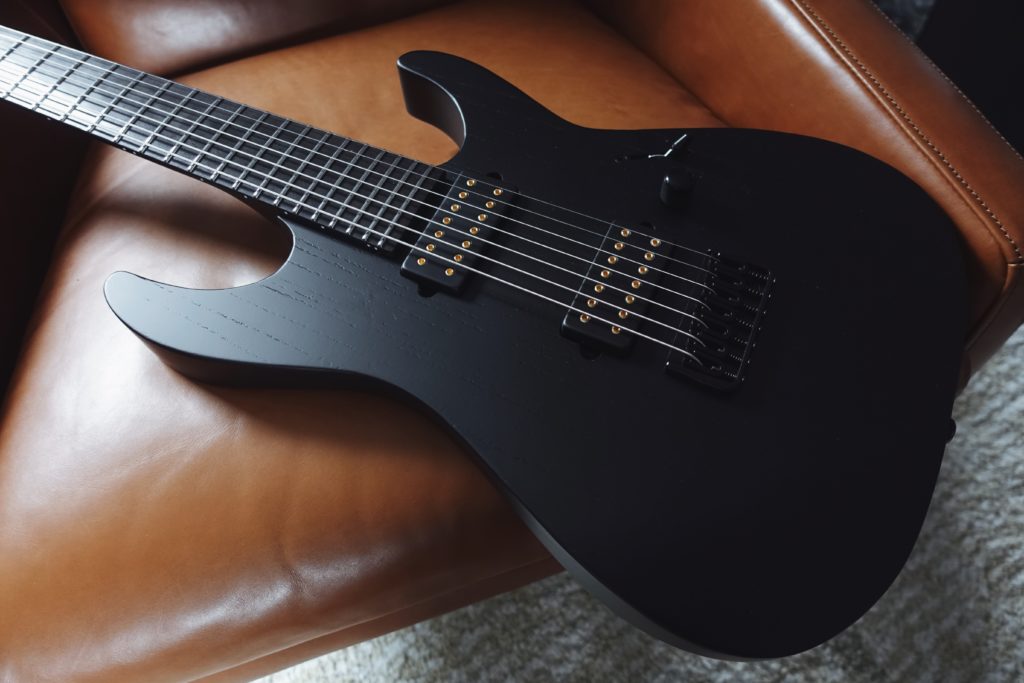 Now at a street price of $1799, the AW-7B doesn't come cheap. But I gotta say, this guitar absolutely feels, plays and sounds like you're getting your money's worth. Not to mention the fact that it comes with a high quality ESP case.
I can't find any real flaws with the AW-7B and it is more than good enough to become a part of my live guitar lineup. Being that its desing language is so stealthy as well only qualifies it even more for that.
I'm not gonna lie, its tone and playability also rival my E-II Horizon NT-7Bs, which was a revelation I had to sit with for a bit. The attention to detail may be higher for the made in Japan models, but this thing gets pretty damn close. It doesn't exactly embarrass itself next to my new ESP Custom Shop Arrow 7 baritone either… let that sink in.
There are no two ways about it: This simpy is a great guitar!
Gallery