Editor's Rating
Where we're going, we don't need knobs...
I first met Erdem Koca in 2018. He had just moved to the area and started working out of the Guitar Repair of Tampa Bay shop, which is where I frequently bring my guitars for setups, pickup swaps and the likes.
Erdem and I quickly became friends and he was in the process of finishing a Light 7FF for a customer at the time. I was intrigued to try it out, he let me borrow it for a weekend and I ended up writing an article about it in the German Gitarre & Bass magazine.
We were hanging out at the shop one day and he proposed to build a full blown custom guitar for me, so we sat down and slowly but surely adjusted his Light shape more to be aggressive and better suited for my style of playing. And when he showed me his selection of tone woods, it was impossible to resist. The result: The Koca Lightmare 7FF!
The Specs
Black Limba Body
Ziricote Top/Back
Oil Finish
28″-27″ 5P Neck-Thru Wenge/Purpleheart Neck
Pale Moon Ebony Fretboard
24 Stainless Steel Frets
Graphtech TUSQ Nut
Hipshot Bridge
Hipshot Open Gear Locking Tuners
Hapas Bæhemoth Humbucker
Impressions
First off, I haven't had a more exotic guitar since my buckeye burl Kiesel Aries 7 Multiscale. In recent years, I have sort of gravitated towards more stealthy looks again, but Erdem convinced me to do something different and go all out with this one.
I've always wanted a guitar with a ziricote top or fretboard, so that was my first choice. I'm not typically a fan of pale moon ebony, but Erdem pulled out this unbelievable piece and convinced me to use it for the fretboard. You should see the tone woods he has in the drying room!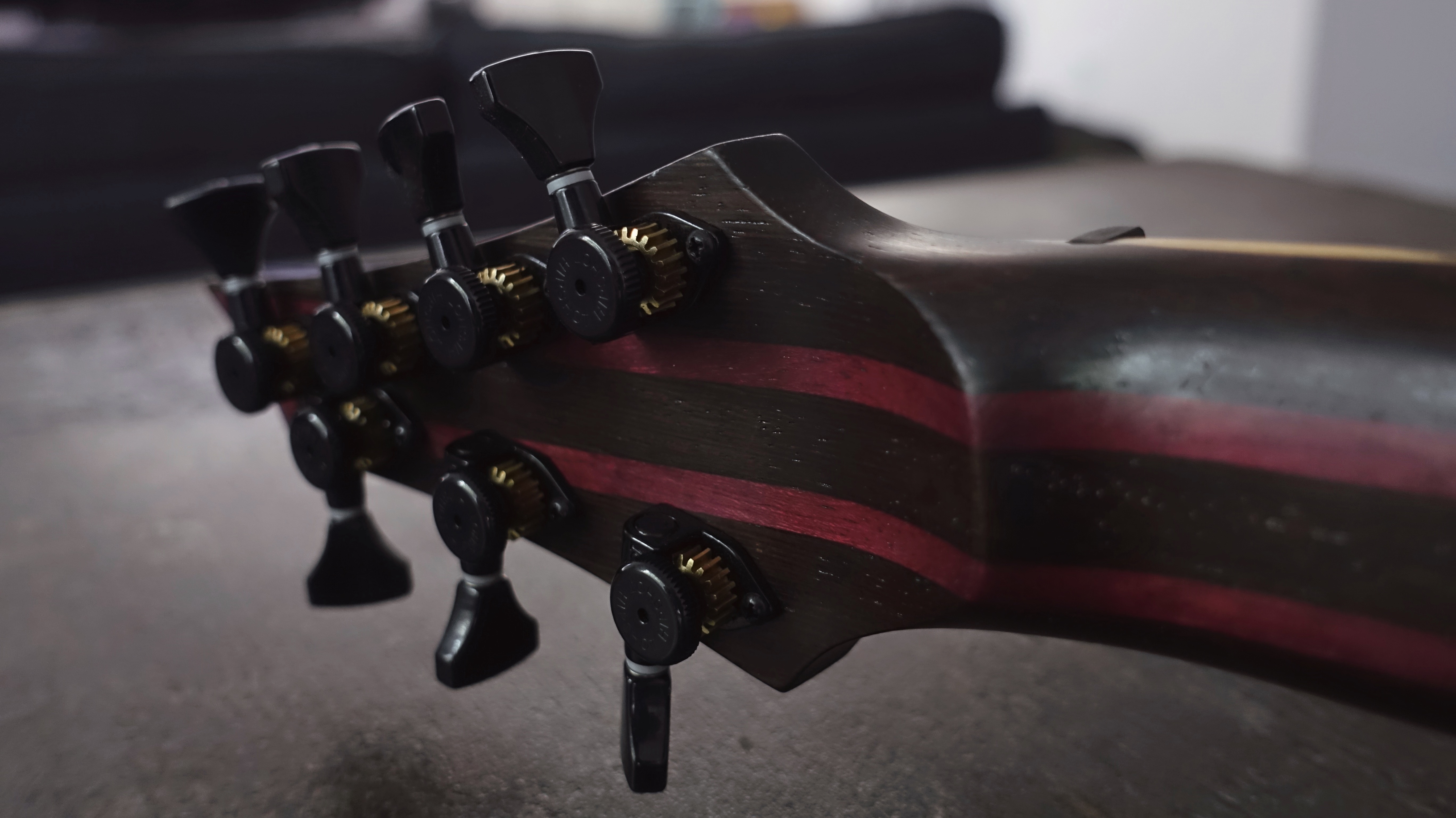 The original shape of the Light 7 I tried in 2018 was a bit too stubby for my taste, so we sat down and made the horns of the Lightmare a bit longer and pointier. I also wanted it to be as clean as possible, so we decided to go with a knobless layout.
The pictures probably speak for themselves, but the Lightmare 7FF is as mean and clean as it is exotic and fancy. Everything about this guitar is 100% custom and built to my specs, so obviously I am very satisfied with the result. I think it's classy and despite the wealth of grain, it's not over the top.
The Playability
My previous experiences with multiscale constructions have been pretty mixed. I often find that the lower register suffers from too steep of an angle at the nut, based on the position where most brands place the perpendicular fret.
At the same time, I wanted to seize the opportunity and get a 28″ scale length for the lowest string. While anything more than 27″ is typically a stretch for my small-ish hands, I've wanted a studio instrument with that extra bit of tension for a while now.
So Erdem and I sat down in front of the computer and drew up a few different options. We landed on a 28″-27″ scale with the 7th as the perpendicular fret. I figured a 1″ fan would be moderate enough and the drawings promised a very reasonable angle at the nut.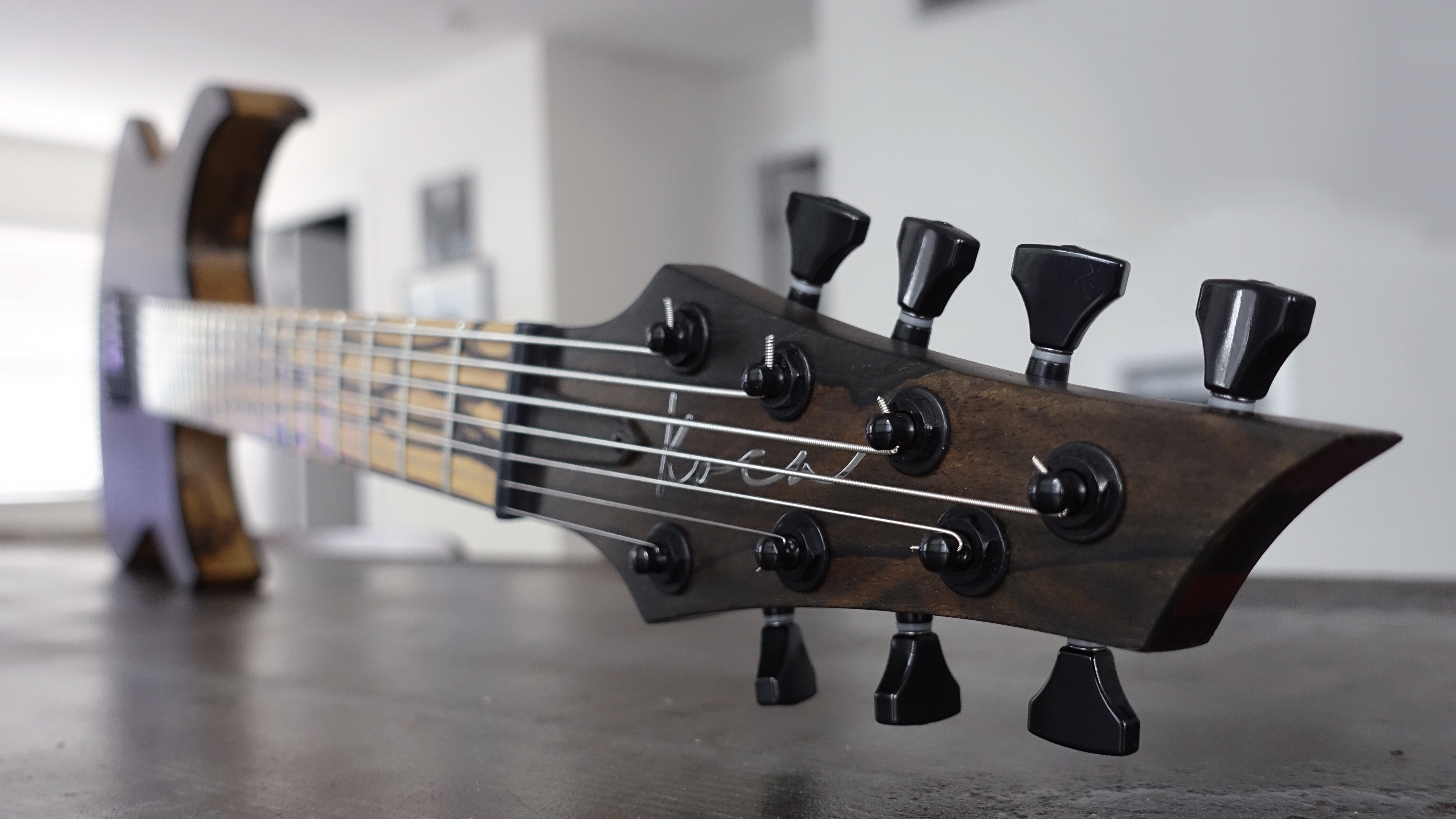 Luckily all of these deliberations have proven themselves right, because they delivered exactly what I wanted. The fan is so minimal that you hardly feel it. In other words, there is little to no adjusting to playing these fanned frets.
Meanwhile, the tension difference of the low F string on the 28″ scale is quite profound compared to all of my 27″ guitars. Sure, you may think going up in string gauge would achieve similar results, but I tried all that in the past. 28″ just really is a sweet spot for a low F.
The custom neck shape Erdem created for me is fast and feels immediately familiar – great job! The only thing that still takes some getting used to is the angle of the Hipshot bridge. It forces some repositioning, particularly of how you're palm-muting.
The Sound
Right before getting this guitar made, I tried a couple of pickups from Hapas Guitars and the Bæhemoth seriously impressed me. It reminded me of everything I loved about the Instrumental Pickups SFTY3, but with a thicker midrange.
That was right around the time Erdem and I put this build together, so I asked the Berliners at Hapas if they would be able to make an angled Bæhemoth for the Lightmare 7FF. Luckily they said yes and here we are.
This instrument already sounds incredibly clear and LOUD unamplified. It is partially chambered in the lower half of the body, to some degree to facilitate the knob-less layout, since the pickup is wired straight to the output jack.
That makes the guitar acoustically louder and a bit fatter in the lower midrange. The biggest thing for me is how tight that low F sounds thanks to the 28″ scale, though. It just has this piano-like attack and ring to it! Here's a couple of clips:
Please refresh page if you don't see the SoundCloud players.
The Verdict
When you get so involved in the creation of a custom guitar, down to not only the choice of tone woods and pickups, but literally every last technical detail and spec, it's hard to really be unbiased when it comes to rating the result.
Erdem did a great job with the Lightmare 7FF and I appreciate that he gave me the opportunity to really dive deep into the process with him. He insisted on pushing me outside of the realm of some all too obvious choices I would have probably made otherwise.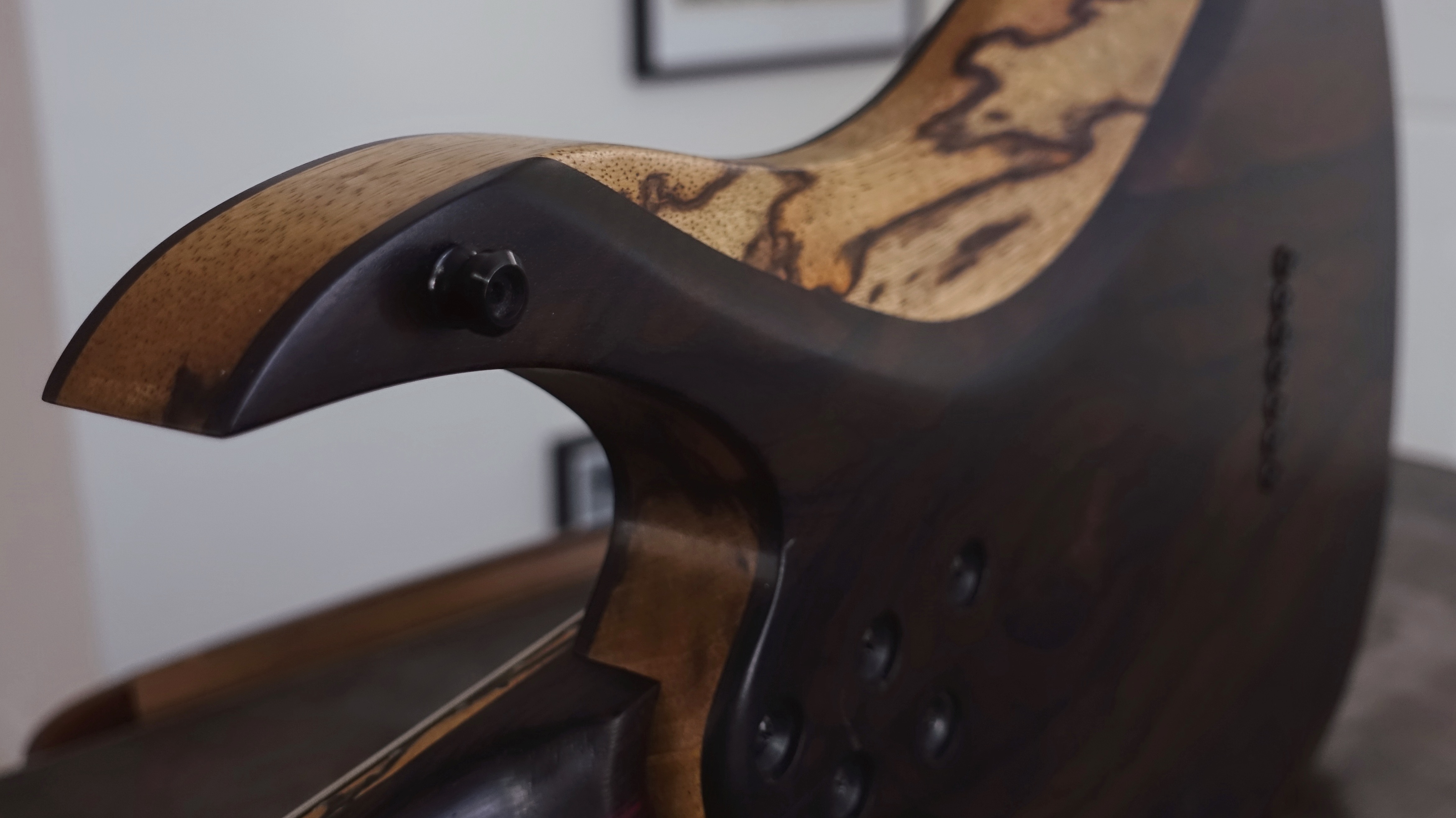 The result is an instrument that definitely stands out among the rest of my collection! The combination of highly figured and great sounding tone woods is a testament to the guitar's heritage: Pure custom goodness and quality.
Appointments like the clean, knob-less layout also make the Lightmare 7FF an unforgiving Metal machine at the same time – and I absolutely love the ambivalence between the stunning aesthetics and uncompromising, pedal to the metal set up.
Gallery