Editor's Rating
Positive Grids BIAS Desktop is extremely versatile, it's cheap (compared to hardware-solutions or real amps) but first of all: it's fun without leaving the professional aspect behind.
I've been an avid fan of amp simulation software ever since I played around with the first decent programs around 2004.
"Amp sims" are convenient, quiet, easy to set up and – most importantly – they are getting better and better up until the point where it is extremely hard to distinguish a purely digital, simulated guitar-track from an elaborately miked boutique amp recording.
I actually think that amp simulators for Guitars & Bass played the second most-important part in todays home-recording-standards (with Drum-Samplers being the number one).
Positive Grid first surfaced with their JamUp-line for iOS, a jam-packed guitar-suite for Smartphones and Tablets. After that they developed BIAS iOS, an app that lets you create your own amp from various modules and presets. Gamification galore!
Could we please – at this point – take a moment to marvel at the possibility to run your guitar or bass through a palm-sized "super-computer" and actually get a decent sound out of it? Who would have thought that we would be able to do that 10 or 15 years ago?
<silence>
In 2014, Positive Grid announced their entry to the Mac- and PC-world with BIAS Desktop, the advanced guitar amp modeler for your DAW of choice.
Features
BIAS Desktop looks pretty much exactly like it's iOS-counterpart, but both versions only share graphics and the overall user-experience, while the desktop version was completely developed from scratch.
It comes in two versions with BIAS Desktop being the entry version with 36 amp models to get started, the complete BIAS amp design modules and sync-functionalities to your mobile devices.
BIAS Professional adds a few expansion packs and – most importantly – Positive Grids own "Amp Match Technology" (we will talk more about this feature in a dedicated review later).
BIAS Desktop runs for $99, the Professional-version costs $199.
User Experience
BIAS (or the whole Positive Grid-line essentially) is for people who like to modify, who always liked to finetune their guitars, their cars, their bicycles, their characters in videogames etc.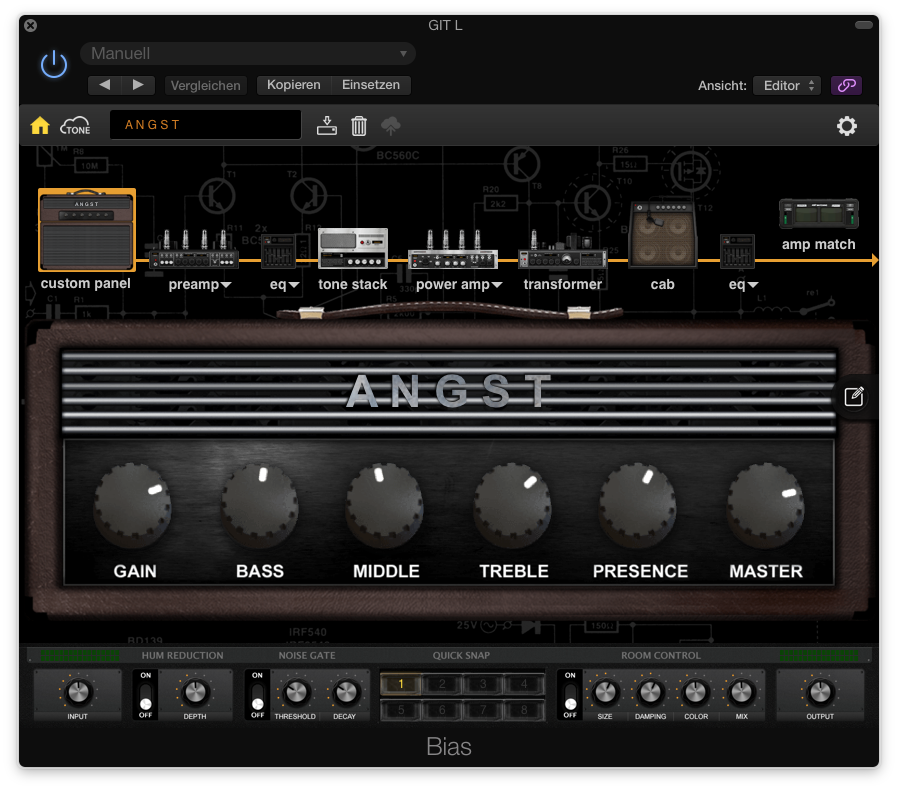 It may be the least important feature of an amp-sim, but I bet it's the first you'll play around with: You even get to design your own amp-head. Including tolex, knobs and grills! It's kinda dumb but fantastic. And it kind of defines the whole user experience of BIAS. You'll get to dial in your own amp in a very visual way with every module being represented by realistic graphics instead of nerdy charts and numbers. You don't know what the transformer does in an amp? Doesn't matter! Just play around with it until it sounds good.
That's the beauty of BIAS – you don't have to have a degree in electronics to actually work with the app.
You essentially pick an amp as a starting point and work from there – change tubes, tonestacks, cabs, microphone positions etc. You can even add two equalizer modules to further shape your tone. One in front of the tone-stack and one after the cab. When you're happy with the result you can save it in your Positive Grid user account or upload it into the "Tone Cloud" and share it with other BIAS users.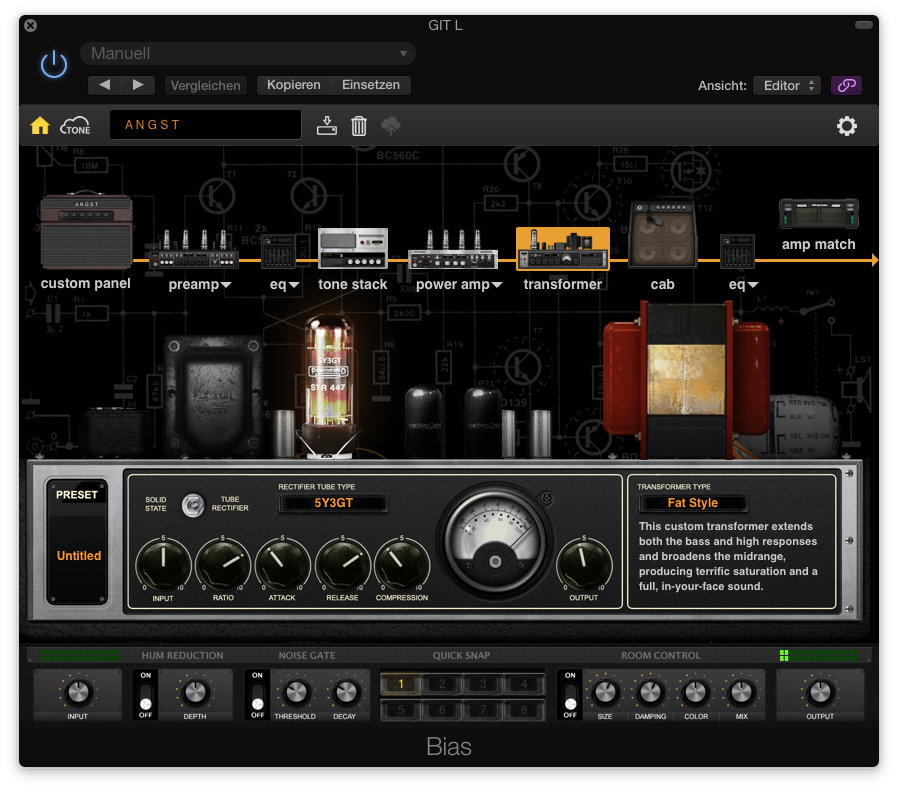 The "Tone Cloud" – or the user account you have to use to save and load presets – is the only problem I have with the user interface by the way. Whereas the app itself is really easy to use and straight-forward, the user account system is somewhat confusing. An amp you saved in the plugin sometimes won't show up in the iPad-version, I got logged-out unexpectedly in the plugin-version without noticing and wasn't able to quickly save my amp because of this etc. I hope Positive Grid will sort that out but honestly – it's no big deal anyway.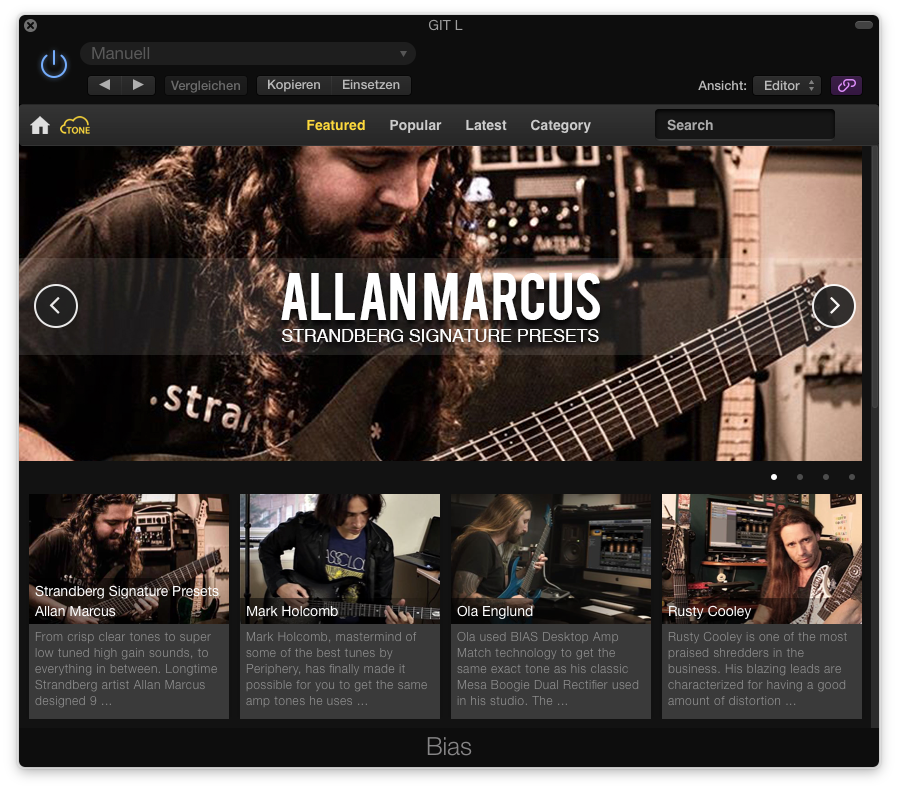 Sound
Now, all these words are no use for you if you can't listen to some sound-samples, so I created a few different amps and recorded some samples with it.
(You can find the ERGNerds-Presets "A N G S T" & "ERGBalls" in the ToneCloud).
On iOS you are able to load your BIAS-amp into (the separately sold) JamUp-suite to add various stompboxes and effects to your rig. There's no JamUp for your DAW of choice though, so if you want to add a Tubescreamer in front of your new high-gain-monster, you have to look elsewhere. There are various (free) plugins out there though, so you won't have to look far. On one hand that means that for some people BIAS will not be a complete guitar-suite (it isn't intended to be that full-featured software package). On the other hand it kind of recreates how you have to work with real equipment. You collect stomp-boxes from various sources in "real life" too, right?
Of course these samples are made with a Metal background in mind, but you'll also find various clean- and crunch-models in BIAS Desktops amp library.
Verdict
BIAS Desktop is a beautifully made amp modelling suite that perfectly lives in the Positive Grid software universe. If you are not a full-on "tube amp snob", you should definitely give it a try. You can download the free demo version at store.positivegrid.com.
It's extremely versatile, it's cheap (compared to hardware solutions or real amps) but first of all: it's fun without leaving the professional aspect behind.
With it's Amp Match feature, the professional version takes on the solutions of the two big digital hardware amps and we'll talk about that in an upcoming post. Until then, mod away!