Editor's Rating
The Black Metal series Viper 7 Baritone is a Heavy Metal sledgehammer!
When ESP came out with the LTD Black Metal series at NAMM two years ago, I was sold right away. The simple layout of all models, featuring no more than a single bridge humbucker and a volume knob, not to mention the ultra stealthy appearance, basically screamed my name.
When the series launched, it contained a super sexy Eclipse 6-string, a lethal M 6-string and a Viper 7 with a 25.5″ scale neck. For 2019, LTD didn't only add two new models (a bass and absolutely weaponized Arrow 6-string), but they also upgraded the Viper 7 from standard to 27″ baritone scale.
My first good guitar ever was a 2004 LTD Viper 400 – a true workhorse instrument that wasn't only solid as a rock, but also sounded chunky as hell. So I'm pretty psyched to check this 7-string model out. After all, the stripped down layout and aesthetics absolutely hit the spot in regards to my taste and needs for guitars today!
The Specs
Mahogany Body
Black Satin Finish
27″ 3P Neck-Thru Mahogany Neck
Macassar Ebony Fretboard
24 XJ frets
Tonepros Locking TOM Bridge
LTD Locking Tuners
Seymour Duncan Black Winter Bridge Humbucker
Form-Fit Case Available
Impressions
As the name implies, the Viper 7 Baritone Black Metal couldn't be any blacker… or could it?! Well, if we're being nit-picky, it could have a completely black fretboard rather than the slightly streaky and super rich macassar ebony fretboard. But I actually love it and it doesn't break up the overall appearance, so I'm not complaining.
Besides that, everything that could possibly be black on this instrument is as black as it gets. The entire guitar is dipped in a black satin finish, comes with black hardware and a single blackened (meaning: with a black logo and black pole pieces) Seymour Duncan Black Winter in the bridge position.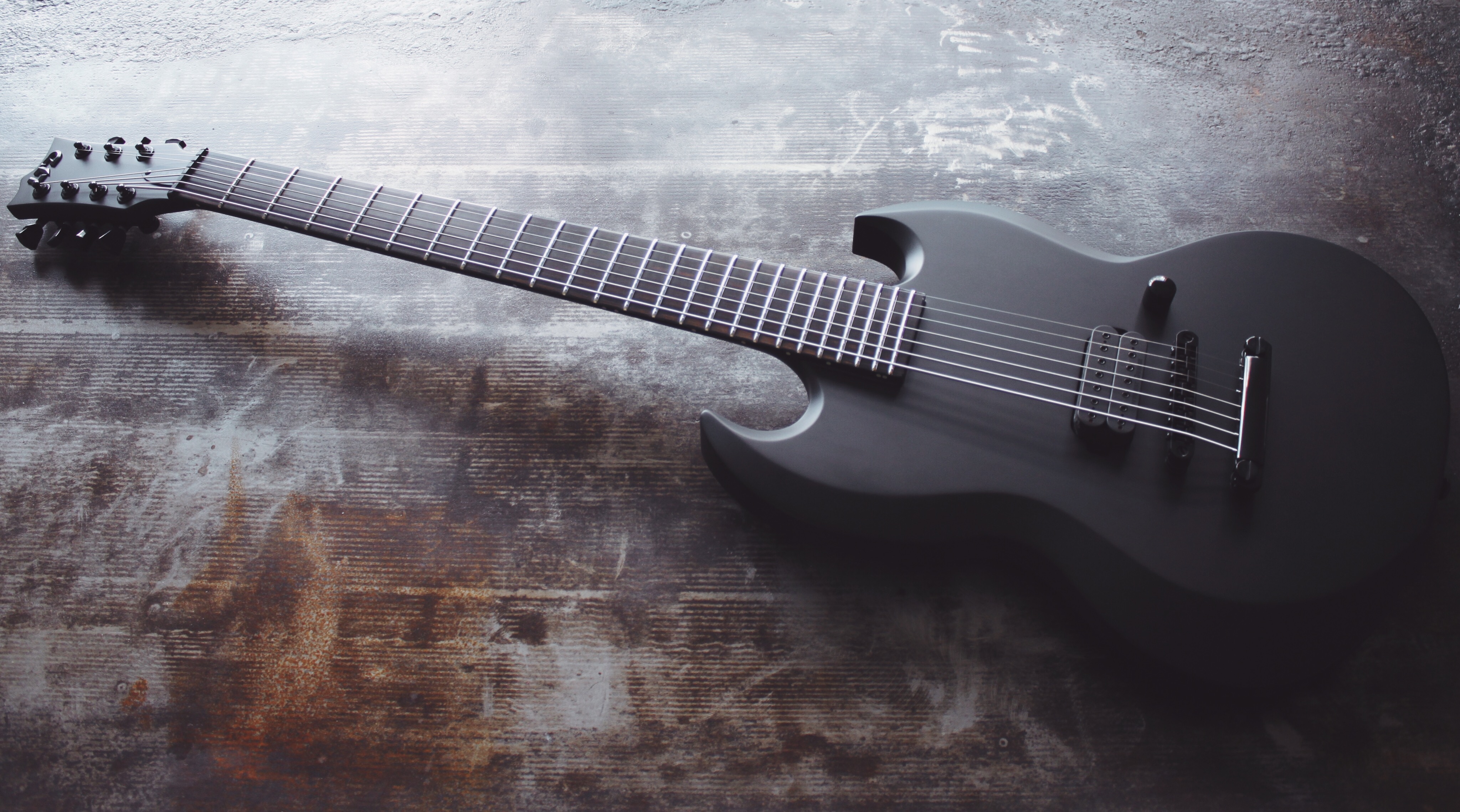 Even the headstock features a black, 3D LTD logo, which is exclusive to the Black Metal series. The only points of contrast would be the Luminlay side dots, the rather shiny frets and, of course, the strings. All in all, I'd give the guitar a blackness score of 9.9/10!
Apart from all that, the simplicity of the Viper is just totally up my alley. One pickup, one volume knob, fixed bridge… it's just reduced to the max! The Viper shape looks aggressive enough to do the Black Metal theme justice as well, kind of like a Gibson SG (Gothic) on steroids.
I'm also surprised about the LTD locking tuners. The fact that higher tier ESP guitars come with Sperzel or Gotoh locking tuners could lead you to believe that their in-house brand tuners might feel a bit cheaper, but nope… they are super sturdy and precise. I'm impressed!
The Playability
The fine folks at ESP were nice enough to set the guitar up with my preferred string gauges and in my usual "review tuning", so there was no work involved on that end for me. I was able to just take the guitar out of its case and get straight to the fun part!
Not surprisingly, the full mahogany construction comes at a bit of a price – the Viper 7B is no featherweight. The advantage is that it also doesn't have the neck dive often associated with SG/Viper type shapes, even despite the baritone scale.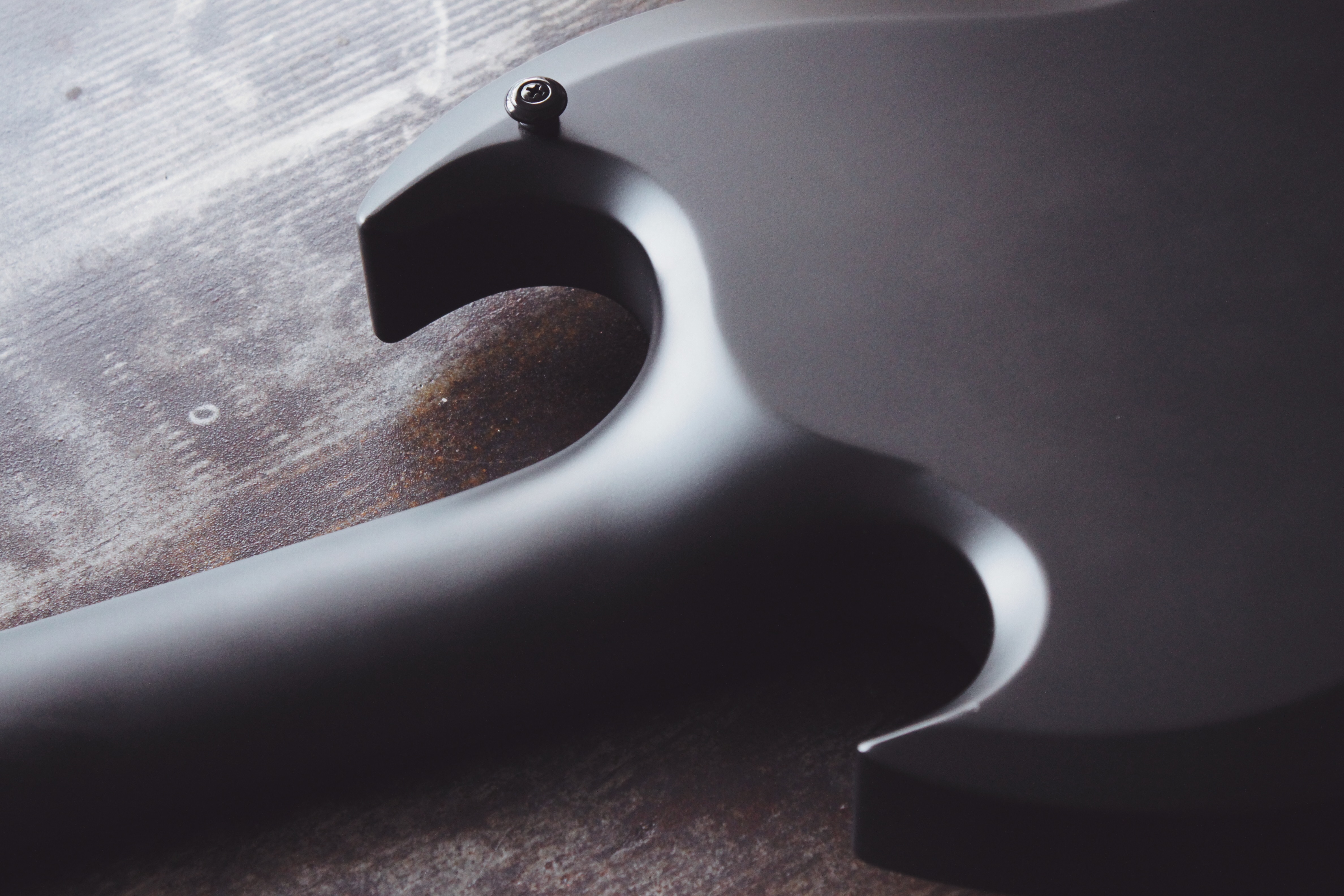 Speaking of neck dive, there is a rather simple fix for it if you're that worried about it: I had a tech move the strap button of my old Viper 400 to the middle of the upper horn, where you'd find it on most double-cut guitars anyways. Easy.
But let's talk about the neck profile of the Viper 7! It definitely reminds me of the E-II T-B7 I reviewed a while ago. It's on the thicker side, but the low action and typical ESP/LTD playability balance it out as you grow accustomed to it. The fretwork on this guitar is great, too. No sharp fret ends anywhere to be found.
Vipers are typically set-neck guitars and therefor have a bit of a block at the neck joint, but this one comes with a neck-thru construction and a sleek, wide neck joint. That makes reaching all the way up to the 24th fret easier for sure.
The Sound
The first thing I noticed when strumming a few chords on this guitar was that it's very big, loud and full sounding before you even plug it in. I often find that this is something that translates well to the amplified sound of the guitar as well.
And yes, the same applies here. The Viper's sound is just massive. The tone I'm getting out of this baritone lends itself to rhythm playing more than shredding and I find myself busting out lots of Crowbar riffs on this baritone 7.
The Seymour Duncan Black Winter comes across like an active pickup at times and big, open chords sound a little less articulate than what I'm used to from modern, passive pickups. Not sure if the all mahogany construction plays into that.
Now I don't think that this is necessarily a problem for a guitar like the Viper – a guitar that just oozes brutally crushing rhythm playing. I recorded two clips, one in A# standard and another one in drop G# tuning, so hear for yourself:
Please refresh page if you don't see the SoundCloud players.
The Verdict
The LTD Black Metal series is right up my alley. Every single guitar in this line looks mean and stealthy as hell. The Viper 7 Baritone is no exception. The approach for the Black Metal LTDs was clearly less is more and I am absolutely on board with that.
A single pickup and volume knob is certainly all I need for extreme Metal riffage. And in today's rather flashy modern guitar realm, the unapologetically stealthy looks are almost refreshing. But a lot of that has to do with the fact that it's done right, too.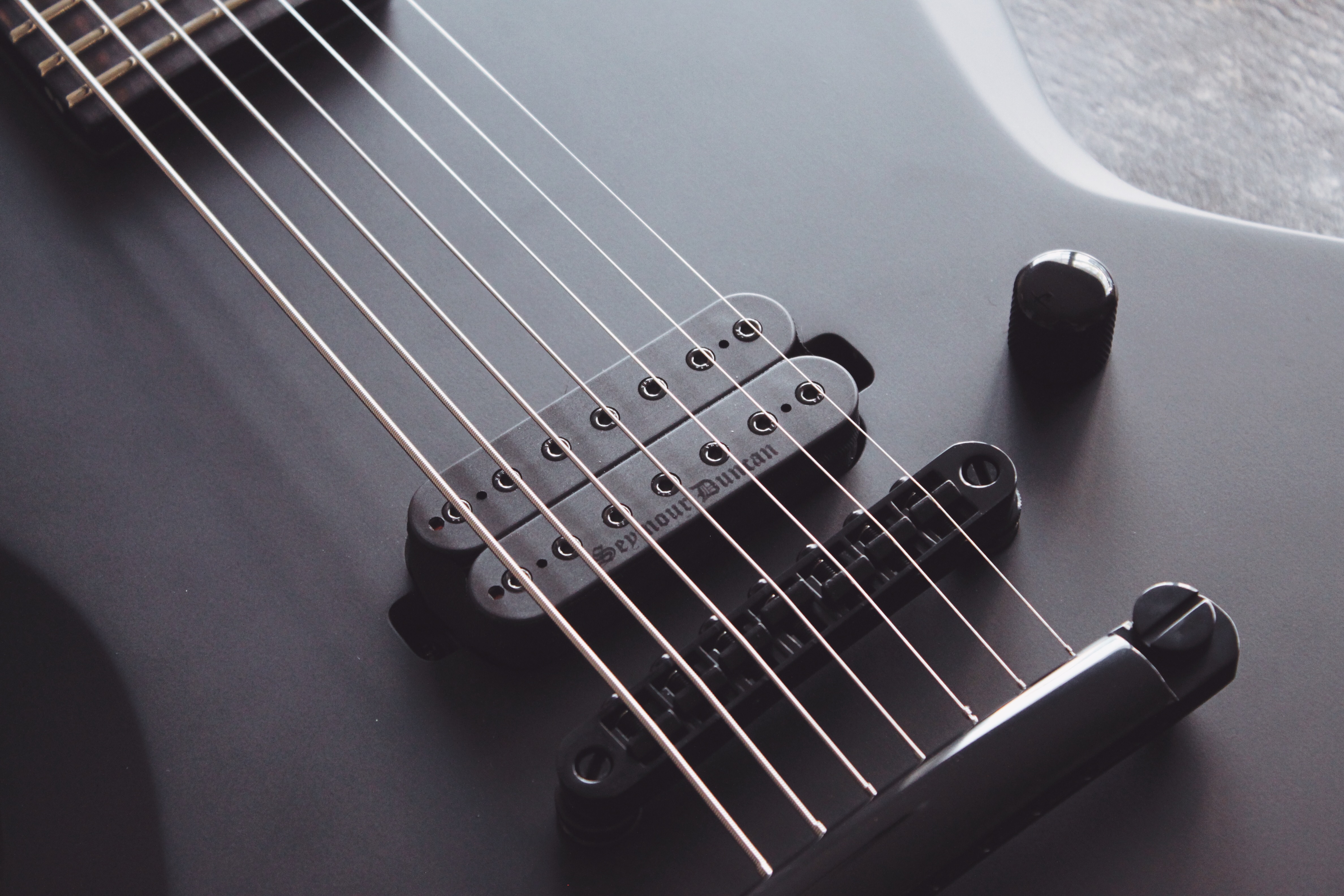 LTD really impress me with the level of craftsmanship and attention to detail they are able to offer at such competitive price points and the super solid hardware, great fretwork and fitting pickup choices go a long way.
Things I think could be improved are the weight and neck profile, although I did grow accustomed to the latter rather quickly. I also feel like a 3P maple neck could possibly add extra tonal balance to the mahogany body wings.
Just like the E-II T-B7, the LTD Viper 7 Baritone Black Metal strikes me as a rhythm guitar first and foremost. It sounds huge and really benefits from the tension the baritone scale provides. If you're looking for a nimble guitar, this isn't it. If you're looking for crushing brutality, go and check this thing out!
Gallery