Editor's Rating
When one is not good enough...
Well, this is a first! A tag team review, written by Jörg and I? You bet! After I received my latest Kiesel DC7X last August, another one just like mine (but with an additional neck pickup) ended up in the in stock section on kieselguitars.com. I pointed it out to Jörg and we agreed that it would be cool to have buddy-guitars. He decided to pull the trigger and someone literally bought it while he put in his order.
Shit happens sometimes, but the fine folk at Kiesel Guitars built another one just like it for Jörg. And here we are, a couple of weeks later, reviewing these two Kiesel DC7X siblings for you guys.
The Specs
Swamp Ash Top
Jet Black Raw Tone Finish
Ash Body Wings
Black-Out Ash Finish
Walnut/Maple 5P neck-thru
Tung Oil Finish
Royal Ebony Fretboard/Headstock Veneer
Stainless Steel Jumbo Frets
27″ Scale
Graph Tech TUSQ Nut
Luminlay Side Dots
Hipshot Bridge
Kiesel Lithium Pickup/s
Impressions
Simon: My whole idea with this DC7X was to put together a stealthy and aggressive looking axe with a touch of custom shop premium features. I had just sold my Ibanez M80M and wanted something with similar, but some more classy aesthetics. And well, the team at Kiesel Guitars nailed it!
The first time I opened the (extremely sturdy) gig bag/soft case the guitar was shipped in, I was just stunned. The contrast between the matte black raw tone finish of the body and the beautifully streaked royal ebony fretboard and headstock veneer came out exactly as I imagined.
And it didn't stop there! I flipped the guitar over and fell in love with the rich, brown walnut neck with the 2 maple stripes. That combo just makes for a striking appearance, especially against the black out ash-body wings, and still gets me every time I look at or grab this guitar.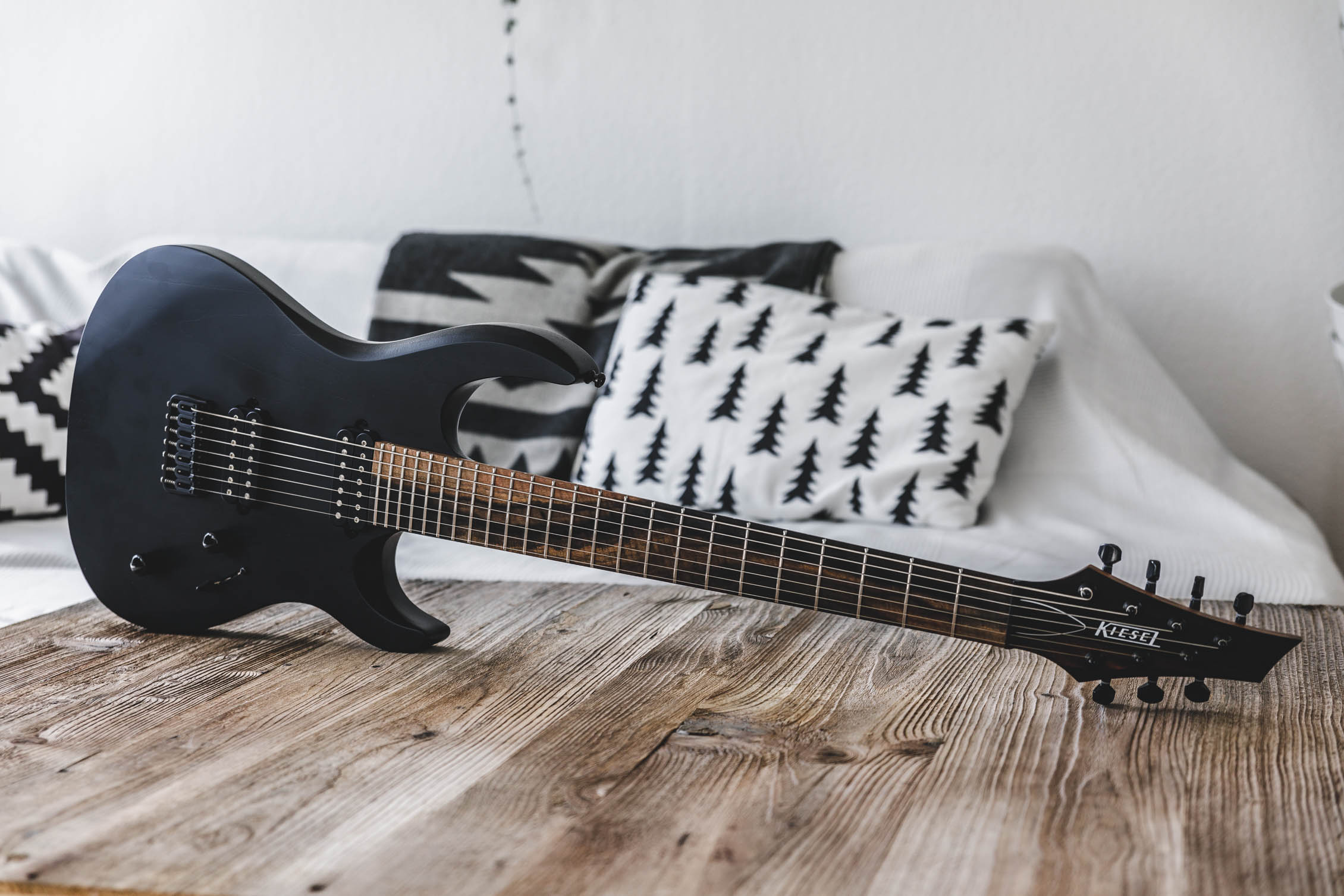 Jörg: When Simon showed me the first pictures of his Kiesel DC7X, I was mildly annoyed that it wasn't me who came up with these specs. The guitar pretty much was the definition of "understatement". It looked mean, evil but yet very very classy and simply beautiful.
But hey, I didn't just want to copy his idea and so I delayed my long overdue Kiesel-order again, hoping that I'll have a similarly perfect idea for my DC7X eventually. A couple of weeks later, I had a DC7X with a flamed maple top and blackburst edges specced out, but when Simon showed me the in stock twin of his guitar I couldn't resist to get this one instead and "hit up Jeff's guys".
Well, Simon already told you about how someone literally snatched it from under my nose and believe me, I was so pissed about that. So I want to thank Jeff Kiesel and Chris Hong again for building yet another one of those stealthy royal ebony monsters for me.
I never played a Kiesel before, so I didn't know what to expect. But after watching countless videos about them, not to mention Simon's praise about his other Kiesels, I just kinda knew I wouldn't be disappointed. And the guys at Kiesel Guitars honestly even exceeded my expectations. I mean, just look at the "wavy" streaking on my fretboard! I could stare at it all day.
Of course I, too, was stunned when I flipped the guitar over and looked at the neck and body wood combination – and to this day the backside still is the first thing I show to people who are interested in my guitar. The neck-through construction with its visible walnut- and maple-stripes just looks marvelous.
The Playability
Jörg: Its rare that I feel right at home when I pick up a new guitar and when it happens, it normally means that the fiddle stays with me for a looong time. The DC7X felt awesome the first time I got it out of its (by the way awesome) softcase.
The neck profile is perfect. Thin, but not too thin. And perfectly contoured as well. The oil finish feels smooth, dry, fast and well, just overly comfortable. It instantly reminded me of the similarly awesome neck of the Jackson USA Select B7 I reviewed in 2015. If I was a shredder, I'd shred the shit out of that neck. The fretjob just adds to the perfect playability.
I probably don't need to point it out, but the 27″ scale renders the Kiesel an awesome guitar to tune really low. And while the DC7X effortlessly handles F-Tunings or even lower, I found that I prefer the longer scale for more moderate low tunings – like my personal favorite drop A. Even with its thin and smooth neck, the guitar doesn't feel huge at all, and I'm sure anyone could get used to the extended scale in a matter of minutes. The low weight only adds to the ergonomic feeling of the guitar.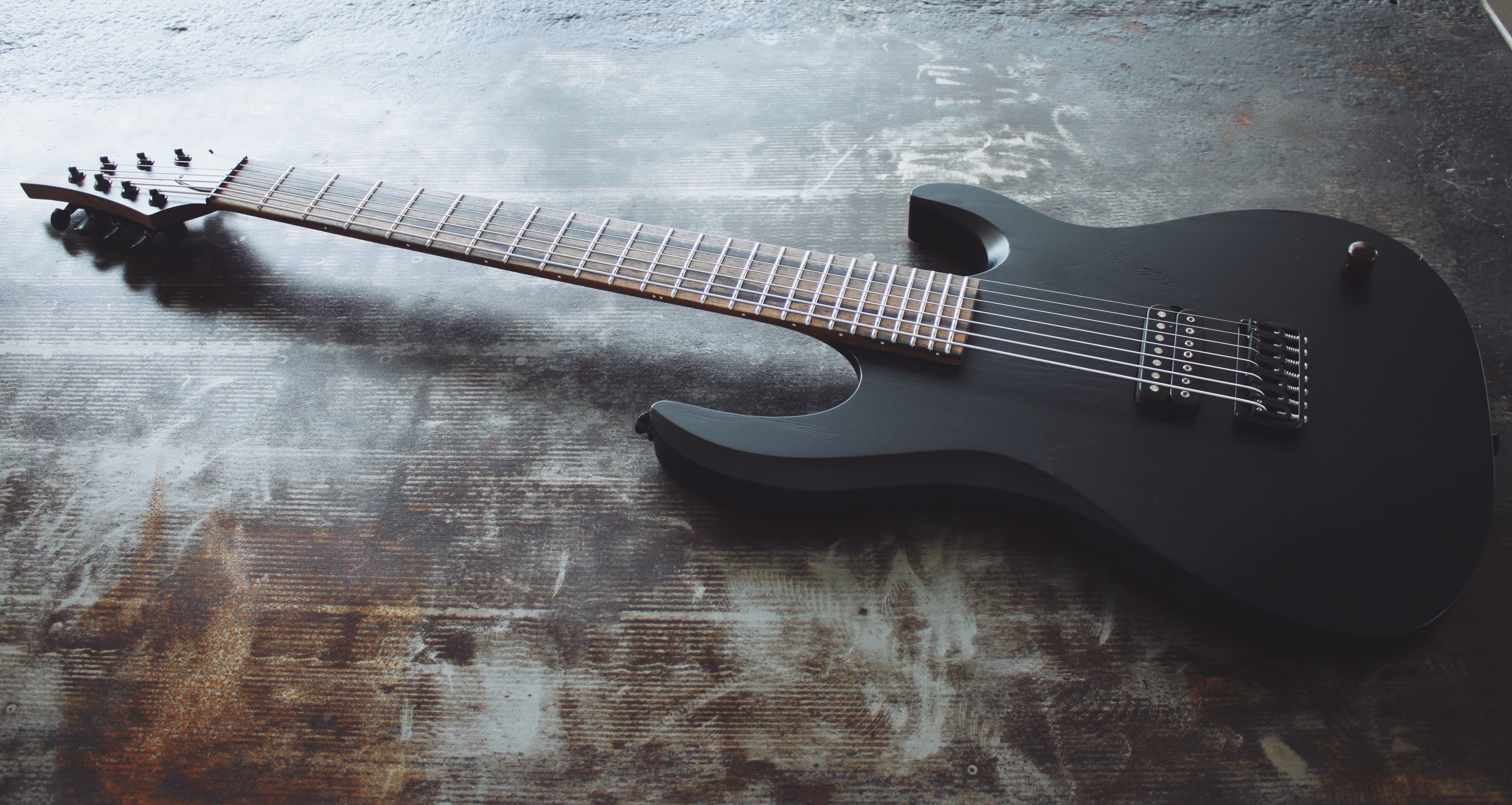 Simon: I've had this guitar for about 6 months now, so I think it's safe to say that the honeymoon phase is over. Or is it? If this isn't the longest honeymoon phase ever, this guitar may just genuinely be the best playing guitar I have. It literally plays as effortless as I could ever imagine.
The action was set up very low straight out of the case. Just the way I like it, but admittedly with some fret buzz on the lowest 2 strings. If I just raised the strings a little bit, it would probably disappear altogether, but I just love the action the way it is way too much so far. So I have lived with the little bit of buzz it causes – and I've lived with it fairly well.
The tung-oiled walnut neck contributes to the effortless feel even more. This is my third Kiesel with a tung-oiled neck, but there is just something about the combination of the wood and finish that makes it feel extra smooth. The weight of my DC7X is very moderate as well, right somewhere around the sweet spot of my comfort zone.
The Sound
Simon: Some of you probably know the K8 prototype that Jeff built for me in 2014. That one has been my best sounding guitar to date, so it served as a blueprint for speccing out my DC7X to a great extent.
Both guitars feature ash body wings, a walnut neck and an ebony fretboard. For the DC7X, I chose an ash top instead of an ebony top, maple instead of koa stripes for the walnut neck and royal ebony instead of plain, black ebony for the fretboard.
Some of these choices were aesthetic, some simply cut costs (an ash top is certainly cheaper than macassar ebony), but I made sure that the materials I chose for the DC7X would keep the overall integrity of my K8's tonal qualities.
I also went for my typical utilitarian layout of a single bridge pickup and volume knob only. Besides the fact that that's all I really need, this layout also reduces some unwanted interference. A tone knob does suck a little bit of brightness and not having a neck pickup reduces magnetic string pull.
The result of all of these things combined is an extremely aggressive sounding guitar, but hear for yourself:

Jörg: Simon and I have similar visions in terms of our guitar tone and I trust him blindly when it comes to his tone wood choices. So while I would normally go for maple necks on ash bodies, I trusted him when he said that the 5P walnut/maple neck perfectly compliments the swamp ash body and Kiesel's own Lithium pickups.
And he was right. Although, I have to say that I had to get used to it at first. The Lithiums are extremely tight and aggressive sounding – and in combination with the snappy tone woods, the DC7X is a beast that needs some taming. I found myself rolling back some highs and presence, but when I found the sweet spots with my Kemper profiles, I was blown away. The DC7X sounds extremely clean, tight and punchy. You might want to boost the low end a bit, though.
The Verdict
Jörg: Up until I received the Kiesel DC7X, the already mentioned Jackson USA Select B7 and a RAN Crusher FT were the most well-made guitars I ever played. The Kiesel DC7X's quality is easily on par with those two!
Although I was hoping for a more excitingly figured swamp ash top, there is literally not a single – even minor – flaw on this guitar. And I looked. Hard!
I understand that the Lithium pickups are not for everyone and like I stated before, I had to get used to them, too. Still, after a few days of getting used to the sheer aggressiveness this guitar puts out, you just have to admit that the clarity, tightness and punch are hard to beat.
And last, but not least… it's just awesome to have buddy guitars with your good buddy, right? Right!?
Simon: It was important for me to hear Jörg's verdict first. I feel a bit biased sometimes, because I play these guitars professionally and also because I put this thing together exactly the way I wanted it. So to an extent, the outcome is obviously predestined to satisfy me by default.
But here's the thing: The execution is what matters at the end of the day. Did Kiesel Guitars materialize my aesthetic ideas? Did they meet the quality and playability standards I was looking for? They absolutely did!
Like Jörg, I didn't get the most spectacularly figured swamp ash top. I think the raw tone finish looks a lot more striking with highly figured ash, so I guess if there is any "criticism" that I could point out, it would be that. But that's how it goes… not all swamp ash tops look the same and I didn't insist on picking one personally, which is an option when you order an instrument from Kiesel.
But really, DC7X came out exactly as I envisioned it. It's stealthy, it's classy, it sounds brutal, plays amazingly well and the build quality is immaculate. On top of that, it's inspiring – I wrote a bunch of Nightmarer material on it that ended up on our album, which is currently in its final production stages.
And yes, having a good buddy with a buddy guitar is pretty damn cool indeed!
Disclaimer: The scores given above reflect both of our independent ratings split 50/50. 
Gallery