Editor's Rating
With the LTD M-7HT Baritone Black Metal, you actually get more than you pay for!
This is the third year of the LTD Black Metal series being in production and despite falling in love with it right from the start, it took until 2020 for the series to produce a model that was exactly what I was looking for – rather than something I want for the sake of it (like the Arrow and Phoenix, arrrgh!).
Last year, I tried the Viper 7 Baritone Black Metal and was thoroughly impressed with its quality, but a couple of the specs just didn't line up with my needs – such as the full mahogany construction, TOM bridge, high weight and chunky neck. But it sold me on the craftsmanship of the series without a doubt.
With the M-7HT Baritone, LTD absolutely nailed it! A 27″ scale 7-string with a Hipshot bridge, single bridge humbucker and no more than a volume knob? Yes, please! I knew I needed it right when it was announced and couldn't get my hands on it soon enough after checking it out at NAMM earlier this year.
The Specs
Alder Body
Black Satin Finish
27″ 3P Neck-Thru Maple Neck
Macassar Ebony Fretboard
24 XJ frets
Luminlay Side Dots
Hipshot Bridge
LTD Locking Tuners
Seymour Duncan Black Winter Bridge Humbucker
Form-Fit Case Available
Impressions
In my review from last year, I jokingly gave the Viper 7 Baritone Black Metal a blackness rating of 9.9/10. The reason it didn't score a perfect 10 were the streaky and therefor slightly more brown-ish parts of the fretboard.
So my first look at the M-7HT was straight at the fretboard. And look at that, it's pretty much a perfect pitch black! It's almost ridiculous how stealthy this guitar looks, so I gotta give it a 10/10 blackness score at this point.
The Luminlay side dots are a nice bonus, too. They will certainly help navigating this stealthy beast on dark stages, which is gonna come in handy when I take this thing out on the road later this year.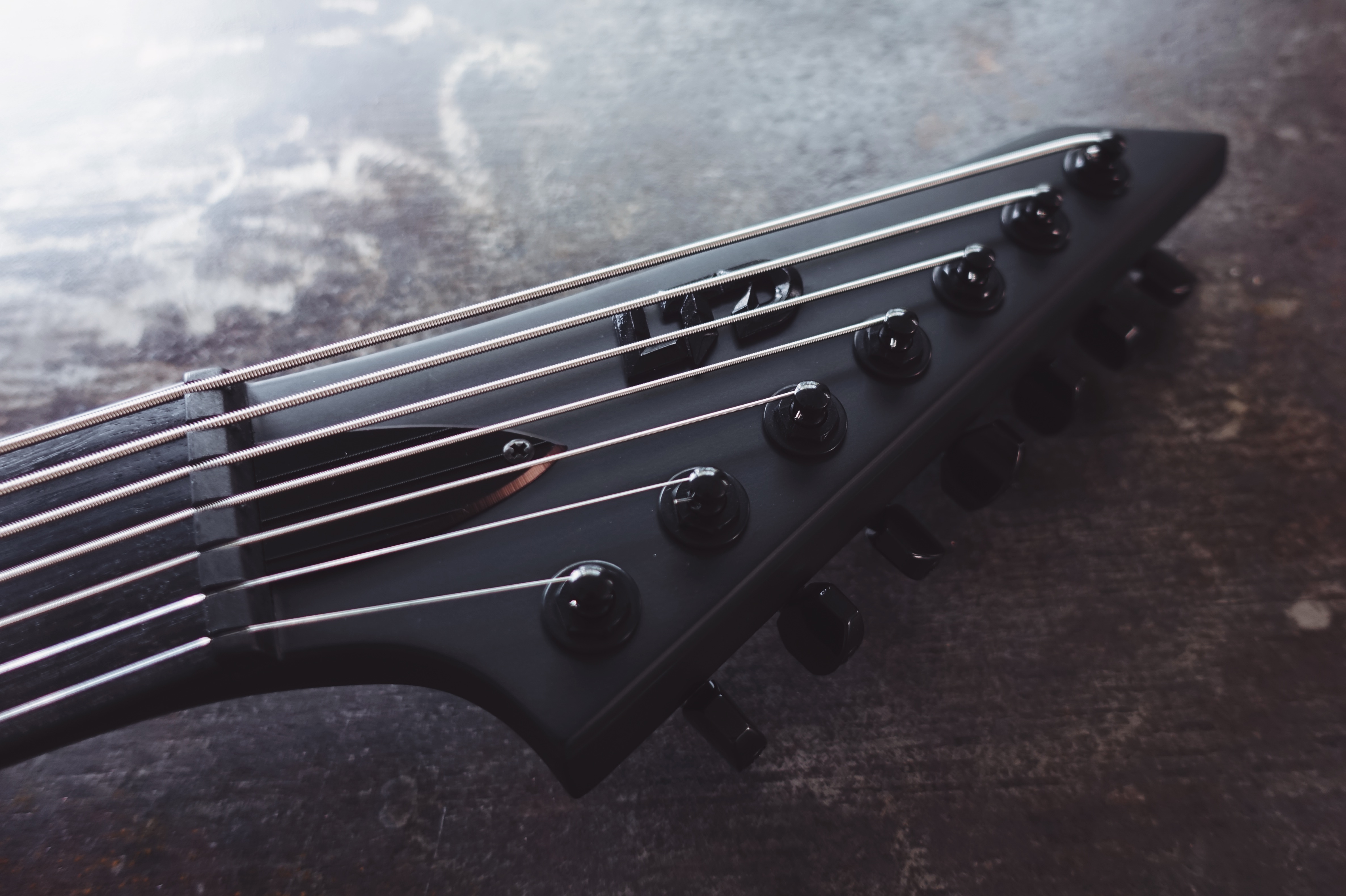 I know that the 3D LTD-logo is a bit polarizing and I can see why people dislike it, but it kind of elevates the otherwise stripped down design of the M-7 a bit. What I dislike more is the fact that the truss rod cover spells out "Black Metal" in a very generic font, so I swapped it for a plain one.
What makes this guitar look even more reduced to the max than the Viper is the sleeker shape of the M body, the Hipshot fixed bridge (rather than a TOM with a tailpiece) and the pointy, in-line headstock. The Viper looks a bit chubby as a 7, but the M-7HT Baritone Black Metal is as sleek and minimalistic as it gets.
It's the perfect embodiment of a no frills, quality guitar. It's utilitarian, but not in an unsophisticated way – the M-7 looks and feels extremely valuable. I simply can not find a single flaw on it and the level of craftsmanship as well as attention to detail easily exceeds the guitar's price range.
The Playability
Just like my E-II Hoirzon NT-7B, the M-7HT Baritone is right around the 8 lbs. mark. That's a weight that used to feel heavy to me, but I've grown accustomed to it since I started playing ESP Guitars exclusively with Nightmarer.
The extra thin U neck profile is a treat and certainly adds to the playability of the M-7. It is slimmer than the regular thin U on my NT-7B, but that one's shaped so comfortably that I have a hard time picking a favorite between the two.
But the combination of the slimmer neck and great factory setup contribute to the typical ESP plug & play feel that I appreciate so much. That has always been my experience with the brand, ever since picking up my first LTD 15 years ago.
The fretwork on this 7-string is absolutely mind-blowing for an Indonesian-made guitar. I have definitely tried and even owned more expensive guitars with fretwork nowhere near as good as this (the Ibanez RGD3127 comes to mind). Well done!
Being that this is a Super Strat shape, the M 7-string balances as well as I expected it to. The only thing that slightly inhibits the playability of this guitar is the volume knob's close proximity to the bridge pickup. Depending on your picking technique, it may get in the way.
But there are solutions for that if it does affect you: I obtained a TESI switch after seeing one on an Equilibrium custom at NAMM this year. It's a small, low profile, latching kill switch, so it basically functions as an on/off switch and never gets in the way.
The Sound
Being that my Horizons came with actives from the factory, it's refreshing that the M-7 comes with a passive pickup instead. My previous experience with the Seymour Duncan Black Winter was sort of so-so, but that was in a guitar with a full mahogany construction.
And I actually dig the overall tone of the Black Winter in this guitar, except for the lower register. Granted, I'm tuning this 7-string baritone like an 8-string, but the low range response of the Black Winter just comes across as a little weak and dull. Chords almost collapse in on themselves a bit.
That probably doesn't present a problem if you don't tune lower than maybe A – but let's face it: Many people buy baritone scale ERGs to tune even lower. Luckily, a pickup is easily swapped, so I tried and recorded extra clips with the new Instrumental Pickups SFTY4-7.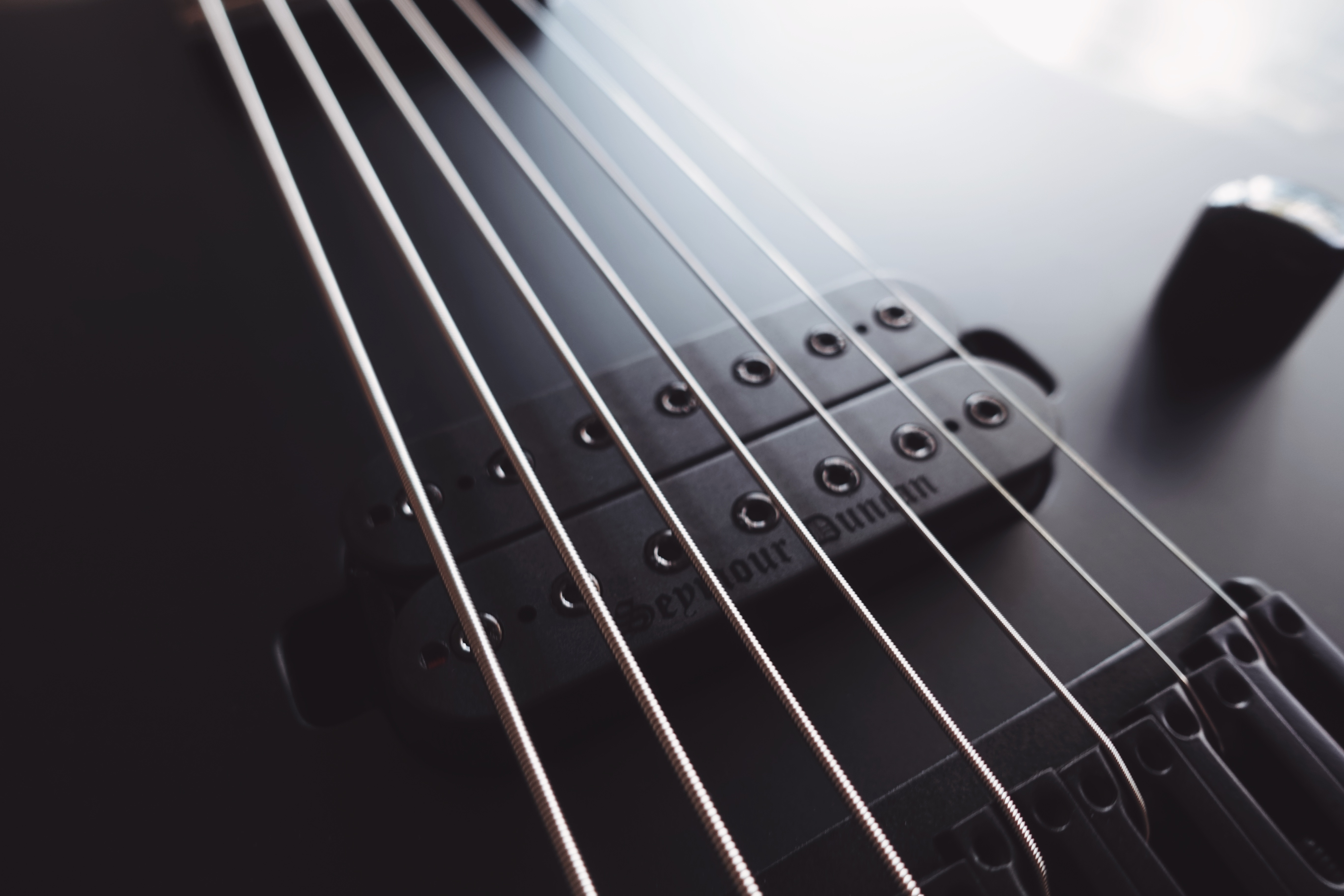 I was a massive fan of the SFTY3, so much so that I felt like an ambassador for it at times. I definitely went around and recommended it to a lot of people and still stand behind that endorsement 100%, so I'm super thrilled to finally give the newer SFTY4 a go!
And the new one seems to pack a pretty hefty punch. It has a somewhat explosive temperament to it, that really helps single notes and chugs hit pretty damn hard. Furthermore, it's a bit less messy sounding in the upper mids in comparison to the Black Winter. I'm digging it!
If you thought nothing could be more "Black Metal" than a blackened Seymour Duncan Black Winter, think again… the SFTY4 is just as black, but it comes with spikes! What's more Black Metal than that?
Please refresh page if you don't see the SoundCloud players.
The Verdict
The quality LTD are able to offer at this price range is quite astonishing. There are pre-conceived notions when it comes to import guitars from Indonesia and I'm certainly guilty of that – but they simply do not ring true here!
Apparently some of these are made at WMI in Korea and I almost expected to be let down by an Indonesian specimen, but this is literally one of the best import guitars I ever touched. The craftsmanship and attention to detail are top notch all around.
If you wish you could afford a Japanese-made ESP but only have about $1000 to spend, do not hesitate to get this one instead. I have the E-II Horizon NT-7B here for comparison and it blows me away to see how close the LTD gets in pretty much every regard.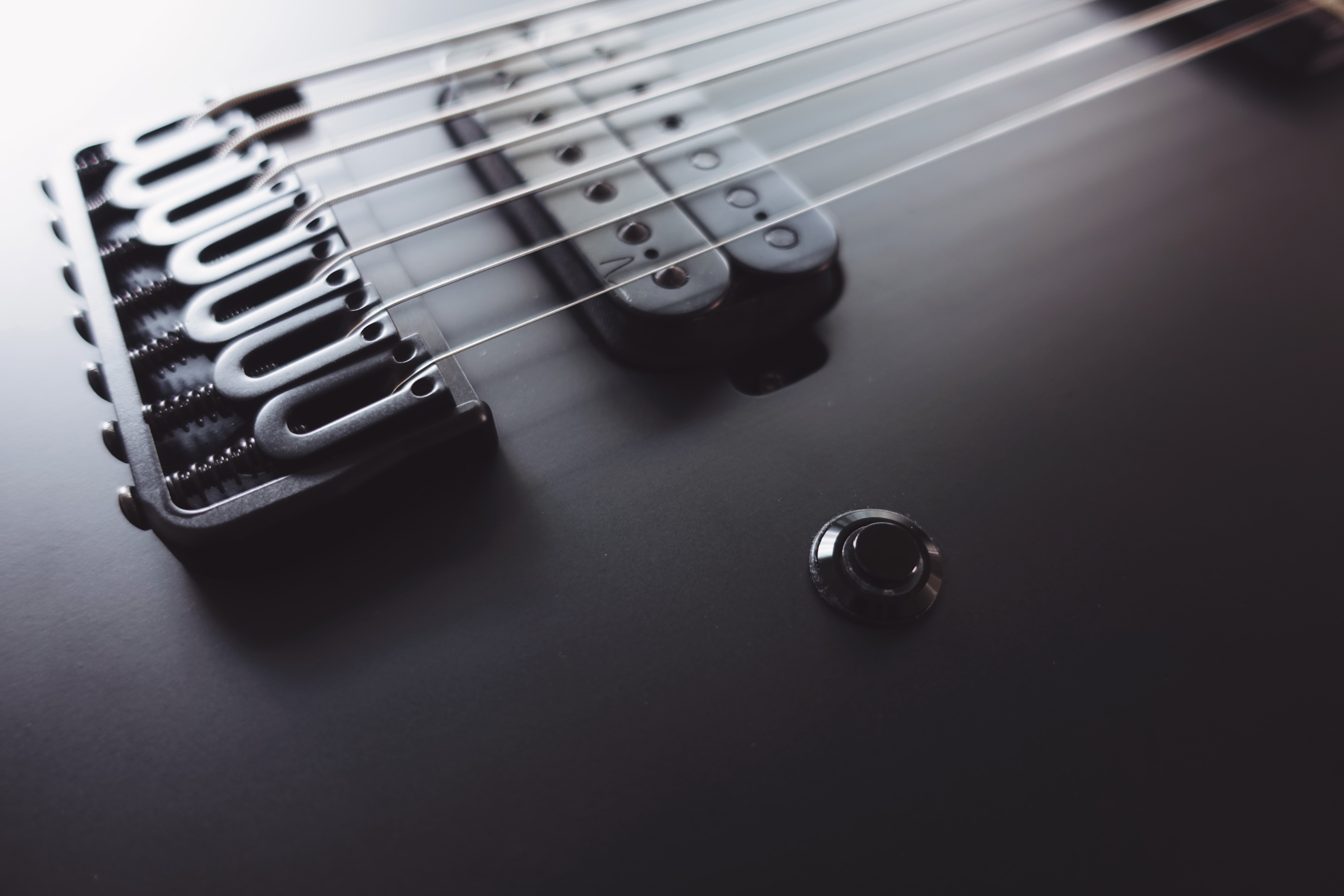 Even the in house-branded locking tuners feel rock solid and deliver a precise performance and satisfying touch. The rest of the hardware is obviously tried and true brand stuff, so really… there is not a single thing I could call out about this guitar.
The mods I applied to this guitar are pretty minimal and more personal touches than necessities, except for the volume knob replacement. The next generation of these instruments should simply have it out of the way, closer towards or in the tone position.
Regardless, the M-7HT Baritone Black Metal is one of those rare cases where you actually get more guitar than you pay for! I think the reason LTD can price this line so competitively is the fact that it's so stripped down, but there are no quality cuts to speak of. Highly recommended!
Gallery