Editor's Rating
The Schecter Banshee Elite can be described in one word: MASSIVE!
I know quite a few of you guys waited for this review, but here it is – finally. I myself doubted that I'm able to finish it at one time. First the SD-Card in my Camera died on me when I was filming the Demo-video, then a few important work-projects came between, Simon finally moved to the US (bye bye, buddy) etc.
Well, back on topic. The Schecter Banshee Elite 8 – yay or nay?
When Simon and I went to Musikmesse earlier this year we were both excited for the Schecter Banshee Elite-models. As avid fans of the Ibanez RGT you could say that we were intrigued by the kind-of-similar design and specs.
Unfortunately we didn't have the chance to check out the models in detail back then, but luckily Philip of Schecter Germany/Musik Meyer was able to hook us up with the 8-string model for this review.
The Specs
Swamp Ash body with flamed maple top
9-piece Maple/Walnut-neck w/ Carbon Fiber Reinforcement Rods
Neck-Thru-construction
28" scale
Ebony fretboard w/ 24 stainless steel-frets
Hipshot hardtail-bridge
5-way Pickup Switch
Volume- & Tone-Knob
Schecter USA SuperCharger Mach-8™ Pickups
Glossy finish (front), matte black finish (back)
Impressions
The Schecter Banshee Elite can be described in one word: MASSIVE!
I'm not going to lie, this guitar isn't the lightest, which isn't exactly surprising. First the weight suggests, that the swamp ash used for the body has a high density and thus is of high quality and second the long scale-length plays in as well.
The important question is: Is the weight bearable? Yes, it is. If you have no back problems you'll be perfectly fine with the Schecter Banshee Elite 8. And IF you have back problems, a wide and well-padded guitar straps should help.
The guys at Schecter designed a beautiful guitar. Up close the similarity to the Ibanez RGT fades, as the Banshee has a flamed-maple top with a glossy finish instead of the natural ash on the RGT and is also lacquered on the back. The lightly translucent matte black finish seems to be the same as you find on the KM-7-models. It feels very smooth and durable and it looks pretty cool, too. Unfortunately the flamed maple-top is a bit "flat". A deeper top would look awesome against the visible wood-laminates of the 9-piece (!) neck.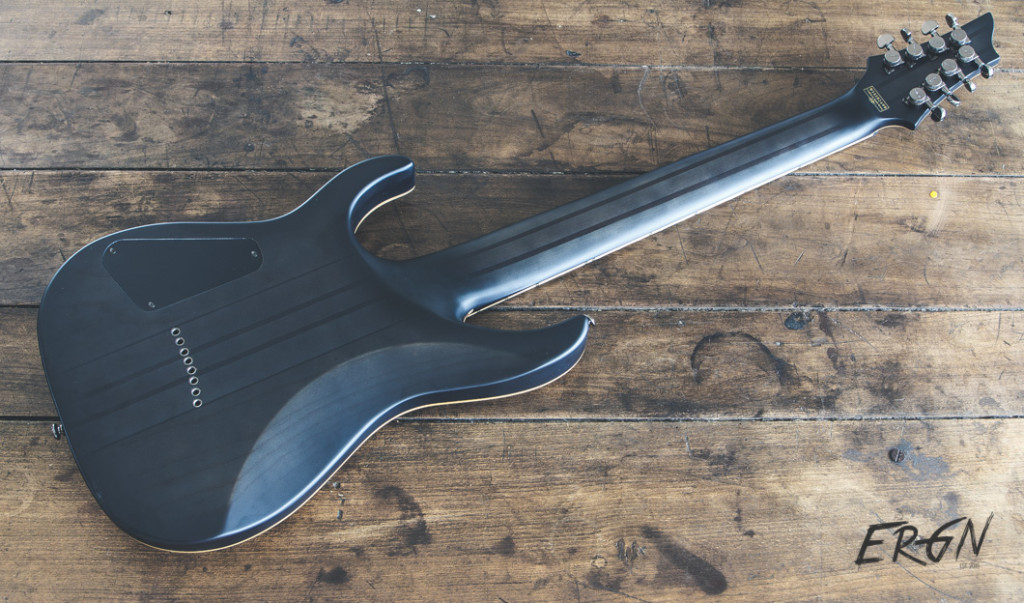 I was surprised to read, that the Schecter Banshee Elite 8 comes with a 28″-scale. It certainly didn't feel like such a long neck. If you're comfortable playing a 27″-neck, you should feel right at home. The comfortableness might have something to do with the incredible contouring of the neck. It has a flat D-profile with well-rounded-off shoulders. It even feels a bit flatter than the neck on the KM-7.
Over the years, guitarists often complained about the thick, round necks on Schecter guitars – the Banshee Elite 8 is proof that they listened to us customers.
Oh yeah, the Banshee Elite comes with stainless steel-frets which may be a big selling-point for some. I personally don't care about the material, but they are set-in very well and feel pretty good, so … nothing to complain here.
Let's talk a bit about details and hardware.
The Banshee-series comes with multiply-bound necks, mother of pearl offset-dots with pretty awesome brass mounts and Luminlay-sidedots! Sounds a bit flashy and goudy? Have no fear, it looks very tasteful. Apart from that you'll find a trusty Hipshot hardtail-bridge, a 5-way Pickup-Selector and slightly recessed Volume- and Tone-knobs. I was happy to see that they used the same Schecter-branded locking-tuners as they used on the Schecter KM-7. They work perfectly well, so you definitely won't have to upgrade them!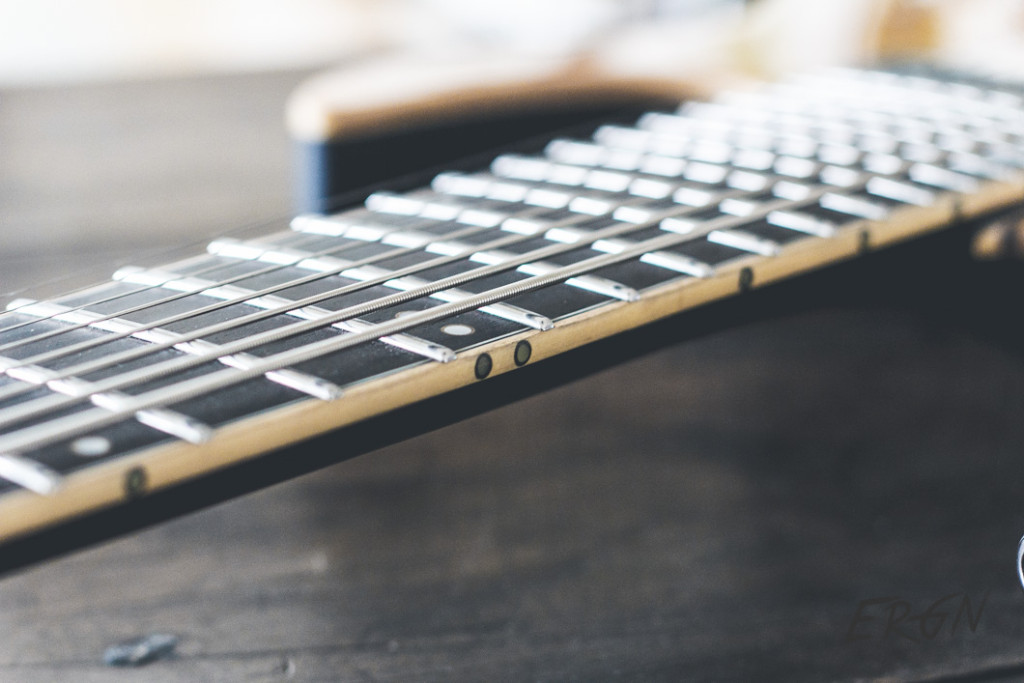 I bet you were looking at the pictures and thought that something looks kinda odd, right? Yes, I felt the same at first. The pole-pieces on the Schecter USA SuperCharger Mach-8™-pickups are huge. As you might know by now I'm easily thrown off by minor visual details and the googly-eyed appearance of the pickups was a bit irritating. I forgot to ask, if the size of the pole-pieces makes any difference in sound or if it's just a "let's make them look a bit different"-decision. I'll ask the guys at Schecter Germany.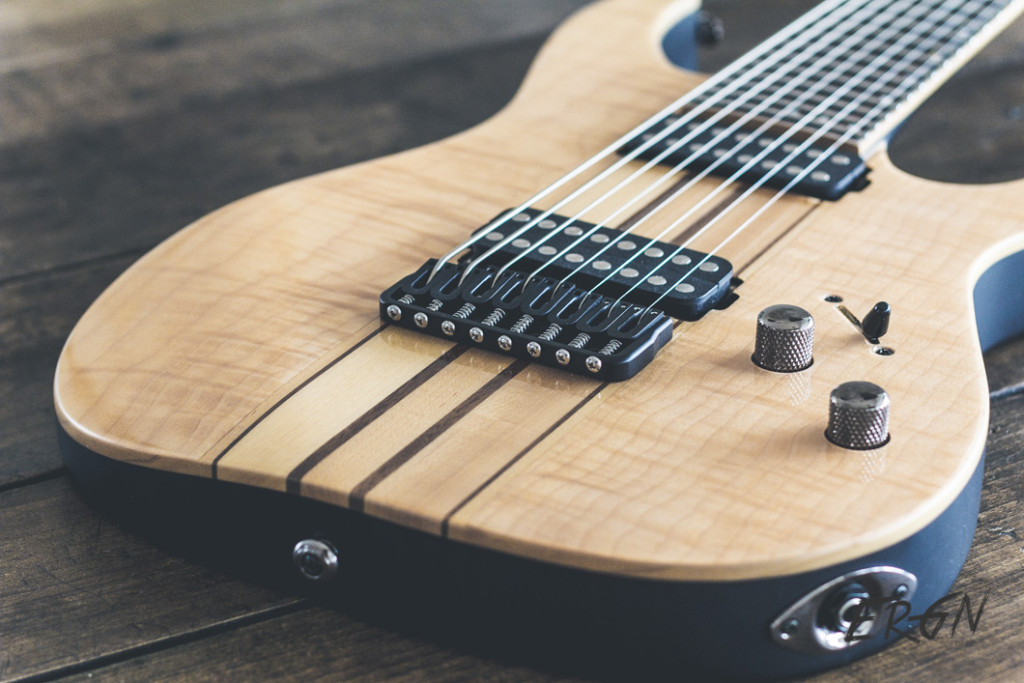 The Sound
The Schecter SuperCharger Mach-8™-pickups are advertised as the modernized version of Schecters SuperRock-series. Although I have never played neither the "heritage" sounds about right just judging from the name.
The Banshee sounds somewhat classic – in a good way. I should mention, that I had to get used to the SuperChargers at first and probably you will too.
Contrary to my "go to"-pickups (DiMarzio's D-Activators) the SuperChargers feel lower in gain, but very dynamic and articulate. This makes the guitar very flexible of course. Chords are very defined, single-notes sound thick and full. The Schecter Banshee Elite definitely is not a one-trick-pony and will cater to metal-heads and jazz-players alike, although high-gain-junkies have to adapt. You may have to hit the strings a bit harder.
But honestly, check them out before thinking about putting the soldering iron to work – they do have a certain appeal. Tech-Death-players will love the clarity and precision of the Schecter SuperCharger Mach-8™-pickups.
I used D'Addario NYXL-strings and Ton(e)hammer Kemper-Profiles for this video.
Verdict
With a street-price of $ 1.099,00 (european price TBA) the Schecter Banshee Elite 8 is a well-priced mid-range instrument with solid specs and cool features you normally only see on guitars in a higher price-range.
It's a bit heavy, but lets be honest – Les Pauls are heavy, too and people buy 'em like crazy. My old Gibson LP Custom definitely was heavier and I loved that thing.
It plays and sounds great, but you might have to get accustomed to a lower-gain pickup.