Editor's Rating
Schecter's Keith Merrow signature 7-string is tailor-made for Metal guitarists looking for custom shop aesthetics and appointments.
As coincidence would have it, I received this guitar the same morning that Keith Merrow released the new music video for the song 'Pythoness' off of his solo album 'Reading the Bones'. Great timing to start reviewing his signature model: The KM-7 MK-III Artist.
The name already suggests it and yes, this is the third generation of the KM-7. Jörg reviewed the MK-I back when we started this website and liked it so much that he ended up buying one. And I'm going to assume that the KM-7 has only been improved over time.
The two previous versions were, more or less, based off of existing Schecter models and shapes, but the MK-III Artist is designed from scratch. In that sense, it's the first full-fledged Keith Merrow signature guitar and represents his all out commitment to creating his instrument of choice. So let's take a really good look at what this new KM-7 has to offer, shall we?
The Specs
Swamp Ash Body Wings
Maple Burl Radius Top
Trans Black Burst Satin Finish
26.5″ 9P Neck-Thru Wenge/Maple/Purpleheart Neck
Ebony Fretboard (Compound Radius)
Glow in the Dark Side Dots
24 Stainless Steel XJ frets
Ernie Ball Compensated Nut
Hipshot Ibby HM Bridge
Hipshot Open Gear Industrial Tuners
Fishman Fluence Custom Keith Merrow (Bridge)
Fishman Fluence Custom Keith Merrow (Neck)
Impressions
One thing that becomes obvious the moment you lay eyes on the Schecter 7-string is the fact that this is not your typical import guitar. It doesn't only look like something out of a custom shop, it's also loaded to the gills!
But let's start from the literal top. The new KM-7 comes with a burl maple radius top, finished in a trans black burst. I'm not huge on burl tops, but this one looks stealthy enough – unlike the more flashy purple/blue burst finish that is also available.
The naturally streaky ebony fretboard blends very well with the top and while I realize that most people prefer pitch black ebony, I do think that the subtle grain patterns actually add to the high end look of the MK-III Artist.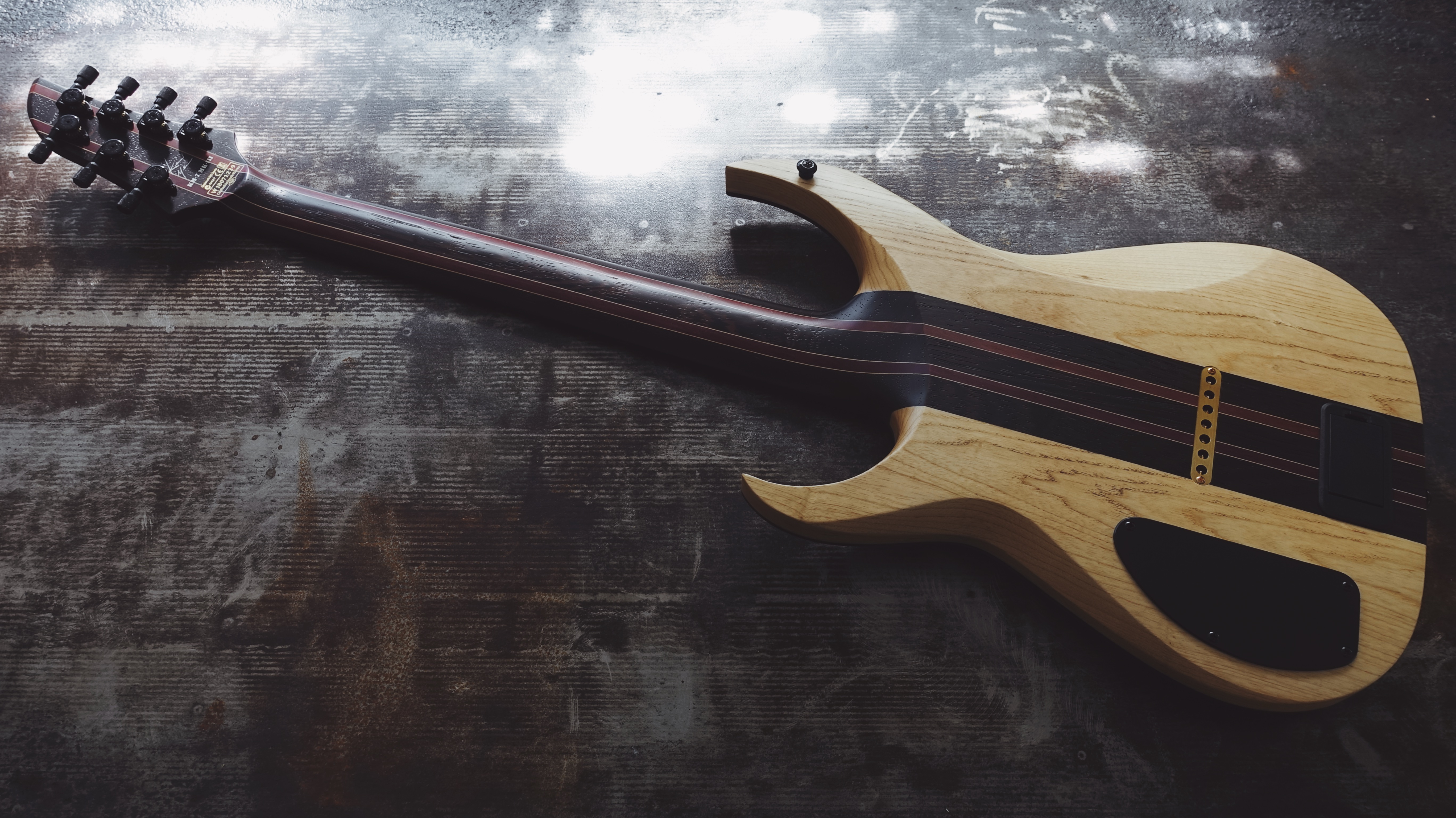 Stainless steel frets, offset inlays and the (super cool) industrial design-type Hipshot open gear tuners only emphasize the impression that this guitar was designed in a custom shop setting rather than built on improving a production model.
And we haven't even flipped it over yet! Doing just that reveals a beautiful contrast between the natural swamp ash body wings and the 9P wenge/maple/purpleheart neck. The neck heel, or lack thereof, is generously sculpted and just looks on point.
All the high end appointments aside, the KM-7 MK-III is also a Metal guitar through and through. The body is super sleek and has very pointy horns for a Super Strat – somewhat reminiscent of the BRJ Hesperian shape. I'm into it!
The Playability
The MK-III is a bit heavier than you might think. The sleek shape led me to believe that this was gonna be an ultra light-weight guitar, but while it's everything but hefty, it does feel comfortably solid.
Placed on the right leg, it does have a little bit of a neck-dive, but not to the degree that would require you to work against it with your fretting hand. In classical position and on the strap, the Schecter KM-7 balances perfectly, though.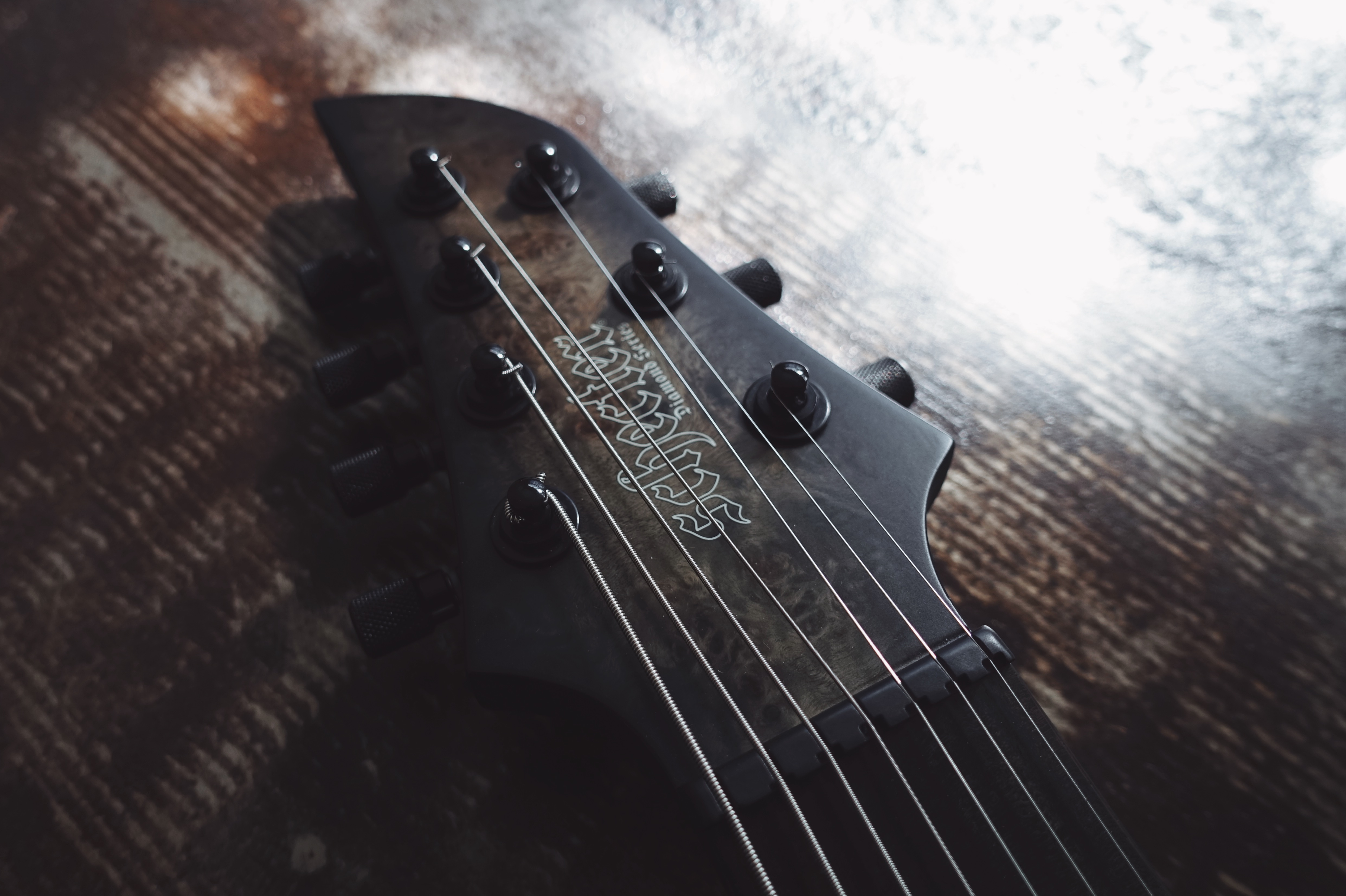 The combination of the smoothly finished, ultra thin C-shaped neck and immaculate setup from Schecter is a joy! The action is impressively low with virtually no fret buzz. Speaking of the frets – you won't find any dead spots or sharp fret edges on this guitar. Well done!
A 26.5″ scale adds some nice extra tension across the board, which also results in more tightness on the lowest string. I ended up swapping the strings for a DR Strings DDT-7/11 set and tuned it to drop G#. Feels like I hit the sweet spot, because my hands are flying up and down this neck.
The Sound
The combination of tone woods the KM-7 comes with is promising, to say the least. I have guitars with swamp ash bodies and wenge necks in my own collection and it sure is a combo that makes for a very clear and articulate tone with aggressive attack.
Just strumming some big, open chords on the Schecter before plugging it in already delivers loud and pleasantly bright sonic qualities. The guitar is very sleek, but noticeably resonant. We're off to a good start!
Keith Merrow's signature guitar also features a set of his own signature pickups from Fishman. His Fluence Custom set seems to be based off of the more passive sounding Fluence Classics, but obviously tweaked for Metal.
Like all pickups in the Fluence range, this set also comes with several different voicings. Voicing 1 is Keith's signature tone with a medium output and low mid grunt – Voicing 2 is PAF-inspired and suitable for anything from clean to brown tones – Voicing 3 a punchy single coil tone with glassy highs.
I only recorded clips with the first two voicings and would say that the first sounds more saturated with slightly more output than the second, which is a bit more dry and even more versatile, but very articulate nonetheless. Either way, you have to dig in a bit more than with the Fluence Moderns, but I'm a hard picker.
Let's start with a quick, thrashy riff in Keith's main voicing:
Here are some extra clips for my 7-String Pickup Shootout:
Please refresh page if you don't see the SoundCloud players.
The Verdict
Keith Merrow really went all out on the third generation of his signature model. Not only was it designed from the ground up in the Schecter USA custom shop (check the video below), but besides obvious high end appointments, it also comes with many small and cleverly designed details you usually only see on custom guitars.
Features like the very comfortable Hipshot Ibby HM bridge and the brass block that the strings run through on the backside of the guitar hardly seem coincidental. Or how about the spoke wheel truss rod adjustment at the base of the neck? From a seasoned player's standpoint, these things make a lot of sense.
Now what we haven't talked about so far is the price. And when it comes to the KM-7 MK-III, opinions seem to differ. Is $1,699 (or 1,699€) a lot for a guitar made in South Korea? Maybe. But you are obviously paying for its wealth of premium features.
Correct me if I'm wrong, but no other mass-produced import guitar comes with a radius top, 9P neck construction, such an eclectic combination of tone woods and the amount of specs and features that the Schecter KM-7 offers.
The question in this price range is whether you'd rather have a Japanese- or American-made guitar with more run of the mill specs or an extremely well-designed import guitar that comes absolutely loaded. Both are viable options.
Either which way: This is an impressive guitar! You do get your money's worth with the KM-7, no doubt. It has the looks, specs and honestly even the feel of a custom shop instrument, which is quite the achievement. Well done!
Gallery