Editor's Rating
Outstanding high-end custom shop 8-string multiscale with amazing features and a proud price!
Siggi Braun is one of Germany's more famous builders/custom shops. His guitars are known for extremely high quality, top notch craftsmanship and amazing finishes. I noticed a growing number of ERGs coming out of his shop in 2014, so I approached him to see if he was interested in having one of his 7- or 8-strings reviewed up on our brand new website. Siggi wasn't only very open to the idea, but also a great and very friendly guy to talk to.
About a week after I first got in touch with Siggi, UPS dropped off his brand new 8-string model 'Griffin', based on the Siggi Braun Guitars 'M' body shape, at my doorstep. It's the first and only one so far – the prototype, so to speak. It's also the first Siggi Braun guitar I ever got to play for an extended amount of time and I had lots of fun with it, I can tell you that much. You don't get to play a guitar like that every day…
The Specs
Red willow body
6mm poplar burl drop top
Hard maple + kambala 7P neck
CNS-System bolt-on construction
25.5″-26.77″ scale
Ebony fretboard
14″-18″ compound radius
24 frets (12 jumbo + 12 medium jumbo)
Satin gloss faded big blue
Bare Knuckle Pickups Painkiller slanted set
ETS single piece saddles
Sperzel locking tuners
Impressions
Upon opening the case for the first time, I got sucked straight into the top. Its depth is truly mesmerizing. I posted it on my Instagram and out of all the countless positive comments the top got, Alex Wade actually hit the nail on the head, saying "The top looks like an aerial view of waves crashing into islands." – doesn't it?! It seriously is one of the most vibrant poplar tops I have ever seen, and the faded big blue finish was a perfect choice to really bring it to life. The Griffin also comes with a smooth ebony fanned fret fretboard. The headstock is matching the body finish, but its shape will definitely polarize. I like it better than I thought I would, but it wouldn't be my first choice. One thing I'm really not a fan of is the chrome hardware, though. Somehow chrome hardware always looks cheap to me, but it's obviously high quality stuff, just like the rest of the hardware.
The Griffin is equipped with ETS single string saddles and they seem to be a great choice for the fanned fret construction. They are pretty comfortable to rest your hand on and make for a very precise setup. The headstock is barely angled, which I usually strongly dislike, but thanks to the recessed Sperzel locking tuners and smooth transition from the fretboard, it doesn't look bad at all. Good job! What I'm blown away the most with is the fretwork. I can honestly say I've never seen such precise and absolutely perfect fretwork. The fret ends flatten towards the edge of the fretboard and every single one is on point and as smooth as it gets. The attention to detail is astonishing – and that doesn't only go for the fretwork. Speaking of the frets, Siggi Braun utilizes a mixed frets construction, meaning that the lower 12 are jumbo frets and the higher 12 are medium jumbo frets. It really makes perfect sense if you think about it. Another great feature of Siggi's guitars is the CNS-system, a mixture of bolt-on and set-neck. It makes for a very smooth neck heel and makes the guitar resonate almost as much as a neck-thru instrument. Definitely best of both worlds and a feature I'd like to see on more guitars.
I had briefly played multiscale guitars before, but the Griffin was the first I got to spend some serious time with. It took no time for me to get used to the fanned frets and I felt like the transition from straight frets wasn't so dramatic. With that being said, the 25.5″ – 26.77″ fan isn't that extreme, so it shouldn't even be a huge learning curve for those of you who have never touched a multiscale guitar. The neck profile of the Griffin is fast and fairly flat and as someone who's used to playing 8-strings, I found it comfortable. The action was perfect right out of the box as well – very low and shredable. All in all, the Griffin was a breeze to play.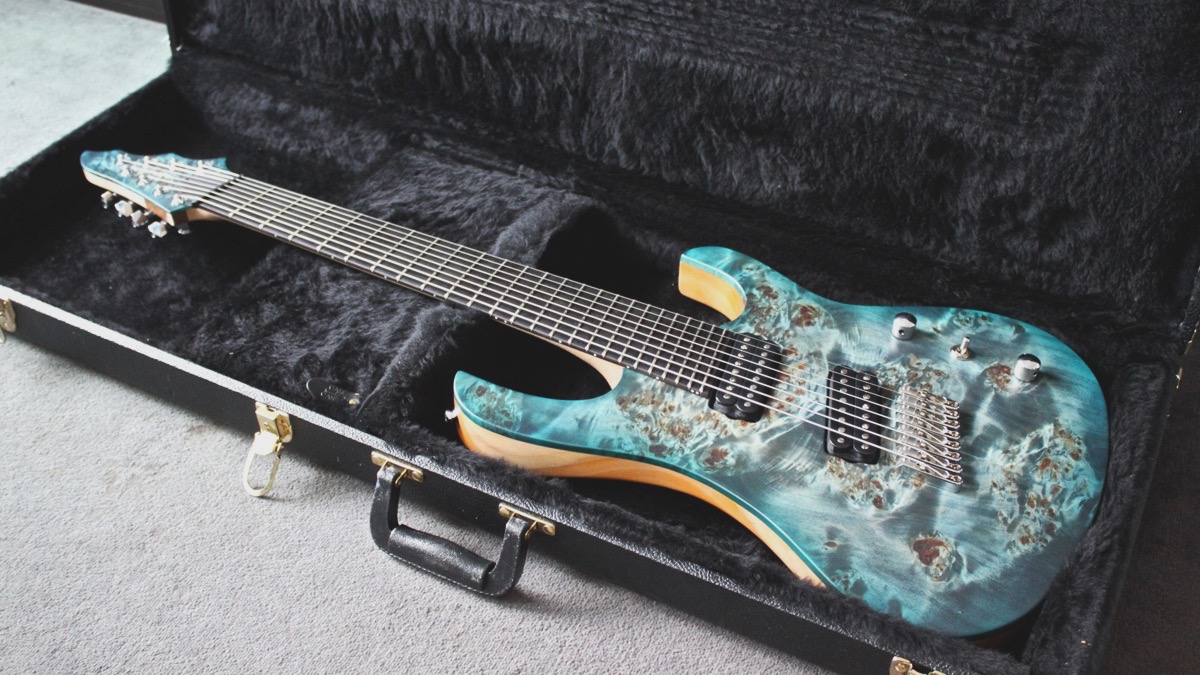 The Sound
Siggi equipped the Griffin with a slanted set of Bare Knuckle Painkillers. I was always intrigued to try those and was surprised to find that they're a little heavier in the low end than I expected. They still retain a good deal of clarity across the board and I especially liked the string separation of the higher strings, even with bigger chords, but I don't think I'd personally choose them. You can obviously get any Siggi Braun guitar with whatever pickup you may desire. After all, it's a custom instrument and the pickup choice is up to the customer.
Unplugged, the Griffin sounded clear, loud and you could already tell that it's a sustain monster. However, as always I recorded some clips with it and you can listen to them below and compare the sound to some other guitars/pickups in my 8-String Pickup Shootout.
The Verdict
Let's face it: Lots of us are not gonna be able to afford this beast, as it comes with a hefty price tag of 3,510€ in the EU (the export price is 2,950€/$3,410). But you absolutely get what you pay for: An outstanding instrument with high end woods, hardware and electronics, craftet with precision and built to perfection. The Griffin doesn't only look breathtaking, it also plays absolutely effortless. I personally am not the biggest fan of the aesthetics of the M-shape and prefer some of Siggi's iconic original designs, but it's comfy and balances very well – just as you'd expect from a superstrat type of shape. The Griffin is, without a doubt, one of the best guitars I have ever played.
Besides the immaculate overall quality, the Griffin comes with unique and smart features, such as the CNS-system and the mixed frets. Things you don't find on an off-the-shelf guitar, but that make a noticable difference. What it comes down to is really the price point. Is it worth it? Absolutely! Can you afford it? If the answer is yes, I can only suggest to look into Siggi Braun Guitars.
Gallery