Editor's Rating
The Jackson JS32-7Q Dinky is a perfect guitar for beginners or – with a few upgrades – a great backup-guitar.
I wouldn't say I'm a "snob", when it comes to "cheaper" guitars, but I honestly don't expect much from an indonesian-made $399/€320-guitar.
My first ever guitar was a Squier Stratocaster – one of the real cheap ones – and after upgrading to a halfway decent Epiphone Explorer and a few LTDs afterwards I never owned another "cheap" guitar again.
After playing the Jackson JS32-7Q Dinky I'm not so sure if that was the right mindset, though. Jackson for sure does something very right with their entry-level guitars.
Specs
Basswood body with quilt maple top
3-Piece bolt-on maple-neck with graphite reinforcements
26.5" scale
Rosewood fretboard
Fretboard- and Headstock-binding
"Hipshot-Style" hardtail-bridge
3-way Pickup Selector
Volume- & Tone-Knob
Jackson® High Output 7 String humbucker
Comes in tobacco-burst and natural-finish
Impressions
I received the natural Jackson JS32-7Q Dinky as a test subject. I would have preferred the tobacco burst-guitar, but it seems like I always get the "wrong" color for our reviews here, haha.
Well, I still gotta tell you, upon first inspection, the JS32-7Q looks really decent. My girlfriend even said it looks better than all of my other guitars … well, that hurt.
The quilted maple laminate looks pretty and deep although it's very thin. I was happy to see that Jackson even recessed the Volume- and Tone-Knob – I wouldn't have expected that on an entry-level guitar.
The "Hipshot-Style" bridge feels sturdy and comfortable. I even liked it a tad more than the "Copycat"-bridge on the LTD AW-7, to be honest. It is beyond me how the whole process of developing, ordering and machining a "Hipshot-Style" hardtail bridge in China (I assume) could be cheaper than simply ordering a huge batch of the original, but what do I know? Maybe some of you can enlighten me in the comment section below.
Let's talk about the first thing that is bugging me: The pickup-rings. To me pickup-rings are an esthetical "no-go" on 7-string guitars. They didn't put them on the tobacco-burst JS32-7Q – so why on the natural-finished guitar? Granted, it's a "snobby" thing to criticize, but come on – who would argue that the tobacco burst didn't look better?
The neck suprised me the most. It is thin with a flat and very nicely rounded off D-profile. And it has an extended scale-length of 26,5″ – my personal favorite for my 7-strings. Just like the Chris Broderick signature I reviewed a while ago, it has a matte- and natural-feeling finish and feels very fast and "shreddy". I guess it is oil-finished like the neck on the Jackson DKA8.
The fretjob is decent enough – I have seen worse on pricier guitars. The 24 jumbo frets feel exactly like you'd expect and that's a good thing.
Jackson uses a relatively dark and decent-looking rosewood for the fretboards on the JS32-7Qs. Paired with the Piranha inlays I have to say that the neck does look pretty good.
The tuners are alright, but you shouldn't expect them to stay in tune no matter what. It's probably one of two things you might want to consider upgrading.
Let's look at the back of the guitar. Of course you can't expect a beautifully figured, one-piece slab of wood, but this particular guitar really looks like something else, haha. It seems like one of the guys in the indonesian factory found it funny to put a piece of flamed basswood in there. I actually didn't even know that something like flamed basswood even exists and at first I though it was a piece of flamed maple to be honest. I still kinda like it. It's like a weird glitch that somehow makes the guitar special. You shouldn't count on getting the same wood combination, though. You'll probably end up with a 3-piece body made of regular basswood.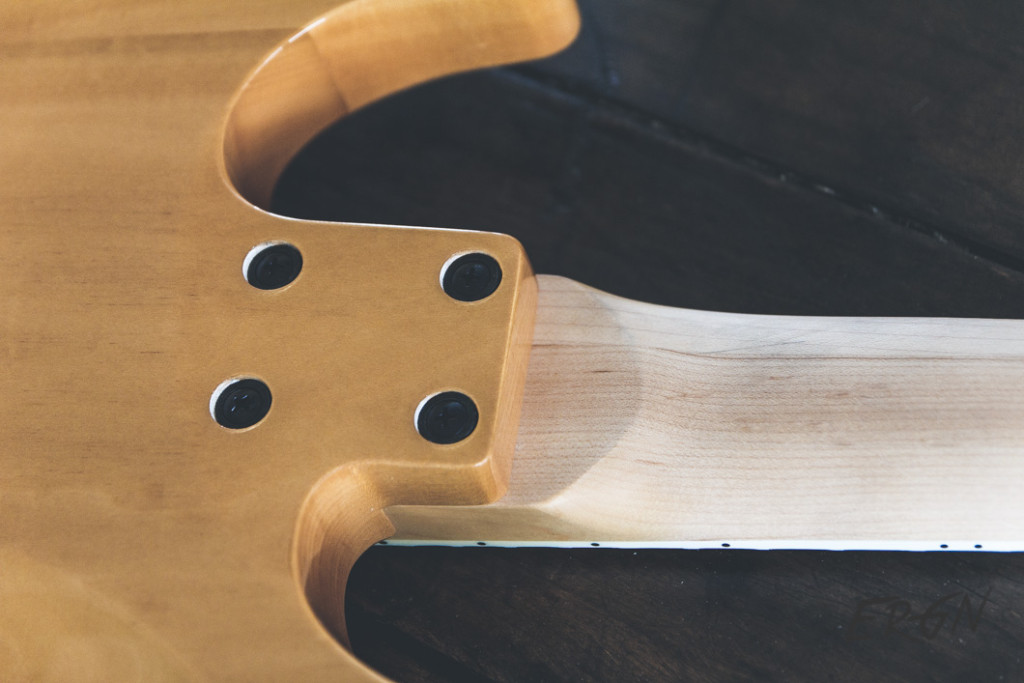 The bulky Jackson-style bolt-on neck joint is something you either hate or you're able to live with it. It makes the access to the highest registers a bit harder, but far better players than me did amazing things on guitars with classic, bulky, Fender neck-joints, so I better stop criticizing. Although I prefer an AANJ, I kinda learned to love the block-joint over the years. I would prefer the flattened version like Jackson puts on the DKA8, though.
The Sound
Again – I didn't expect much from the Jackson High-Output Humbuckers and was mildly surprised when I first plugged the guitar into my Kemper.
Right out of the box, the Jackson JS32-7 Dinky definitely sounds good enough for beginners. It doesn't have a lot of bass and the remaining lower frequencies are a bit mushy, but overall it's absolutely okay, given its price point.
If you want to use the JS32-7Q as a live guitar, you should definitely consider changing the pickups, though. I'd most likely consider something with more low-end. While you're at it, you could also upgrade the electronics. They work, but at a street price of $399/€320, a few new pots should be within reason.
Of course I recorded some samples of the JS32-7Q. As always, I used my un-altered "go-to" profile of a Peavey 5150 on my Kemper.
The Verdict
I was very surprised that an entry-level guitar can be as comfortable as the Jackson JS32-7Q Dinky. I would have been happy to start off with a guitar like this when I was younger and I'd definitely recommend it for beginners.
But you should also look into it if you're looking for a cheap backup guitar. With the right pickups and maybe some locking-tuners, it should be a great workhorse.
Of course you should still keep in mind that it's an entry-level guitar. The fretjob is okay, but not remarkable, the hardware is cheap and there might be a few cosmetical blemishes, but the JS32-7 is definitely a solid axe.