Editor's Rating
Solid workhorse with good features.
I went to NAMM in 2013 and Jackson Guitars had just hit the ERG market with full force. They came out with several 7- and 8-strings with a very wide price range – basically something for everyone who wanted to join the ERG ranks. I remember there being quite a bit of hype for the DKA7 and DKA8, especially because of their affordable price points, more than solid stock features, such as the DiMarzio D Activators, and their good looks. I just realized that if you google "Jackson DKA7″, you will actually stumble over a photo of me holding it at their NAMM booth, haha…
But today I get to review the Jackson DKA8. I've had it for a few weeks and played it fairly often, to see how its playability and especially scale length would compare to my other 8-strings, which come with 27″ and 29.4″ necks. I do own two 26.5″ 7-strings but haven't tuned them lower than G#, but I do know that the scale is very comfortable and a barely recognizable transition from the standard 25.5" scale.
The Specs
Alder body
Maple 1P neck
26.5" scale
Maple fretboard
Metallic Black finish
DiMarzio D Activator 8 set
Killswitch
HT8 hardtail bridge
Impressions
The DKA8 definitely scores with good and pretty unique looks right off the bat. The white DiMarzio D Activator 8 set makes for a great contrast against the metallic black finish, which reminds me of the Galaxy Black that Ibanez offer. I have to say that I feel like Jackson's Metallic Black seems to be a little more vibrant, though – maybe because of the arched top of the DKA8's body. I never thought that I'd like a color like that as much, but I'm actually really digging it. The maple fretboard adds another bold contrast to the finish and the single sharkfin inlay at the 12th fret is a unique feature. The white binding around the neck and headstock adds a touch of class and all in all, you can really say that the DKA8 doesn't quite look like your everyday Metal axe, but it's definitely looking really cool.
When picking it up, the DKA8 makes a solid impression. It's not particularly light or heavy, but it definitely feels like it could take a beating or two and still treat you well. It's a bit head-heavy, but once you put it on a strap, it balances well. The 1-piece maple neck looks and feels unfinished, but it comes with a hand-rubbed oil finish from the factory in Mexico. It's not as smooth as I'd like, but at least it doesn't get sticky, even after a long time of playing. The profile is fairly flat and comfortable enough, a tyical D pretty much.  The square-heel neck joint might look a little bulky at first glance, but it's angled and feels rather sleek. It also doesn't really get in the way all too much, so the higher registers of the guitar are still within comfortable reach.
The hardware only enhances the solid feel of the DKA8. Even if you wish it came with an original Hipshot fixed bridge and are skeptical of OEM solutions, I can assure Jackson's HT8 hardtail is solid as a rock. It's string through body and the ferrules on the back are aligned with precision.
I also really like the Planet Waves locking tuners and it's not my first encounter with them. They will not only lock your strings, but also clip off the rest of the string for you. The downside is that they don't fit larger strings. Whatever gauge string the Jackson came from the factory (I'm assuming .65 or .68), it did not hold the F# very well, so I strung it up with a .74 – which didn't fit through the tuner. So I had to unwind part of the outer layer of the string to make it fit. It's not a terrible job to do, but it's a hassle we can all live without. Obviously, this isn't the first and only time I have encountered this, but rather the norm with a lot of manufacturers. I think the industry should start looking into at what gauges us extended range players are actually using for such low tunings and adjust the hardware accordingly.
I'm a minimalist, so when it comes to the Jackson's control layout, I can't say that I'm the biggest fan – especially of that red killswitch button. It looks like it's taken out of a toy and its function seems rather gimmicky as well. It's a momentary killswitch, so it only mutes the signal while you're pressing the button. You can create some stuttering sounds with it, but I'm not sure what esle you'd use it for. I also noticed that it starts squeaking when you're using it more excessively. You obviously don't hear it through the amp, but it's there. The 3-way toggle feels a little less solid than it looks, but it does its job well – no issues here. The DKA has a volume and tone knob and both are positioned well enough to not get in the way of your playing. It also helps that they are recessed, which also looks sleek.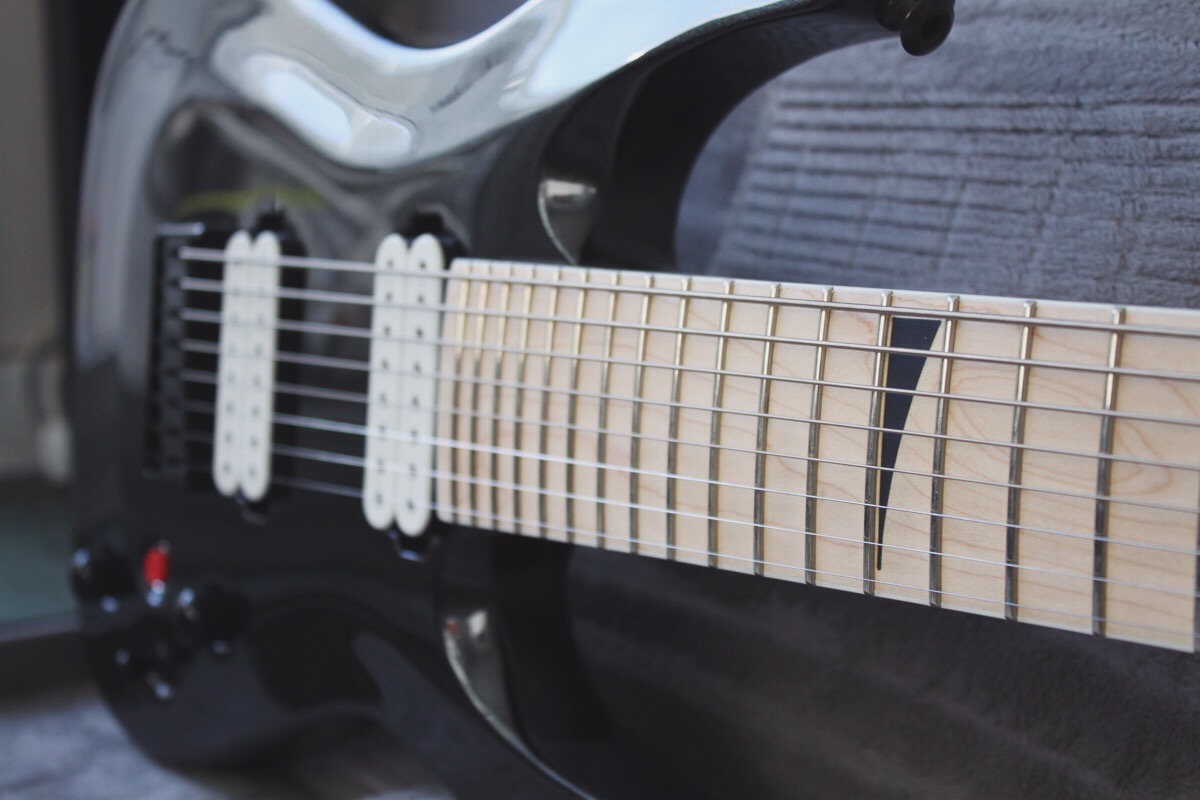 The Sound
I'm more than familiar with the DiMarzio D Activator series and have used them in 6-, 7- and 8-string guitars myself. You can't really go wrong with them as a Metal and ERG player. They have a percussive single note attack, very good clarity across the board and they are tight in the low end. The high end can get a little shrill in guitars with baritone scales, but all in all they are balanced very well. The D Activator actually sounds very nice in the neck for cleans as well – clear, articulate and not too sterile.
However, as always I have recorded some high gain clips with them, so feel free to check them out:
The Verdict
The DKA8 offers a lot for its street price: It comes with unique looks, very good pickups and solid hardware. So for those of you who are looking to get an 8-string under the $1000 or 1000€ mark, this Jackson is something to keep in mind.
With that being said, I do have a few gripes with it. The 26.5″ is very comfortable to play, an easy transition from standard scales and just about good enough for tuning to F#, but if you plan on tuning lower it won't cut it. The lowest stock string it came with wasn't really able to hold the tuning at all and having to unwind bigger strings to make them fit through the tuners isn't exactly ideal. I also think the killswitch is something the vast majority of us could live without. It makes the guitar look a little cheaper and really seems to be a one trick pony. I'm sure someone somewhere out there has a use for it, but in most cases it will probably be messed with initially, but left ignored eventually.
Finally, all the Jackson DKA8 needs is a good setup and you're ready to go. You basically get what you pay for – a solid import-level guitar with some higher end features.
Gallery