Decapitated – Blood Mantra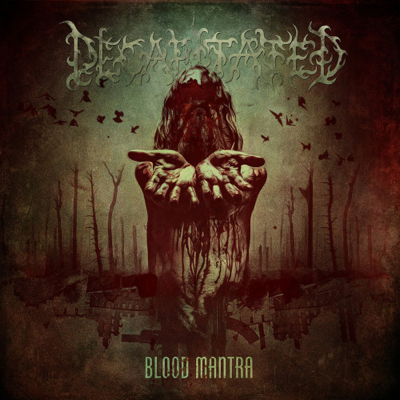 'Organic Hallucinosis' was one of my favourite modern extreme Metal releases at the time it came out. 'Day 69' is probably their best track to date and still holds up very well today. After a longer break, Decapitated returned with 'Carnival is Forever' in 2011, but the album really underwhelmed me. It simply lacked dynamics and atmosphere. I gave it a couple of chances but really couldn't get into it.
2014 has this Polish powerhouse return with 'Blood Mantra' and it takes no prisoners from the get go. The first three songs are a destructive force, full of killer riffs and a staggering level of anger. 'The Blasphemous Psalm to the Dummy God Creation' actually reminds me of the aforementioned 'Day 69' with its tremolo-picked bends – those are always a win. But something happens after those three songs. Slowly but surely, the album hits a ditch that it doesn't appear to be able to pull itself out of until the very end. The songs are becoming more monotonous and less aggressive, the riffs more stale and the tempo slows down. I can't help but think of Slipknot, especially in terms of the riffs and groove 'Blood Mantra' decays into. No question, Vogg has a great way with riffs and it shows every now and then, but most of the time the material just appears a little uninspired. On the upside, Decapitated made all the right choices for the production. It's definitely more on the organic side and not as overproduced as some of their older material.
All in all, 'Blood Mantra' fails to make a lasting impact. Decapitated are off to a very strong start, but the majority of the record just sounds a bit uninspired. The great production helps to cope with it for a while, but this album is absolutely losing me halfway through.