Editor's Rating
Kiesel Guitars's newest headless guitar was a killer surprise!
Jeff Kiesel hit me up right around the new year and told me he had a new guitar coming my way. He didn't say what model, didn't give me any details – he just made sure a 7-string multiscale would be a good fit for me and I happily confirmed.
He overnighted the guitar to me and I received it on the same day that my band Nightmarer premiered the first new single for our upcoming full length. So needless to say, the first week of 2018 was pretty exciting, not to say overwhelming.
When the FedEx driver brought it up to the house, the small package immediately gave away that it was going to be a headless guitar. Despite all of their benefits, I'm not completely sold on those, mainly for aesthetic reasons. So I was a bit anxious to unbox it!
The Specs
Swamp ash body
Graphite Raw Tone finish
Headless 3P bolt-on walnut/maple neck
27″-25.5″ multiscale construction
Thin neck profile
Bloodwood fretboard
24 SS jumbo frets
Graphtech TUSQ nut
Kiesel Hipshot headless bridge
Kiesel Lithium bridge humbucker
Kiesel Lithium neck humbucker
Impressions
Surprising someone with a guitar, no matter how amazing of a gesture it is to begin with, can be dangerous business. We all have a very particular taste when it comes to literally every component of our guitars. So unless someone knows you very well, this could feasibly go somewhat wrong. So…?
First off, let me tell you that Kiesel's headless soft case almost looks like it was made for a Ukulele. It is so tiny! I couldn't help but chuckle a little bit before opening it. But when I unzipped the thing, I was pretty damn stunned about what I found inside.
Turns out Jeff Kiesel does know me pretty well. My brand new Zeus ZM7 is a single-cut headless guitar that comes in the very stealthy looking "Graphite" finish and with a blood wood fretboard (that I mistook for purple heart at first).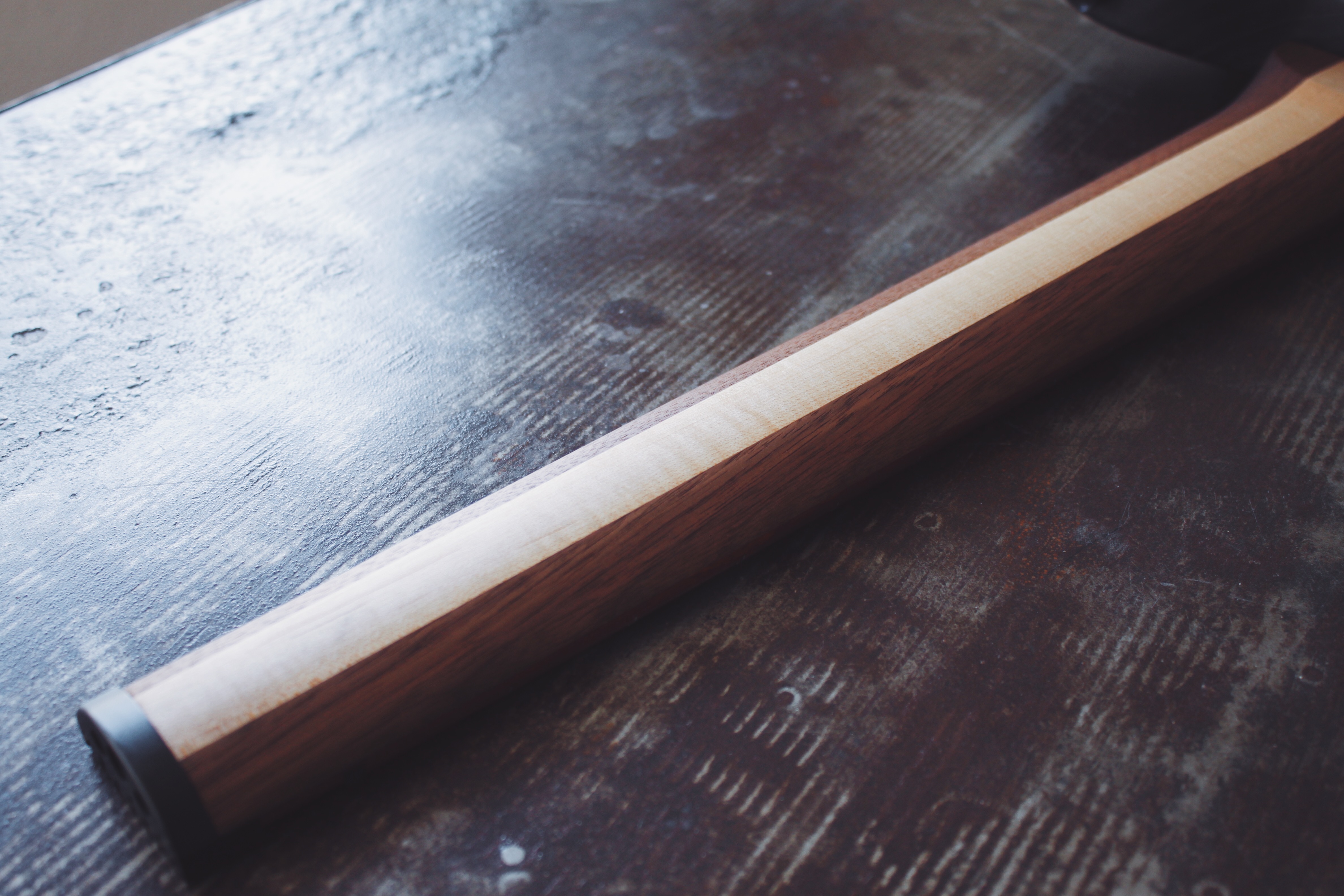 Both are completely new options for Kiesel Guitars, but it doesn't stop there! Flipping the guitar over revealed the bolt-on 3P walnut/maple skunk stripe neck. Those of you who follow me on Instagram know that my most recent Kiesel SCB7 baritone came with one.
At that point, it was not an official option. But I'm a sucker for a single thick skunk stripe down the middle of the neck and asked if they could make it for me. With the launch of the Zeus, it is now an option and I would like to think that I played a little role in that.
The neck on my ZM7 even has a subtle flame going through the maple, so what can I say… Jeff nailed it with these specs and aesthetics. This ZM7 blends right in with my other Kiesels and the blood wood fretboard takes it to the next level.
I realize the shape of the Zeus a bit polarizing. I do like the SCB's single-cut body a little better than this, but I can dig it. It definitely looks better without an additional top wood and in multiscale configuration in my opinion, so luckily that's what I got.
The Playability
I am a total sucker for light weight guitars and the Zeus is now officially my lightest guitar. It beats my Kiesel C66 noticeably and I already thought it couldn't get much better than that. Turns out removing a headstock does make a difference. 😉
I'm familiar with Kiesel's "thin neck profile" and it's been my option of choice for a while, especially in combination with a tung-oiled walnut/maple neck. The neck joint may look a bit bulky, but it's actually very comfy and doesn't get in the way.
Now the headless construction shifts the neck and bridge further back into the body. This works perfectly for a classical playing position, but it takes some adjusting when resting the guitar on the right leg. I usually play in classical position, so it's not an issue for me personally.
Some people said that the tuners of the Vader were digging into their right leg when playing in classical position and, worst case, that would even detune the guitar. It is honestly not something I encountered when reviewing the VM8, but I could see that happening.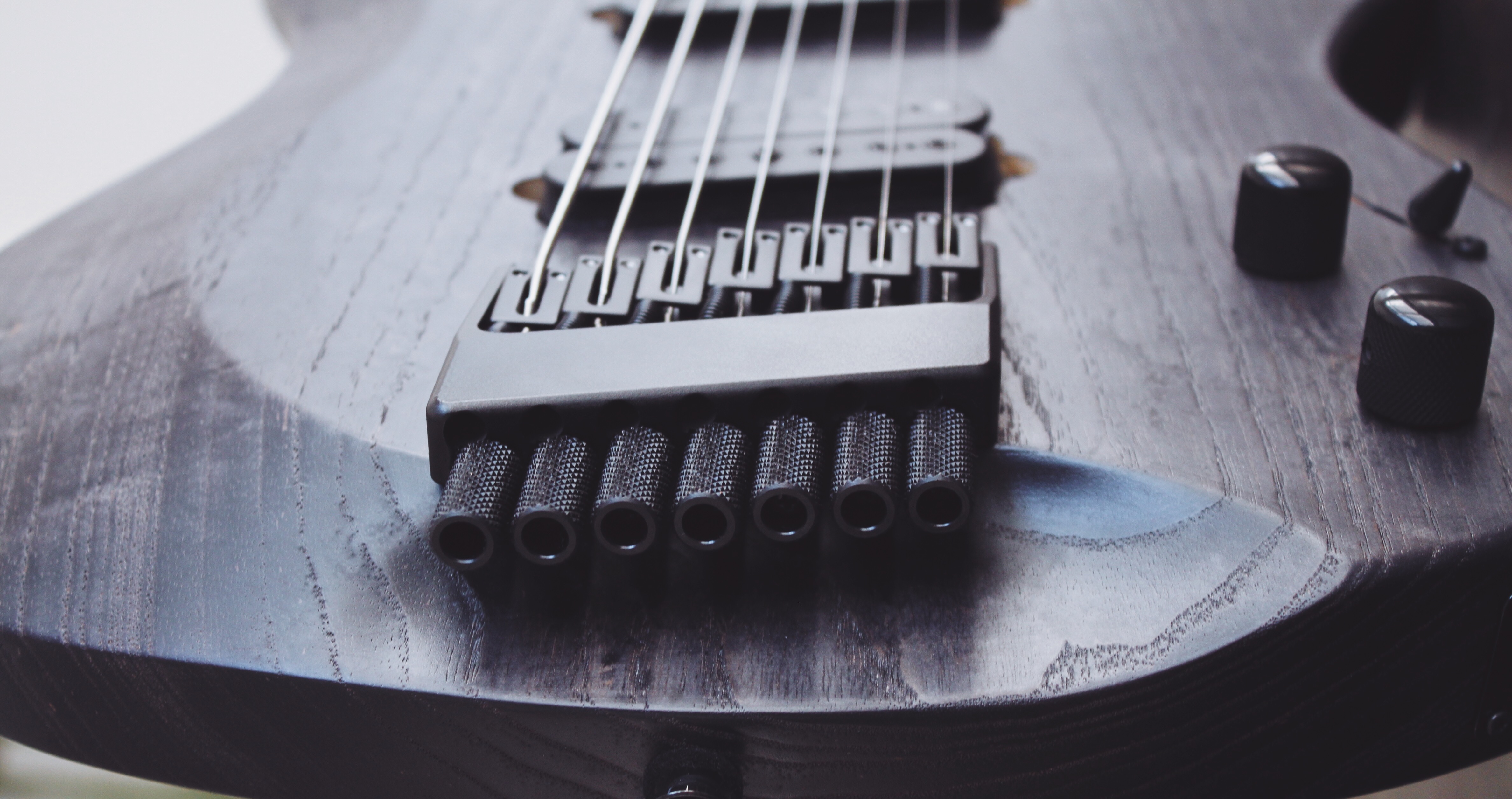 The body of the Zeus extends beyond the tuners, so those of you who always play in classical position need not to worry about this at all. Speaking of these tuners: I do find them a bit hard to operate.
The reward is that the tuning stability of my Zeus is outstanding. I have tuned the guitar once since I received it and we've had temperature drops from the 70s to 32 degrees Fahrenheit in Florida since.
The body is carved in a way that makes enough room to comfortably adjust the tuners and that route seamlessly transitions into the bevel along the top of the guitar, which makes the ZM7 very comfortable to play. Your arm never hits any sharp edges.
The fretwork on my ZM7 is great and I cant find any sharp fret edges or other issues. The stainless steel frets make bends buttery smooth, but it's something all my other Kiesels come with, so I feel right at home with that anyways.
The Sound
Oh boy, do I have to say something about the sound of this guitar and the Kiesel Lithiums in particular! A couple of weeks ago, I stumbled over a thread on my friend Arnold's (from the infamous Unbiased Gear Reviews on YouTube) Facebook page.
In this thread, some kid called me a Kiesel shill because I didn't hate on the Lithiums in my reviews. Turns out the guy didn't like them in any of the clips he heard online […], so I guess in conclusion they must be horrible?! Cool story, bro!
I never claimed the Lithiums were my favorite pickups, but I do really like them. Enough so, that I have recorded the entire Nightmarer LP with my DC7X and K8 prototype, which were both loaded with the Lithiums.
The tone woods of the DC7X are almost virtually identical to the Zeus ZM7, and the swamp ash body/walnut neck combo is where I find the Lithiums to work best for me. I did not like them quite as much in my buckey burl top/black limba body Aries AM7, though.
Either way, below are some clips. Let's not forget that the pickups are merely one element in the chain of tone shaping. For Nightmarer, I went with a very high gain and ice cold guitar tone, inspired by Black Metal more than anything.
It might not be up your alley, but you have to understand that a lot more goes into one's tone than just the pickups. I can't take people serious who identify one particular part of the signal chain as an issue based on what they hear on the internet alone.
So be reasonable, guys… and now enjoy some riffs!
One particular thing I'd like to point about the Zeus is that the lowest string has an exceptionally snappy attack. It's something I also noticed with the Vader! Something about the headless construction just adds some magic to the lowest string.
The Verdict
I always try to be honest and transparent with my reviews, so I think it's important to state when I review a guitar from a brand that I am associated with in some capacity. So while this shouldn't be news to you, but here goes: I am a Kiesel artist and play these guitars professionally.
I do my best to not let that cloud my judgement. I play what I play for a reason. I was with Ibanez before switching to Kiesel and own/play a lot of other guitars from different brands that I love. Just to give you some context.
Kiesel Guitars is a "semi-custom" shop, meaning that you pick a model and then have a wide range of specs, tone woods and finishes to choose from. So naturally, the outcome will reflect your personal taste and preferences in many ways. Even more so if you know what you're doing.
What it comes down to is how well Kiesel Guitars execute your visions. This time around, I didn't spec out this guitar myself. I didn't know anything about the launch of this brand new model, let alone that I would get one. Jeff specced it out for me, but the man knows what I like.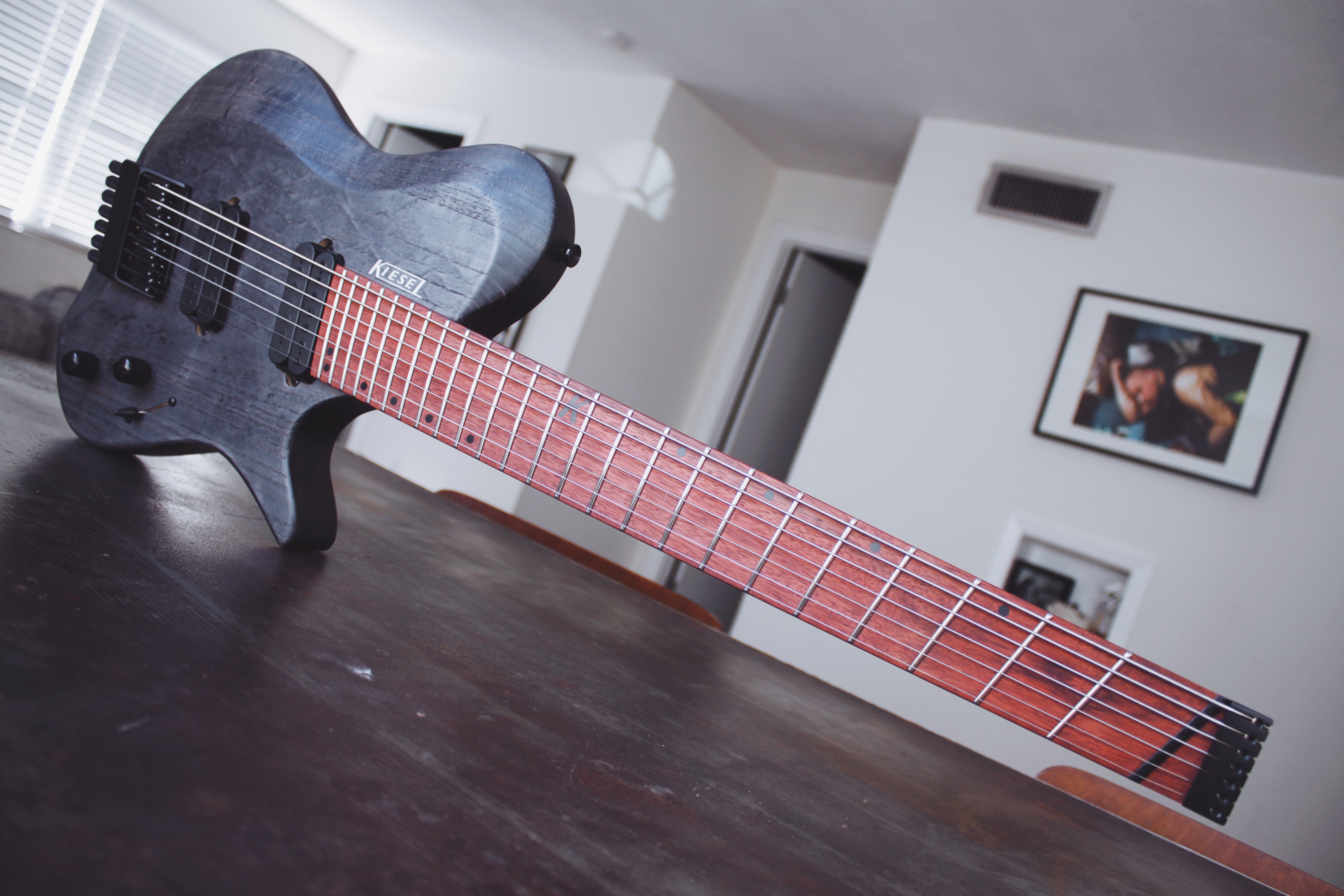 So the tone woods, specs and finish of this particular ZM7 are right up my alley. The Zeus addresses a couple of things I'm not crazy about when it comes to headless guitars and the single-cut design really helps making it a lot more pleasing to my eyes.
I would probably not play this guitar live, because it looks tiny on me. At home and in the studio, however, I haven't been able to put it down. The light weight, compact dimensions and comfortable ergonomics make it a breeze to lug around and play.
With these specs, my Zeus ZM7 would come out at just under $2000. That's a great price for an American made guitar. The base price of this model is $1349 and you can get away with speccing it out in a way that doesn't require you to spend much more than that.
You can actually get away with paying the base price if you're cool with an alder body, 1P maple neck, ebony or maple fretboard, solid glossy or satin finish and stainless steel medium jumbo frets. The quality of the guitar would still come out the same.
That gives you an American made, semi-custom, headless multiscale 7-string guitar with some premium features for $1349. That is a hard to beat deal! There are generic and subpar quality import guitars out there that cost more than that… the choice should be easy!
You can find out more about the Zeus ZM7 here. Fun fact: They used this very guitar for the ZM7 page!
Gallery