Editor's Rating
May the force be with Kiesel
We hardly have to introduce Kiesel Guitars here anymore, since most of the ERG world is more than familiar with the brand and its wealth of options for extended range guitarists. The Vader, Kiesel's take on an ergonomic, headless guitar, is a very popular choice among their customers and was upgraded with a multiscale option this year – a great opportunity to try and test one!
I have to admit that I am not totally crazy about the aesthetics of headless guitars, or the Vader with a straight scale neck, but the fanned frets don't only bring obvious technical benefits, they also give the look of the guitar a really dynamic, fast forward appearance and I am really digging it.
If that's not a Win-Win, I don't know what is…
The Specs
Ash body wings
Ebony top
Clear satin matte finish
Maple/Walnut 5P neck-thru
Ebony fretboard
Stainless steel jumbo frets
26″-27.5″ scale
Graph Tech TUSQ nut
Hipshot bridge
Kiesel Lithium Pickups
Impressions
My taste has changed a bit over the last couple of months – from all sorts of stains, colors and exotic, highly figured top woods to more stealthy, yet organic looking guitars. And this VM8 absolutely lands right in that sweet spot.
The ebony top looks sleek and has a nice, tight grain pattern. The fretboard, also made out of ebony, is stunning! The natural and highly figured streaking throughout perfectly shows how nice "regular" ebony can be. Looking at an ebony fretboard like this, I actually wonder why the pitch black ones are so much more popular… I'd choose this one over a plain black specimen any day!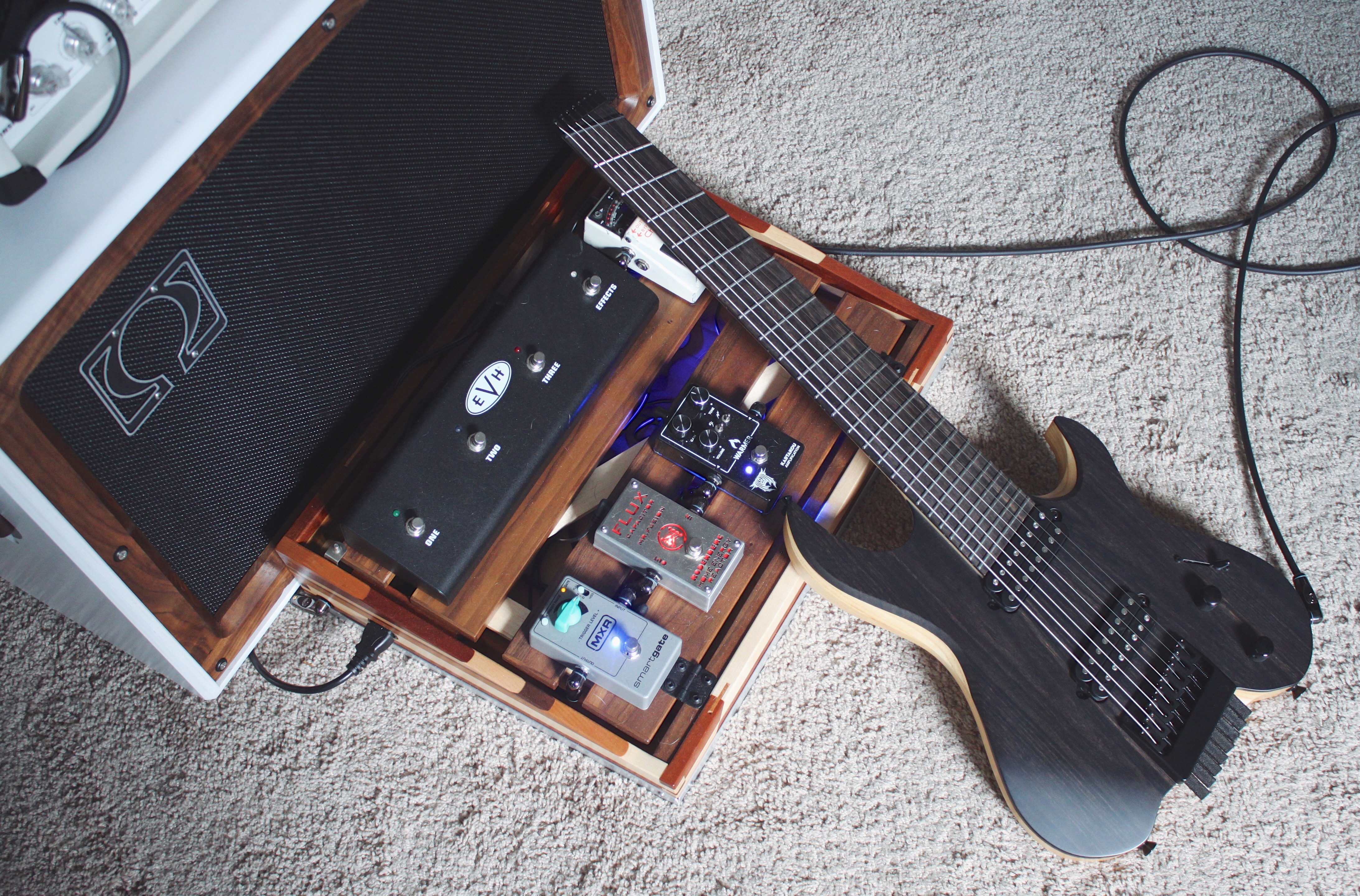 While the front of the guitar is rather dark, it's the complete opposite once you flip it over. The natural ash wings and maple neck with walnut stripes are a dramatic contrast to the stealthy aesthetics of the front. It definitely evokes a bit of a Yin and Yang vibe, but always remains somewhat understated, subtle and organic. Very nice!
What surprises me, though, is the relatively heavy weight of the VM8. I wonder if that's caused by the ebony top, because I'm used to ash guitars being a lot lighter and really expected those Vaders to be featherweights by design.
The Playability
Boy, does this Vader play well! The compact and ergonomic design works great for me, especially when sitting in front of my computer recording. My regular baritone guitars can feel a bit bulky, squeezed between my gut and the desk, but the VM8 fits like a charm, especially in a classic playing position.
And all of a sudden, my K8 proto seems pretty massive in compariso, hahaha…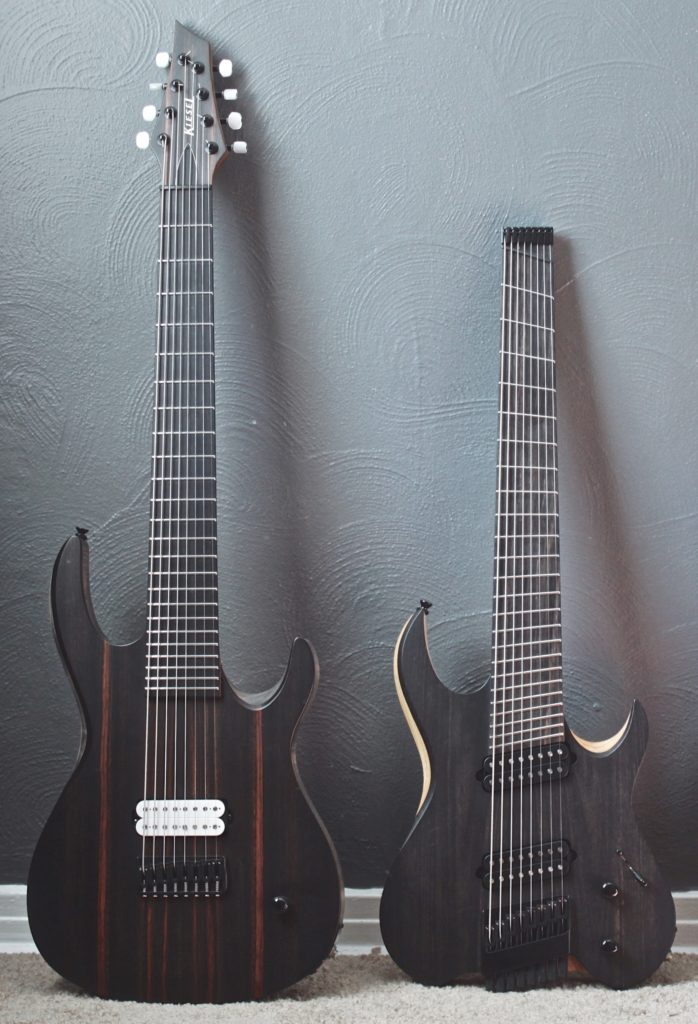 The 27.5″ scale on the lowest string feels perfect for the F# tuning. It adds a nice little extra tension compared to the usual 27 inches, but feels just as comfortable. Speaking of comfortable – the fan on those frets is very moderate and by no means extreme. Within a few hours of playing, everyone should be able to get used to the 26″-27.5″ multiscale layout.
Another big advantage of the compact design of the Vader is that the neck is simply closer to the player. You can hardly feel the baritone scale at all, because your left hand doesn't exactly have to stretch out very far to play the lowest frets. All these things make the VM8 a breeze to play – an 8-string can't get much more comfortable than this.
The Sound
It's no secret that I love ash as a tone wood for ERGs and this particular VM8's specs are quite similar to those of my K8 proto. Both of them have ebony tops and fretboards – the only difference is that the neck on my K8 is made out of walnut/koa vs. the maple/walnut construction on the Vader.
Thanks to this tried and true combination of tone woods and the longer scale, the guitar cuts through a mix like a guillotine. The low end is nothing short of perfectly tight and transparent – even when playing power chords in the lowest registers. On top of that, this Vader has a very distinctive low mid growl and percussive attack, which is most obvious when playing single note riffs.
The angled Kiesel Lithiums perform very well, and after trying and owning several guitars with them, I can only say that they truly represent the guitar they are installed in. Some pickups on the market are so overly compressed, that the character of a guitar and its tone woods gets lost, but the Lithiums really help retain these unique qualities while bringing their own qualities into the mix.
Check out the clip and hear for yourself:
The Verdict
Well, I didn't really wanna let it go… how is that for a verdict?!
For not being completely sold on headless designs, this VM8 checked a lot of my boxes. The stealthy and organic appearance, paired with the pointy aesthetics of the body and "fast" looking dynamics of the fanned frets really sold me on it!
All in all, there is probably no better way for someone to enter the 8-string world than with a guitar like the Vader. The big selling point of it is definitely the playability. The compact, ergonomic design just makes this instrument a breeze to play.
And as always, the sky is the limit when it comes to the specs. Kiesel Guitars offers everything you could possibly desire – a wealth of high quality tone woods, exotic tops and a huge range of possible finishes. So go and make it yours!
For me personally, the VM8 would be the perfect guitar for a (home) studio environment and I'm definitely considering to get one down the line.
PS: Kiesel Guitars sell to their customers directly – world wide. Just go to kieselguitars.com, put one together or grab one from the in stock section, and it goes straight from the factory to you.
Gallery