Editor's Rating
The Merus 7 shows that Halo are on a good path.
To say Halo Guitars have a difficult history is probably an understatement. Lots of you most likely remember some of their earlier builds and the brutal defects they came with. So while the brand has tried to improve their reputation by simply building better guitars in recent years, it's always hard to convince people to take a risk and try again.
The people at Halo reached out to me and asked me to review one of their newer guitars – a Merus 7 Evertune. My contact there seemed very confident of the product and quality his brand delivers these days, so I was inclined to see it all for myself. The Merus 7 also happened to be the first guitar I ever tried that came with an Evertune bridge, so I was definitely excited to get into this!
The Specs
Ash body
Quilted maple veneer top / back of body
Trans black finish
Maple/Walnut 5P bolt-on neck
Birdseye maple fretboard
Nickel jumbo frets
27″ scale
Graph Tech TUSQ XL nut
Luminlay side dots
Evertune bridge
Bare Knuckle Juggernaut Pickups
Impressions
When I first opened up the case, I was pleasantly surprised to find a guitar with a nicely figured and finished quilted maple veneer. The top has a subtle arch to it and is framed with a white binding, which extends around the fretboard, headstock and even bottom of the guitar body.
Let me tell you that I'm a big fan of body bindings on guitars with dark finishes, so I think the white top binding works very well with the trans black paint job. But while the bottom binding reminds of classic Les Paul design elements, I find it a little unnecessary and gimmicky on this guitar.
The birdseye maple fretboard has a decent figuring to it and is coated in a glossy, clear finish. The gloss gives the Merus a certain high end shine and I actually dig it.
The back of the neck is also finished in trans black, but with a smooth satin finish. Good thinking here, I'm glad they didn't go for a glossy neck finish instead. The chrome Evertune bridge looks quite chunky and I can't say I'm into its aesthetics. I'm not crazy about the headstock either, but it looks way better in person than it does in photos.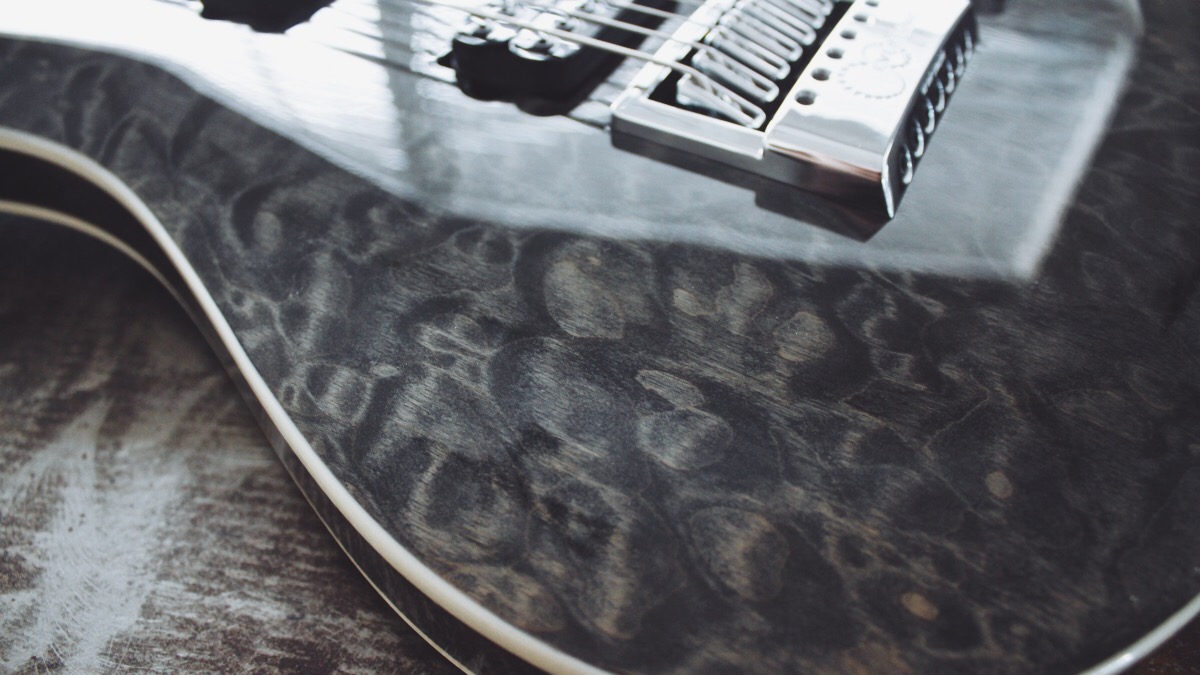 I'm generally not a fan of chrome hardware, because it always looks and feels a little cheap. And while the chrome look does work surprisingly well with the finish and overall appearance of the guitar, the feel is definitely more on the cheap side. On top of that, the tone pot is not functioning properly – it's stuck and can only be turned with force.
Considering that this guitar is made in China, the build quality is precise and shows care and attention to detail. No wonky routings or obvious finish flaws anywhere to be found, besides a few tiny imperfections along the binding. I've seen more careless execution on big brand production guitars made in Indonesia or South Korea – and those usually come with the same, lower grade hardware.
The Playability
The first time I picked the guitar up, I was actually shocked about just how heavy it was. Being that the tops are merely veneers and the body made out of ash, I expected it to be on the lighter side. On the plus side, the Merus 7 has virtually no neck dive.
Besides that, the guitar was set up with comfortable, low action and minimal fret buzz. The fretwork is solid and the smooth satin neck finish feels great, but the neck is a bit chunkier than what you'd expect from a modern Metal superstrat. It's not uncomfortable, but picking this guitar up after playing one of my Kiesels, Ibanez RGs and especially my Hapas Sludge, the neck of the Merus almost feels like a baseball bat in comparison.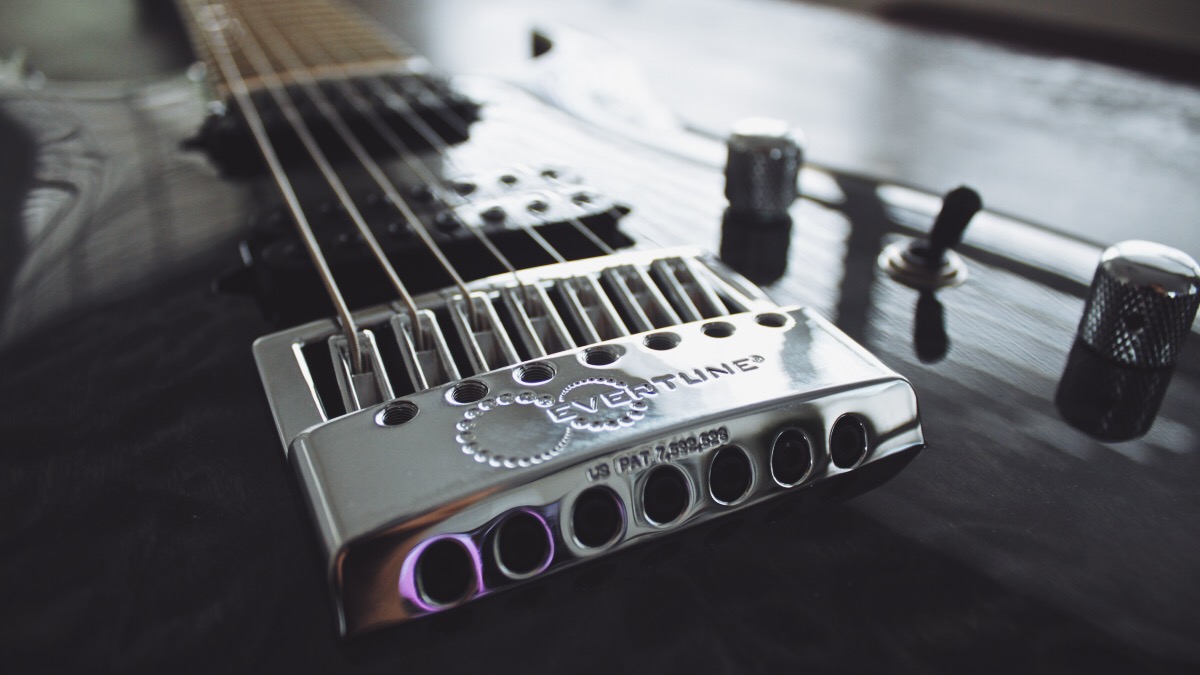 The Evertune was set up in a way that made it impossible to bend the strings at all, which is pretty confusing. After watching a video on the Evertune website, this is, by definition, the Evertune-function. But who even plays guitar like that?!
It feels extremely unnatural, but I guess it will at least spare you from listening to someone with really bad vibrato, haha. Of course you can set it up to allow bends, but I found it to be a hassle to find the sweet spot between the possibility to bend and the string going sharp.
It is obviously impressive that the guitar stayed perfectly in tune for weeks now, but I'd rather be able to bend normally and change the tuning on the fly. Because apparently, that is not exactly an easy task either. A high quality fixed bridge and nut as well as quality tuners should provide anyone with enough tuning stability, unless they sling their guitars as violently as The Dillinger Escape Plan do.
The Sound
Let me start off with admitting something: I tried the Bare Knuckle Juggernauts before and I really wanted to dislike them. Why? Because they are such an obvious choice and if you ask guitar kids on the internet about what pickup you should get for your ERG, 9 out of 10 will yell "Juggernaut!", while only 1 out of these same 10 people has actually tried it personally.
But you know what?! It's a very well-balanced pickup! It sounded great last time I tried it and it works well in the Halo as well. I'm not sure if the big chunk, that has to be cut out in order for the Evertune to fit, makes such a big difference to the guitar's tone, but the guitar does sound a little (!) bit less open than I like.
You can check out a clip right here:
Recorded with an ERGLabs Kemper Profiles EVH5150 III 50W / Mesa Boogie Rectifier OS 4×12 profile.
The Verdict
If this guitar is anything to go by, Halo are delivering good quality instruments these days. Keep in mind that they simply sent over an in stock production model, so it's not like this guitar got some extra special treatment.
These production models are made and mostly assembled in China, while some additional assembly and the final quality control are taken care of in the US. And besides the cheap hardware, the attention to detail and overall looks of the Merus 7 are certainly made to a competitive standard.
The Merus does have a couple of clashing concepts, though. It's very heavy for a modern Metal superstrat and the neck is more chunky than what the target group is generally into. The heavy weight can most likely be attributed to the Evertune bridge, which I didn't really enjoy. And unfortunately all of these things are at cost of the playability.
A potential selling point for this guitar is that you're getting pretty impressive specs for your money. The Bare Knuckle Juggernaut and Evertune bridge are certainly expensive features, and the price reflects that. $1299 is not exactly cheap for a Chinese-made guitar, but I can't say that it's overpriced for what you're getting here. Think LTD Deluxe series quality ballpark with pricey upgrades.
If you can look past the troubled history of the company and "made in China" doesn't bother you, you are getting your money's worth with the Merus 7. And if Halo can consistently deliver this level of quality and even tweak a few things, their reputation should improve.
Gallery