Lychgate – The Contagion in Nine Steps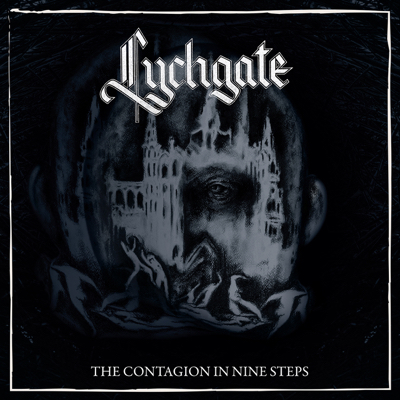 I recently went on the Blood Music website on a whim and was surprised to see that Lychgate had a new record out, so I jumped right on it. I was a huge fan of this project's previous album 'An Antidote for the Glass Pill', which really took me by storm and rotated heavily for months.
Let's set one thing straight! 'The Contagion in Nine Steps' is a completely different beast than its predecessor. Obviously the super prominent organ still dominates the vibe of this band, but the six compositions sound a lot more spacious and more progressive.
The polyrhythmic approach is still there and probably even more obvious, now that Lychgate operate at a much slower pace, but they practically got rid of a lot of the Black Metal-influence and the blistering pace it brought with it.
But even without that, things still get very gloomy on 'The Contagion in Nine Steps'. Just check the pitch black 'Hither Comes the Swarm' and let it draw you right into its void. When it hits the 2 minute mark, we have certainly reached the darkest point of the record. Moments like these are what help this release grow on me and gladly, there are quite a few of them across the six songs.
What may take some getting used to for some of you are the various (clean) vocal styles. From very low-pitched, mantric and almost spoken word to higher pitched, epic vocals and even choirs, Lychgate cover quite the range. The Black Metal-ish screams are down to a bare minimum, though – but when they hit, their impact is intense!
I gotta be honest: My first impression of 'The Contagion in Nine Steps' was more of a letdown. The slow pace, progressive approach and lack of Black Metal fury made it seem like most of the things I loved about Lychgate had changed. But I keep coming back to this record and it is an absolute grower.
The intricate compositions and depth of this material make this album sound like an evil Metal Opera and if anything, Lychgate prove yet again how ambitious they are as a creative collective. You will have to give it some serious time to unfold its full scope, though!
And the fact that Lychgate are playing 7- and 8-strings in ways that are anything but obvious is another big plus. I didn't even consider the possibility until I saw some live photos. Lots of surprises with this one, but if you have an open mind, you will be rewarded with a very interesting album.