Gorguts – Pleiades' Dust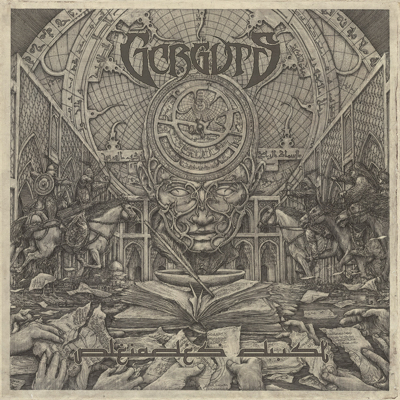 It's been a slow year for reviews over here so far, but we obviously can't let this one slip through the cracks. Being that 'Colored Sands' was one of the best forward thinking Death Metal albums in many years, expectations for 'Pleiades' Dust' were high.
This EP comes as a long, single track of just over 30 minutes. I have to say that I was skeptical about the concept, because I'm still traumatized from listening to too much Sludge and Post Metal about some 10 odd years ago and I simply haven't been able to enjoy extremely long compositions since. So what I usually do is deconstruct them, if at all possible – and Gorguts are making it really easy for me to do so.
First off, the song is divided into lyrical chapters with individual titles. Second of all, there is an interview with Colin Marston and Kevin Hufnagel, where Colin mentions how he would divide the entire thing up – which is into four big chunks. And honestly, those four big chunks would make perfect sense, if it wasn't for the individual lyrical chapters. If you stick to those, Colin's chunks have to be divided up even further. And this is the result:
01. Thinker's Slumber (4:05)
02. Wandering Times (3:12)
03. Within the Rounded Walls (2:12)
04. Pearls of Translation (3:26)
05. Compendiums (5:03)
06. Stranded Minds on the Shores of Doubt (3:17)
07. Besieged (9:36)
08. Outro (2:10)
Believe it or not – this makes it a lot easier to get a grasp of 'Pleiades' Dust'. 30 minutes of continuous music can be overwhelming, especially from a band as dense, heavy and intricate as Gorguts. With that out of the way, it's a lot easier to experience the chapters as more individual compositions, or – simply put – songs, albeit with the same continuous flow.
Sure, the added accessibility demystifies 'Pleiades' Dust' initial impenetrability, but I personally prefer it that way. I feel like I get it now. And with all that being said, the material is not crazy different from 'Colored Sands'. The ingredients are practically the same, but it is even more experimental.
The quiet, instrumental parts are balancing out the heavy foundation more constantly, they are basically intertwined and the transitions are more seamless. It does give the heavy parts a more intense impact. I mean, don't get me wrong, these heavy parts don't need to be enclosed in quiet parts to come off heavy, but there is something absolutely crushing about the way they erupt after a more quiet and subtle buildup.
Just as on 'Colored Sands', Gorguts are especially unforgiving and gut wrenching when they slow down and play sludgier riffs. 'Besieged' begins with a crawling mammoth of a riff and when it finally erupts into blast beat frenzy, it's so intense, it almost feels spiritual. Most certainly one of the highlights on 'Pleiades' Dust'.
Another thing worth noting is that the guitar work between Luc Lemay and Kevin Hufnagel is more distinguishable from one another than before. Kevin's approach seems a bit more "loose" than it did on 'Colored Sands' and it's really interesting to hear it come together. If you didn't know – both are using different tunings, so they are often forced to not play the same thing anyways.
While it's tough for 'Pleiades' Dust' to have the same impact as 'Colored Sands' had, it's most definitely on par. It is more experimental and diverse, but unless you split up the tracks in any way, it's probably gonna be harder for you to get into. Gorguts are in the middle of a very interesting chapter of their vast history and while you probably can't possibly overstate the importance of 'Obscura', they have progressed and redefined themselves in a way that honors their past, but is luckily not limited by it at all. Let's just hope they will stick around for a little longer this time.