Cave Moth – The Black Lodge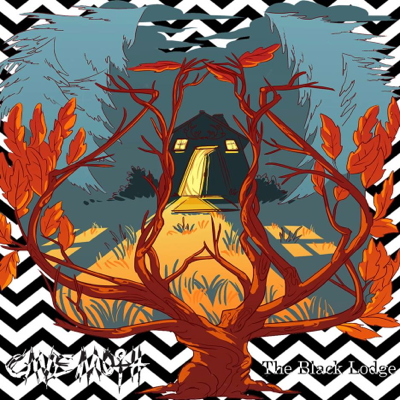 I wasn't familiar with this Florida outfit so far, but instantly fell in love with them from the first few seconds of listening to their new EP.
Cave Moth hammer away with the opener 'Burden : Solace' and definitely take no prisoners with it. After a short guitar intro, the evil takes its course. Chaotic dissonance, grinding blastbeats and low end outbursts as far as the eye can see… or ear can hear. What catches my attention immediately are the programmed drums. They don't bother me much – in fact, they remind me of Agoraphobic Nosebleed's latest full length, but some might not appreciate them. 'The Black Lodge' is a fast-paced, compact motherfucker. Most tracks are around the 1 minute mark, apart from the last two. 'Form : Void' and 'Despised : Device' keep me up on my toes with their sheer frenzy and brutality. The final track is, by far, the longest on 'The Black Lodge', but it's just a whole lot of feedback, noise and samples. I do like stuff like that from time to time, but do I need 5 minutes of it? Not necessarily. I'd rather have another kickass track instead.
However, Cave Moth came to me as a total surprise. They tick a lot of boxes for me: Lots of dissonance, low tunings, blazing fury and crushing heavyness. 'The Black Lodge' reminds me of the good days, when chaotic Hardcore bands had lots of Grindcore influence and were constantly trying to push the limits. At the same point, some more modern Extreme Metal influences have definitely made its way into this release. I really hope to hear more from these guys in the not too distant future. Cave Moth kick ass!