Editor's Rating
High-end semi custom goodness sold directly to worldwide customers.
I must admit that I was pretty late to the party with Carvin Guitars. The first ones I ever saw were some DC747s on sevenstring.org, but I wasn't crazy about the round looking bodies and headstocks back then. What I did like was the huge selection of available tonewoods, details and specs. The guitars also seemed more than reasonably priced and the quality very high.
A lot has changed since then. Carvin have introduced a lot of new models in the meantime, increasingly listened to their customers, added a lot of extended range options and reinvented themselves – they are now Kiesel/Carvin Guitars and have launched a lot of new series and models since then. Today we're reviewing one of their newest models, a Kiesel Aries bolt-on 7-string (which was also just announced as a multi-scale 6- and 7-string).
The Specs
Ash body
Flamed maple top
Purple burst finish
Maple/Walnut 5P bolt-on neck
Zebrawood fretboard
Stainless steel jumbo frets
25.5″ scale
Graph Tech TUSQ nut
Kiesel locking tuners
Hipshot bridge
Kiesel Lithium Pickups
Piezo system
Impressions
The Aries Jeff sent over for me to review comes with a beautifully flamed maple top in a fancy looking lavender to purple burst satin finish, framed with a natural finished binding that really lets the flame pop even more. It's definitely not a finish I would choose, it looks a little too "pretty" for my personal taste if that makes sense, but it's executed extremely well.
The finish features a natural binding that goes around the bottom half of the Aries body and cuts right through the bevel of the top. The rest of the bevel is finished in purple, so it still looks pretty homogenous, but it definitely is a somewhat dramatic feature. Once I flipped the Aries over, I was pleasantly surprised to see that the back has the same burst finish as the front.
What really blew me away immediately is the spectacular zebrawood fretboard, though. It's the first time I have actually seen one in person and I really love it! The back of the neck is made out of maple with two walnut reinforcement stripes, nothing too extraordinary here.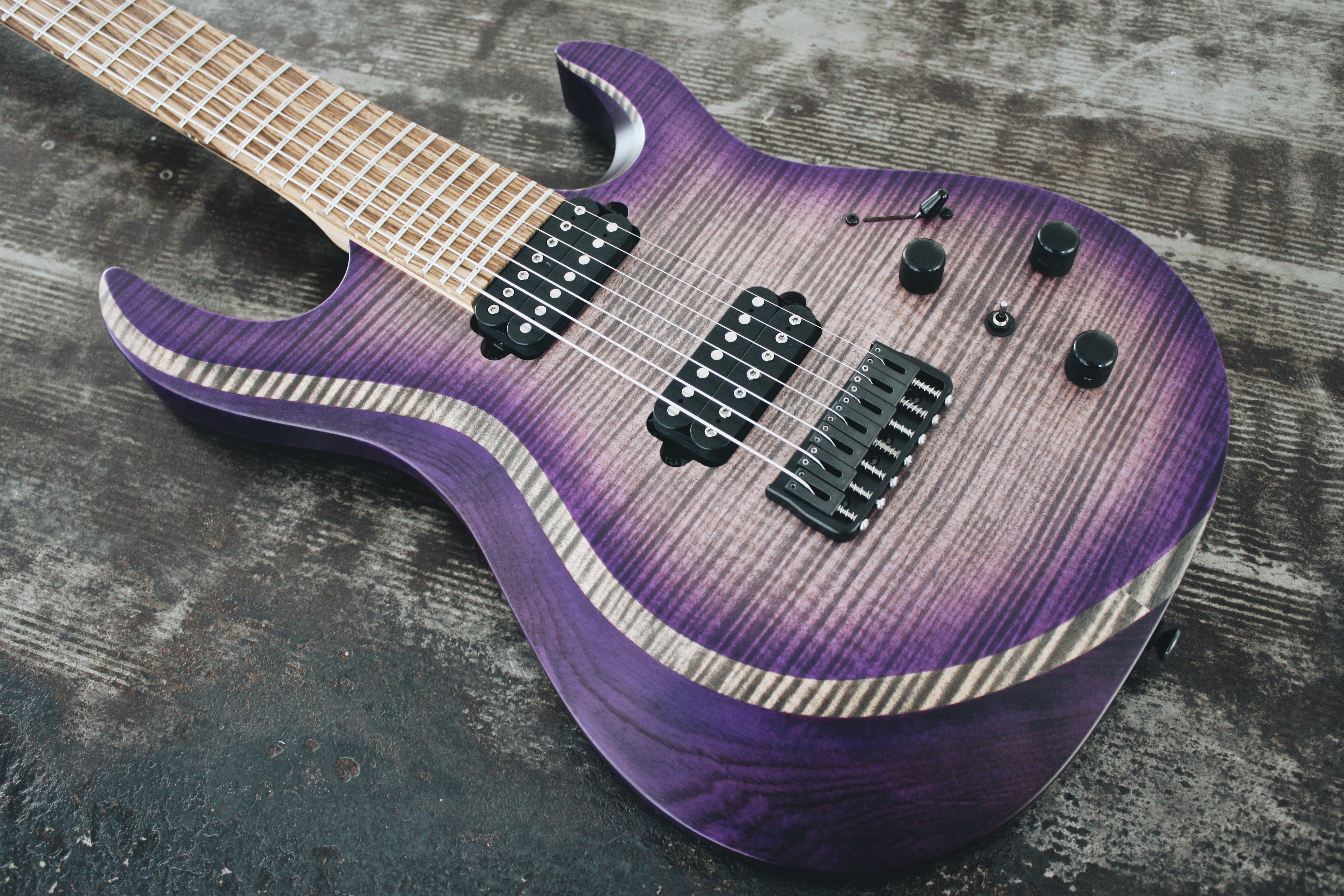 What I'm not a huge fan of is the in-line headstock design. I have seen photos of it in reversed configuration and definitely prefer it that way, but I would choose the 4+3 headstock design they offer over it.
The Playability
The 5p maple/walnut neck construction feels sturdy and comfortable. The profile is a modern C, a little rounder than your typical Ibanez Wizard profile, but still very comfortable. I looked at the Kiesel Guitar Builder the other day and saw the "thinner neck profile" option, so I wonder if this is it. Either way, this neck shreds!
Thanks to the smooth and organic oil finish, the neck stays fast and gunk-free. At first, the neck joint may look a little bulky, but it's really not. It doesn't get in the way when playing the higher frets and has a natural feeling angle rather than being a plain, big block.
As with every Kiesel/Carvin I have ever received from their factory, the Aries came with a great set up right out of the box. The action is very nice and low, so you feel right at home with this thing. No need to adjust anything, just plug and play!
The Sound
The ash body/maple top construction may not be the most popular, but it's tried and true. I have checked out a couple of guitars with this combination in the past, and you may be surprised how clear, yet balanced it sounds! The Aries is LOUD and very open sounding acoustically, I can tell you that much.
On top of that, the Kiesel Lithium pickups are some of the best stock pickups any brand has to offer right now. I was lucky enough to be involved in the prototype development phase of the 7- and 8-string models and would compare the final models to the Lundgren M series pickups. In this very guitar, they sound super crunchy and articulate.
Check out the clip and hear for yourself:
The Verdict
The Aries absolutely lives up to the expectations that you have when the name Kiesel (or Carvin) pops up. The quality is top notch, the playability superb, and thanks to the Lithium pickups, the tone is great, too. The top on this very Aries is beautiful and the zebrawood fretboard absolutely spectacular. The light weight is a very welcome feature, too.
What it comes down to is whether or not you like the looks of it, but it's not like you don't have a ton of choices to pick from. 😉
Obviously, as per usual with Kiesel/Carvin, that goes for pretty much anything on this guitar. You can choose more tonewoods than you could imagine, and some more exotic top woods as of late as well. Not to mention the huge number of finishes, headstock shapes, you name it. The bottom line is: You can order this guitar in countless variations and no matter your price range, you will get a high end guitar out of it.
PS: Kiesel/Carvin Guitars handle their international shipping and distribution themselves again and sell straight to the customer, so it's a very realistic choice for you European customers out there.
Gallery